On Wheel of Fortune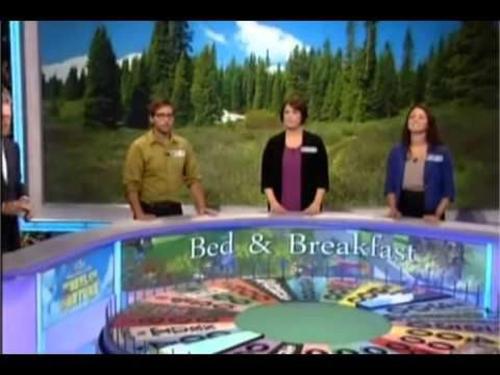 Congratulations resounded as it was announced we were a, "Featured Prize," on Wheel of Fortune B&B Week, 2014 , again on Veteran's Day of 2016, and in the Fall of 2017! We have been sharing the great news with our guests and also, through our membership at BedandBreakfast.com, they sent out national press releases. The reach of this exposure is remarkable due to our membership!
The Inn of the Patriots was featured as one of only five inns selected out of 11,000+ contestants, worldwide! Only two inns were chosen from America.
KEY STATS:
• 11 million average viewership (6.5 mm women, 4 mm men), making it one of the most highly viewed TV programs in the US
• 28 million viewers tune-in to WHEEL OF FORTUNE per week
• Most successful syndicated program in the history of television
• #1 show in price access television
• 59% of WHEEL OF FORTUNE viewers tune-in five days a week
• Demographic very close match to the B&B Enthusiast
• 700k Millennials tune in every day in addition to the B&B Enthusiast profile (older)
• Viewed in 209 markets covering 99.7% of the US
B&B Week aired December 1-5, 2014! Only two properties were selected to represent America:
• Abbeymoore Manor Bed and Breakfast Inn, Victoria, BC
• Marcel's Creative Exchange – Boutique Hotel, Amsterdam, Netherlands
• Woods Hole Inn, Woods Hole, MA
• Agriturismo Marciano, Siena, Italy
• The Inn of the Patriots, Grover, NC
The official news release is in our press room, here.
Being featured on Veteran's Day of 2016 also resulted in a large number of calls, texts, emails and Facebook mentions! Pat Sajak is a veteran, and Vanna White (watch the film below) grew up with her dad as a veteran, so each has close ties. They filmed a unique piece with People Magazine here.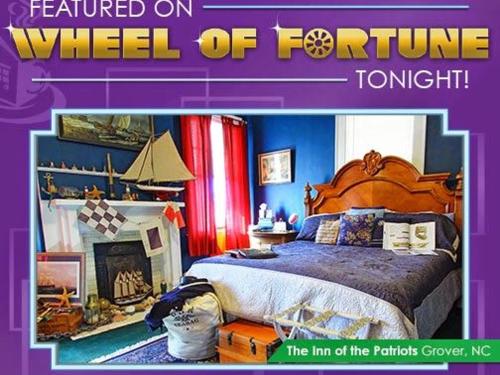 A News Release was put onto the Official Wheel of Fortune website right here along with a special video they filmed (it's on Facebook here). It really was quite nice of Pat, Vanna and Mr. Harry Friedman (America's most awarded Executive Producer for any game show in history). And by-the-way, did we mention!!!??? A contestant finally won us this time around! Tennia Smith, an eyelash artist who spent four years active duty in the Navy won us as a Prize Wedge. She is from from Allen, Texas. When we were on in 2014, nobody won us, awwwwwwwwwwwwwwwwwww. Drat.
Tennia hit it bigtime in the Mystery Round: FOOD & DRINK
Tennia's grabbed five T's for $2,750, got some E's, but LOST HER TURN when she landed on that pesky LOSE A TURN space. She was playing against Mark Ellenz, a financial systems analyst who was in the Army and flew in for the filming from Springfield, IL and also Eric Livingston who has his own law in practice and was in the USMC from '87-'91. He jetted to LA from Chesterfield, VA. Did we mention GO NAVY!?
Tennia then picked up the NC trip w/ two R's and bought the last vowel of U before winning
C O R N / O N / T H E
C O _ / _ I T H / _ O T _
O _ / _ U T T E R
CORN ON THE COB WITH LOTS OF BUTTER got her $3,250 and our trip worth $7,158.
Tennia rocked the game like any Navy shipmate would and entered the $100K Bonus Round
as the honored victor. Tennia landed on the letter P.
Category: PHRASE
_ _ _ N T
_ T / _ _ T
DHPA allowed for this consonant to be added, hmmmmm..........
P _ _ N T
_ T / _ _ T
POINT IT OUT - and they pointed over at a 2017 Explorer XLT valued at $40,540 for Tennia to drive to The Inn of the Patriots in! Tennia went home with $62,612.00 in cash & prizes! We definately planned to serve her CORN ON THE COB WITH LOTS OF BUTTER when she stayed!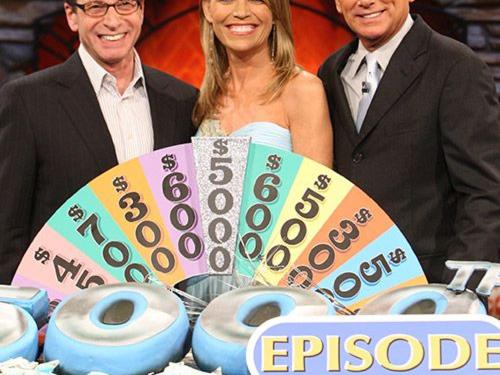 For our 1.2 million fans across 30+ social media sites, that's Harry on the left, Vanna and Pat. The kind of nice folks who support veterans in business trying to become something: Vetrepreneurs. Photos: Sony Corporation of America and Califon Productions, Inc. "Wheel of Fortune" is a registered trademark of Califon Productions.
• After arriving in L.A., Harry gave himself six months to find a job in show business. With 24 hours left on his self-imposed contract he landed his first gig. (WOF site)
• Harry is the Guinness World Record holder for both most Emmy® Award nominations for a game show producer and most Emmy® Award wins by a game show producer. (WOF site)