Ein besseres und sichereres Zuhause bauen
Featured on PBS, CBS, CNN, FOX, ABC, & NBC to almost three billion viewers worldwide we have also been in just over 160 newspapers & magazine articles.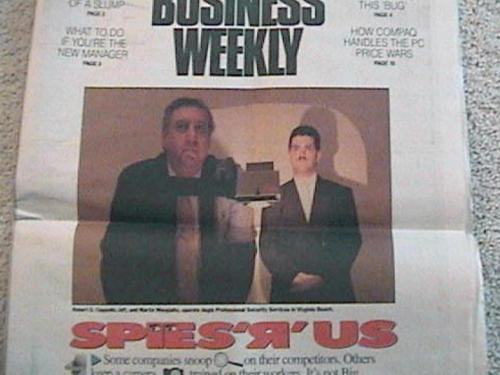 We have had the honor to work in the private estate and resort management industry on six continents and to live on three. Vice President Marti Mongiello started cooking around the age of four and became an apprentice Chef at 16 to three CIA grads. In the US Navy at age 18 - he graduated from cooking school and later, Restaurant Management Schools and Hotel Management School. He became a GM to the 1500-room Bayshore's Resort in Pensacola, Florida. Marti later graduated from the Department of Defense High-Speed Driving School, Police Academy (1st in class), US Marine Corps Physical Security school and Anti-terrorism school as well as ESCORT and CIA training with the US Army and US Secret Service protection for the first family (schools). As a polymath and polyhistor, he has built, owned, and sold two sets of alarm and security companies with all residual accounts.
Photo credit:
The Virginian Pilot Star, Business Weekly (
front page article)
showcasing our bugging, tapping, private detective academy, teaching police officers, body, blast armoring, and investigations. Bob Capello featured left and Martin Mongiello featured right.
Download the entire article here (.pdf).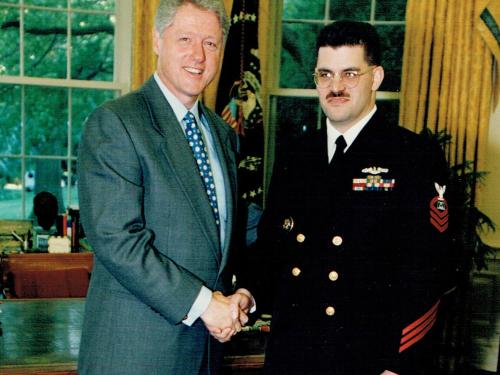 Later, as one of many Managers of the Camp David Resort and a White House Chef, he furthered his art of private estate management. He graduated Summa Cum Laude from the Starkey International Institute for Household Management and has helped families and family offices worldwide for 30+ years leading over a dozen on our team including Mr. Antwain Thomas, Mr. Allan Miller, owner Stormy Mongiello, and Kim Hambright.
Photo credit: The White House, Sharon Farmer. President Bill Clinton left and Marti Mongiello right, in the Oval Office, West Wing. This photo was taken during Marti's US Navy career as a Presidential Aide to the first family. Over 25+ years, Laurel team members have worked in the CIA, FBI, NSA, black ops sections of the CIA, the White House Military Office and all branches of the military. Our Vice President, Martin CJ Mongiello, CSCS (SS/SW), USN, Ret. holds a 30-year retired certificate from the military (below).
Marti and Stormy Mongiello have worked with eight Presidential Foundations and First Families for 25+ years.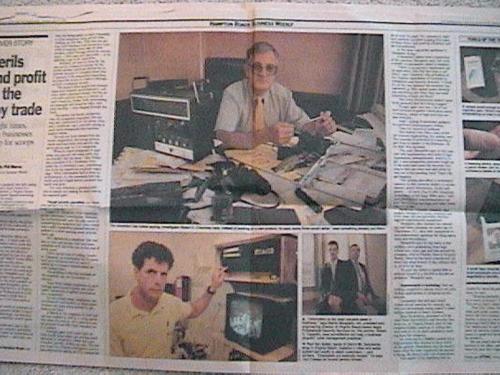 In some cross modalities, we have planned estates, air yachts, ships, security protocols, attack and kill drills (a kill cycle), cyber penetration, kidnapping and/or rape protocols, bribing, payoff, counterintelligence country recruiting, and poisoning prevention. We have also have worked on beehive response armies hidden from view protecting principals and families with massive, heavily armed response teams. Advanced security mechanisms of blood-vein check, CCTV, highly advanced alarm design, bomb, proofing, man-down mercury switch, run-flat, missile target saturation, spray master, wooden assembly gun, retinal scan, voice analysis, hardening, polygraph, regression therapy, psychoanalysis, torture, beating, medical death prevention, and doping techniques are a specialty.
Photo credit:
The Virginian Pilot Star, Business Weekly showcasing our client of Zero's Subs with closed -circuit television applications. Martin Mongiello featured left and Bob Capello, right. Download the entire article here (.pdf).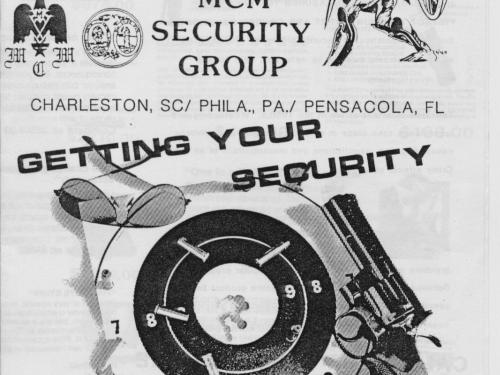 Vice President Martin CJ Mongiello, MBA, MA, MCFE, learned the majority of his skills when he owned The MCM Security Group and Aegis Security National, Inc. Designing and building security systems worldwide are a specialty as well as private investigations. Additional schools from the USMC, CIA, USN, and USA rounded him out. At times, clients, through Mr. Antwain Thomas, may operate via his wife's company of
Laurel Estate & Resort Management & Placement
(LaurelPlacement.com). Training of household staff is conducted through the
Intercontinental Academy of Household, Hotel, Resort Management
(IAHHRM.com).
Photo credit: MCM Security Group and AEGIS, Martin CJ Mongiello, MBA, MA, MCFE, a brochure on personal protection items, security guard services, and private investigation services.
Mr. Antwain Thomas, CDO, Intelligence/Signals/Cyber Security Expert (United States Navy) is
a Post 9/11, Gulf War II veteran in intelligence, signals, and cybersecurity as an expert.
He specializes in conducting threat assessments dealing with all areas of cyber intrusions, securing all forms of communications (critical infrastructure), and helping clients evaluate threats to the family and the enterprise.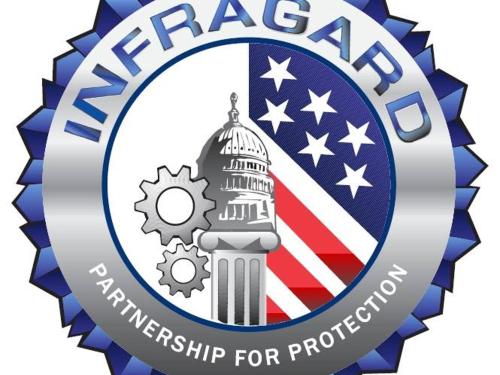 FBI/InfraGard National Captial Region Members Alliance (FBI Vetted Cyber Expert): Membership #: 10120789
https://www.infragardncr.org
.
Mr. Thomas has been vetted by the FBI to be included in the exclusive FBI InfraGard critical infrastructure network as an expert in cybersecurity as it relates to communication and financial network security.
Physical Security Standards and Hardening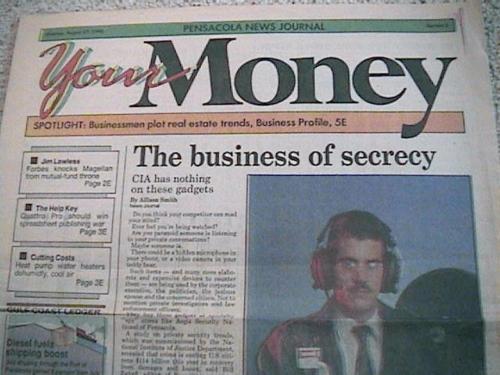 Physical Security Standards that we require for staff:
Understand and know about all aspects needed for family concerning alarm systems, CCTV, and biometric access controls. Previous design, blueprint and installation experience is a plus. Written or authored articles/designs in security periodicals a plus. Membership in equal societies and associations like the American Society for Industrial Security (ASIS) or others keeps them sharp.
This is part of our curriculum, here.
Photo credit: Pensacola News Journal, Your Money, frontpage featuring The Business of Secrecy and Martin CJ Mongiello with listening devices at Aegis Security National.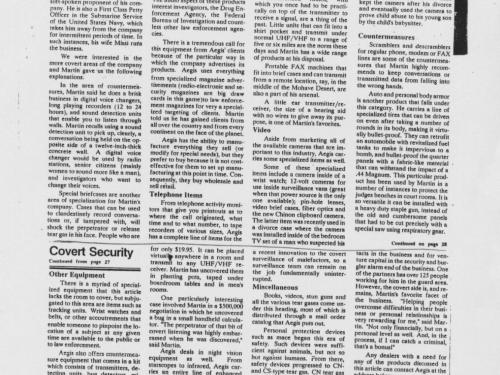 Physical Security Standards that we require for staff:
Lighting, locks, building and safe room experience along with duress signaling experience is crucial. In some instances, the family may have minor concerns about Act of God weather plan concerns such as a tornado, hurricane, fire or earthquake planning. These areas are of significant interest – look for expert experience here. In some cases dirty-bomb, blast concerns are very valid – again – ask for specialist expertise to be documented and for proofs.
This is part of our trainable curriculum here.
Photo credit:
Security News published a full-page article on one of our companies, Aegis Security National, quoting VP Marti Mongiello's views on the industry.
So did Security Sales Magazine
- see the entire article here (.pdf).
Automobile, yacht and aircraft attack concerns also need to be handled by an expert. The Estate Manager often should have graduated numerous schools on Anti-terrorism (US State Department, USMC, USA or others) and can readily be more of help to any Security Leader already on your team. In these regards – there can be the best qualified and the least qualified. You take your life into your hands when you treat this area with casualness. When someone simply needs training and to get certified, that is easy to do with an Aide that you trust and like. We don't actually need to bring in a whole new person unless you want to.
Graduates from necessary personal protection and driving schools like Executive Security International (ESI), US Secret Service (USSS), FBI, CIA, Department of Defense and Tony Scotti's Vehicle Dynamics Institute (VDI) provide the most reliable skills. You are not looking for mania – what you are looking for is protection during the once in a lifetime attack someone in your family could experience. As an Ultra-High Net Worth Individual (UHNWI) or family, you most likely will only encounter a life-changing death scenario once or twice in your life and protection will get you through it - unharmed. Otherwise, these things don't happen regularly. Trying to hype them up therapeutically to scare clients is wrong and unpractical.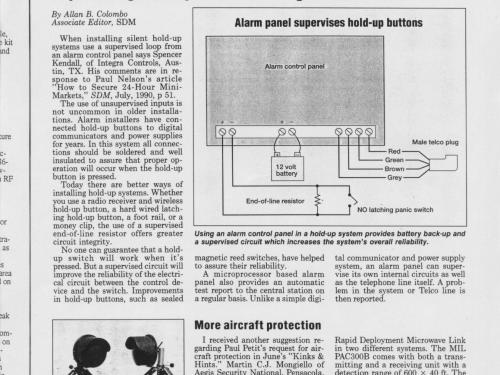 Industries and families served include full advocacy for local facilities of
Ultra-Armoring
here in Shelby, NC (the complete factory is just 9.2 miles away and is ISO-9001:2015 Compliant, iTAR Registered, and on GSA: GS-07F-0173X) being known across the world to UHNW families and governments. USSOCOM, USMC, North American and International OEM's, the Security Industry, State Task Forces for Crime, Government Agencies, and Department of Defense.
Photo credit:
Security Distributing and Marketing (SDM) Magazine published our Vice President, Martin CJ Mongiello's microwave protection systems solutions which were adopted to protect aircraft in the Gulf Wars, Operation Iraqi Freedom, and Operation Enduring Freedom.
Security Distributing and Marketing Magazine (SDM) also published Marti's designs and blueprints for panic switches, alarm system, and CCTV. Download a full copy of
his designs here (.pdf).
Kathleen Kennedy and Frank Marshall had Marti redesign their home security atop Los Angeles (seen below) which was sold to Tom and Rita Hanks for $26 million. We worked with ADT Los Angeles, Beverly Hills, and Santa Monica. Photo credit Marti Mongiello in a helicopter by OrbicAir of LA.
421 rounds fired into the family SUV - Zero penetration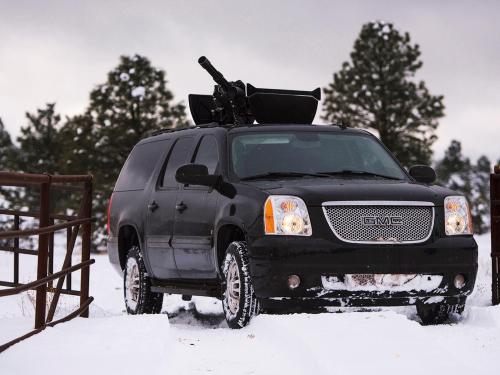 Dillon Aero
is also highly used, worldwide.
Download the cut sheet
for water, air, and land applications including in motorcades and on large ranch estates and properties. At times, Ultra Armoring may need to be combined with DIllon and a number of other vendors for interior oxygen supply, medical and blood backup kit, run flat tire systems for tires, hardening, glass, body conditioning, and strengthening, specialized braking systems, and several more items.
Our work with clients of the Mobile Drug Task Force in Alabama and the Virginia Governor's Crime Task Force are well noted.
Personal Protection Standards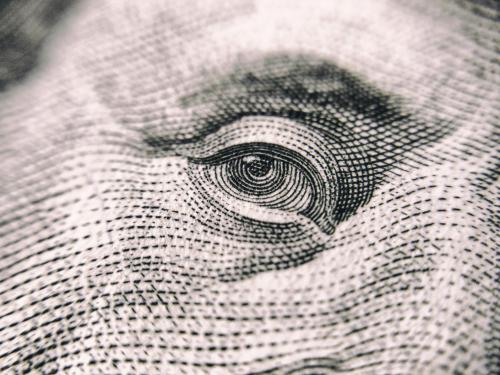 Personal Protection Standards that we require when reviewing team members for hire:
Bodily protection measures are necessary and different from physical security as they not only include individual protection but electronic protective methods. These include high-level meetings held in the mansion that could be bugged or tapped. Electronic countermeasures technologies are critical to being understood as the office typically offers the most significant protections, and the estate does not. Digital theft, copying, banking online, scams, schemes and photographing are all areas to evaluate and put your Estate Manager to the litmus test against. In all cases –
these skills can still be taught
– should an Estate Manager not have them on their CV.
Duress codes, devices, and signals are critical and must be understood. Ask them to explain the difference between all three for the average family. Poisoning is on the rise worldwide. Billionaire Long Liyuan (49 years old) recently was poisoned with meat in the Guangdong Province, China, and Millionaire Stephen Clayton (64) was poisoned with eye drops in his water in Clover, SC, USA by his wife Lana (52) who was a US Department of the VA nurse. Stephen had rebuilt a perfect replica of Mount Vernon for his wife at her request for their home. Neither were our clients and we have never lost a single client, including USMC Commandant Gray or President Bill, Secretary Hillary, and Chelsea Clinton.
There have been some new studies released in
July of 2019
now proving
children six and above survive more, depending on your car and seatbelts, sitting up front. It is very important
to look at that here (.pdf).
Bodyguard and weapons proficiencies/techniques may be needed and to most extents, not all Estate Managers can facilitate those needs – but some can. Before hiring or evaluating in this area – know that graduates of
Executive Security International (ESI)
will carry a Personal Protection Officer (PPO) designation behind their name. In all cases – in all of these areas – look for certifications and graduations that lead to classifications. "Self-appointed," authorities and the local Black Belt rarely bring the skills that are needed.
"The whole idea behind the movie Firewall (alluding to the concept of a firewall on a computer network protecting intruders from the outside) is the concept of "Social Engineering". Harrison Ford as the chief of security who designed the security of the bank's security network was leveraged in hacking into a system he designed by using his family as bait to transfer funds. Ironically, the same Firewall he designed to keep criminals out of the bank's network was taken down by the very person who was trusted to protect the bank. His family became a target through simple research and selected as an easy target to gain access to a protected resource. No matter how secure you are, one must always be vigilant and limit exposure as much as possible. Being the chief of security of a major bank can create a false sense of security, due to their position at the job. However, the family is always a weak point as they can be used to pivot and leverage an outcome." Mr. Antwain Thomas
Our highly advocated weapon for use is the FN P90 which is one of the current US Secret Service weapons.