The ARWLHC in Books, TV, film and contributory works
Assisting as military advisor and technical experts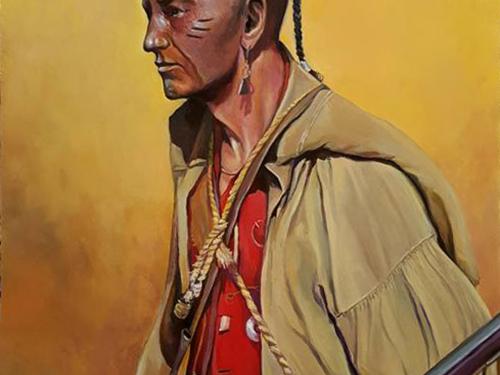 The ARWLHC, Mongiello Associates, Presidential Culinary Museum, Presidential Service Center, The Hatcher Hughes Pulitzer Prize-Winning Playwright Theater, CWSMMA, The Inn of the Patriots and Mongiello Holdings have consulted and worked on many successful books, television show sets, with the Writers Guild East and West, SAG, Kennedy Marshall for Lincoln and on movie and film sets. Often we bring reenactors to sets and act as the Military Advisor or Reenactor Director. Some minor highlights (a selected few) of our work have been:
2019 - 2020: Two podcasts featuring history are produced by the famous, award-winning Carl White with Producer Tim Vogel from the Life in the Carolina's television show series. Work began following six history books published (via Mitchell Publications and Lulu Publishing) and researched with exhibits built at the museum. These are broadcast, one in 2019 and the other in 2020 by Carl across six networks featuring Orlando Herrera, Jr., and Martin CJ Mongiello.
The historical television series featured across CBS television and YouTube went into the production of Inside the Presidents' Cabinet and one specific episode featured General Washington and Lord Cornwallis. A previous episode on CBS had featured Dolley Madison! The series is renewed with White Manor Productions for series two and three stretching into 2022.
Speeches are given as many invitations come in from the Daughters of the American Revolution (DAR) in Clover, SC, the Broad River Genealogical Society in Shelby, NC, the US Naval Academy SC Alumni Chapter of Greenville and often showcase the history, a short film made, projection screen of maps, and the new book, Terrorist Psychotic: Mary Patton. A speech is presented by a number of speakers (including Executive Director Mark Anthony, blood family descendent Theresa McKeehan Phelps, and CFO Martin Mongiello) at Sycamore Shoals State Park, TN for the unveiling of the Mary Patton painting by Jeff Trexler. Additional history is showcased and revealed via findings from many new parties and a statue is also unveiled a few months later. The Mary Patton painting is hung on state property and showcased for several months by the state park before returning home to the Schafer Gallery of Heroes and Sheroes.
Two historical presentations are given by Marti, Rania, and Stormy Mongiello with help from the town of Unicoi, TN, Mayor Johnny, and his loving wife Pat Lynch, Mike and Claudia Reeder Langley, and many, many other people working hard. Hundreds attend the historic Heritage Days held at the Bogart Bowman Cabin of Unicoi to try cottage pie cooked over the fireplace there! All items are donated financially by the Mongiello's including time, per diem, groceries totaling hundreds of dollars, and lodging provided by the Langley's of Tennessee. A previous Scottish Cooking School was held for the town and all items donated for free to a sold-out school at the Mountain Harvest Kitchen.
In early 2020, prior to the global pandemic of Coronovirus triggering worldwide, Martin Mongiello is invited by the French society of Auguste Escoffier to receive a medal on stage and address them in French and English. A surprise Washington dish is served of the general's favorite steak and kidney pie by Marriott at McCormick Place Executive Chef Jack Delby.
2018 - 2019: Production work for a full-color painting begins and finalizes on the famous Shero, Mary Patton who donated 500 pounds of black powder to the battle of King's Mountain (using the apostrophe as it was until approximately 1900 for the possessive use of the mountain named after the King family and King's Settlement), as well as many other battles across the South, used her powder. The great Catawba Indian hero, Captain Redhead is also featured as her friend and customer with Sally New River. The painting is unveiled and new paintings are announced of Susan Twitty, female American revolutionary war combat hero, and Catawba Queen Sally New River into the year 2030.
2016 - 2017: Reproduction and historic exhibit built for the new movie, "JACKIE," starring Natalie Portman. Fox Searchlight Pictures bought the North America distribution rights for $10 million and invited us to appear on opening day in North America on FOX TV. See more about our JACKIE work here.
2014 - 2017: - The Ishmael Titus Project Bronze Plaque celebrated its May 20, 2015, Mec-Dec Day Grand Dedication with the May 20th Society, Charlotte Walk of Fame, ARWLHC in front of the Harvey B. Gantt Center for African-American Arts and Culture set into the sidewalk. Specified, itemized thread studies of Ishmael (and his coming brother Primus/Primes moving into the year 2020; PRIMES2020REVEALED) can be seen here and his previous dedication day event information here. This includes ABC TV footage.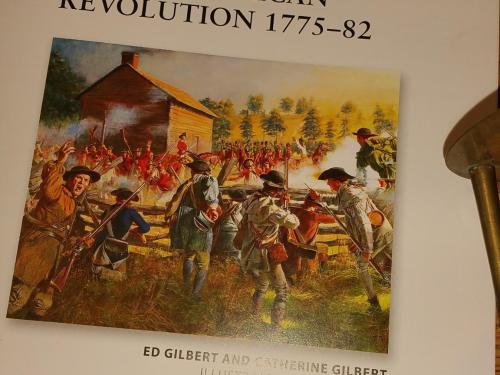 The newest Osprey Men at Arms series book debuted in August of 2015, worldwide, from Cambridge, England featuring the ARWLHC painting of the black hero, Ishmael Titus, and numerous quotes and entries about The Inn of the Patriots and ARWLHC assistance.
Jeff Trexler was hired to paint the next several Hall of Heroes and Sheroes oil on canvas of the Catawba Nation, Captain Redhead, who assisted and helped America to be created during the Revolutionary War. Study of the Catawba Indian heroes helping Americans to win the war here. In February of 2016, the painting was unveiled in front of almost 100 people from the Cleveland County Chamber of Commerce as our veterans hosted a special dinner.
April 23, 2016 - Joe Epley - A Passel of Hate - dinner for inn guests only at 6 pm ($34.95 pp++), regular speech and book signing at 7 pm with coffee/tea and dessert free (featured in photo).
May 20, 2016 - Mecklenburg Declaration Day in Charlotte - Scott Syfert, Ken Lemon and Martin Cj Mongiello guest speakers at the dedication of the Ishmael Titus Plaque in front of the Harvey B. Gantt Center for African-American Arts + Culture complete with The Presidential Service Association & Presidential Culinary Museums medal awarded to Solomon Taylor. Refreshments after in the Harvey B. Gantt Center.
June 20, 2016 - Scott Syfert and his new book - "The First American Declaration of Independence? The Disputed History of the Mecklenburg Declaration of May 20, 1775" - dinner for inn guests only at 6 pm ($34.95 pp++), regular speech and book signing at 7 pm with coffee/tea and dessert free
All held at The Inn of the Patriots Bed and Breakfast Hotel
PREVIOUSLY IN 2015
March 19 - Renee C. Lyons and her new book - "Foreign-Born American Patriots" - dinner for inn guests only at 6 pm ($34.95 pp++), regular speech and book signing at 7 pm with coffee/tea and dessert free
2011 - 2014 - The ARWLHC is called upon to assist the film, Alone Yet Not Alone and provides over a dozen actors on set at Fort Loudon, TN. Director: Ray Bengston, Writers: George D. Escobar, James Richards, Stars: Kelly Greyson, Natalie Racoosin, Jenn Gotzon, Clay Walker, Ozzie Torres, and Robert Pierce. See the full movie trailer here at the Alone Yet Not Alone website.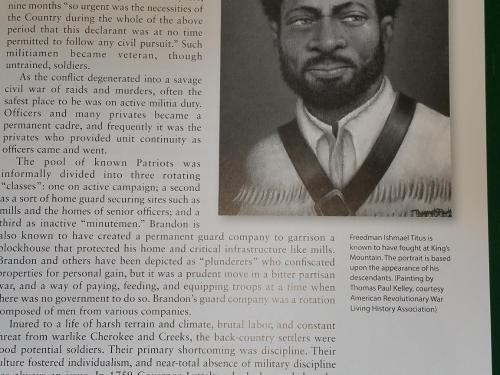 2013 (not a complete list for the year) - Cheyanne Stirewalt (in 2020 she earned her Master's) Girl Scouts Gold Star project completed with a film made by her (click to watch what teens are doing today and be inspired) and showcased on the front page of The Shelby Shopper & info newspaper (issue #31, August 1, 2013). This project included technical assistance and teachings for the filming of our actors and colleagues at the rededication plaque for NC state highway system marker PATRICK FERGUSON (NC Marker O-13) complete with prayer, words, and Ferguson Rifle salute fired to, "the bulldog." The marker was originally noted by the ARWLHC as missing for over five years and placed on investigative discovery programs related to NC Marker O-22, NC Marker O-6, NC Marker O-59, and NC Marker O-5.
Kings Mountain graduating senior project completed by Ethan Anderson at Kings Mountain High School. Ethan originally was privately referred to us by the proud parents of Cheyanne Stirewalt. The ARWLHC worked with him for several months to complete his project in the region. See it here with the school children on Facebook.
Historic visit by the ISHMAEL TITUS's family to the ARWLHC Provisional HQ in Grover, NC by Solomon Titus Taylor and his brother (both ar USMC veterans). To examine the heroic efforts of the ARWLHC, Thomas Kelly Pauley, Mic Scoggins, Joe Epley, Martin CJ Mongiello, Stormy LeAnn Mongiello, Dan Woodruff, Mark Anthony, the Sons of the American Revolution (SAR) and Daughters of the American Revolution (DAR) Colonel Hambright and Colonel Cleaveland Chapters in revealing Ishmael Titus please see the painting and work threads here.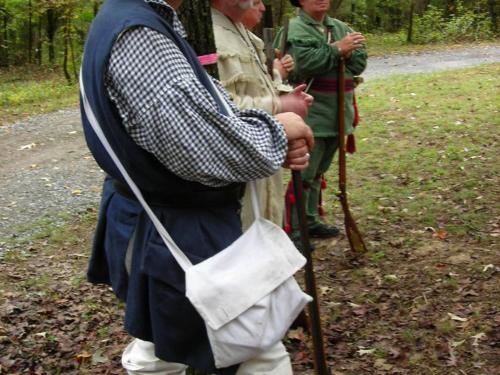 2012 (not a complete list for the year) - Historic releases of first-ever paintings and commissions of Colonel Benjamin Cleaveland and Private Ishmael Titus then leading to the commission of Colonel Andrew Hampton with Thomas Kelly Pauley.
A rifle salute and rededication ceremony for Colonel Graham, "Grahams Fort" NC Marker O-59 celebrated with crane putting in brand new marker on NC Route 226 and the NC DOT helping the ARWLHC and SAR. Prayers led by Reginald Alexander.
2011 - Historic release of first-ever painting and drawing completed of Colonel Frederick Hambright and presently being showcased in the "Gallery of King's Mountain Heroes," at The ARWLHC Provisional HQ in Grover, NC.
2010 - Principal Military Advisor and Director (Martin CJ Mongiello) works on the God, Guns and American Freedom TV show series on an episode - Kings Mountain (the show is seen above). Mathew Vincett is highly featured as the Charlestowne Artillery, Martin CJ Mongiello as Colonel Hambright and Tim Weiss as an Anglican Minister. Director and Producer Wayne Wilkinson of NewRMedia features first-ever reports of true events nationwide that have been missed and over-looked - he directly interviews redcoats and others.
2009/2010 - Producer and Director of Fabulous 4th of July Show battle, attack uphill and victory at Kings Mountain with cannons, spotlights, pyrotechnics, weapons safety, and scripts by Martin and Stormy Mongiello for the City of Kings Mountain - a first-ever produced event.
2006/2008 - Live shows completed by Marti and Stormy Mongiello on stage across the United States with sponsor Proctor & Gamble. Up to six shows per day cooking on stage at the AARP convention, in CA, the International Balloon Festival in New Mexico, Race for the Cure with 100,000 people in Little Rock, AR, and the New York State Fair with eight million visitors.
2005 - Production support completed for National Geographic filming at Historic Cold Spring Village, Cape May, NJ with Swordmaster Ryan Travis. This included daily filming and all food service support from the Jersey Sailor Restaurant.
2003/2004 - African American shows and historic portrayal of Robert Smalls is conducted in the Arabian Gulf onboard USS Detroit (AOE-4) with the United States Navy.
2000/2002 - Several CWSMMA members receive Official US Navy Letters of Commendation from Admiral Joseph J. Krol, Jr. (a two-star Admiral) for their efforts and work in Japan at the Kanrin Maru ships festival, Negishi Navy Birthday Balls, African-American Celebrations at FISC and shows performed at Negishi and the Admiral Arleigh Burke Officer's Club and Commodore Perry Festivals (complete with Chief of Staff, Captain Buchannan of later CSN Admiral's fame). These included PO Rick Harlow, CPO Billy Felder, PO Kerry Tiller, Lt. Thurmon, PO Dan Martin, PO Spence/Meeks/King/Boulon, PO Dave Clare, SN Montalbo and Commodore Donnie Camp (ETCS/SS, USN, Ret.) as well as many, many others.
2000 - Selected to represent and control the United States of America forces in pageants, seagoing vessels, shanty singing, parades and meetings held in the country of Japan. Featuring American sailors and Mathew Calbraith Perry, Franklin Buchanan and more - the pageant and strategic agreements on behalf of President Millard Filmore become the highlight to one million visitors. A first in history for both countries featuring Donnie Camp as Commodore Perry.
1996 - Terror of the CSS Alabama event - silver, antique Civil War watch awarded to President from Anthony and Helena D'Alessio of Lakeview Docks, Wildwood Crest, NJ, USA.
1995 - Awarded with contracts to the CWSMMA for representing America's Civil War Navy and Marines after a comprehensive review of nationwide units in the movie, "TAD." The ABC Family Channel selects Kris Kristofferson - as Abraham Lincoln, Jane Curtin - as Mary Todd Lincoln, Jean Louisa Kelly - as Julia Taft, Ed Gale - as General Tom Thumb, Kieran Mulroney - as Robert Lincoln (and also seen in Gettysburg by Turner Pictures), Bug Hall as little Tad Lincoln (The Little Rascals) and Muse Watson (seen recently in Austin Powers). Filmed aboard a full-sized paddle wheel steamer on the James River and at City Point, (Richmond) Virginia (which at times closed all mega-container traffic to the entire James River). Written by Ernest Kinoy (he also wrote ROOTS). Rob Thompson was a very, very intelligent, creative and masterful fellow - he directed the film. You may remember him from other shows and movies such as the TV show, "Monk." He also directed a number of other episodes and shows like Fame, Northern Exposure, the Wonder Years, Fantasy Island, L.A. Law, Greatest American Hero, Hill Street Blues, Dynasty and Magnum P.I. Additional coverage was also run in TV Guide and People magazine. The CWSMMA acted as complete consultant to the Director on all aspects of Civil War small boats in the water, weapons, uniforms and actions and can still be seen in this movie run occasionally on TV. Full sets, meals and payment were provided.
1993/1996 - Civil War Encampments held at The Gettysburg Wax Museum, The Frederick County Covered Bridge Preservation Society and oceanic transit in the Atlantic Ocean. Full scale battles held in Wildwood Crest, NJ with Captains D' Dalessio, Captain Dave Franchetta, Captain Chuckie Schumann and Captain Bill Henfey. For all items concerning the many mentioned CWSMMA events please see the official website with Andrew King, Executive Director and Marine of the Year Award Recipient.
See the latest film release supported from Alone Yet Not Alone.