Research and feasibility studies completed
Investigation towards methodical endorsement pays off
The U.S. expects continued tourism growth from international markets through 2018.
The U.S. Dept. of Commerce projects international travel to the United States will continue experiencing strong growth through 2018, based on the Office of Travel & Tourism Industries' Travel Forecast. http://tinet.ita.doc.gov/view/f-2000-99-001/forecast/Forecast-Countries.pdf
According to the current forecast, the United States would see 3.7 percent to 4.2 percent annual growth rates in visitor volume over the 2013-2018 timeframe. By 2018 this growth would produce 84.6 million visitors, a 26 percent increase and 17.6 million additional visitors compared to 2012. The latest forecast reduces the compound annual growth rate over the forecast period from 4.2 percent to 4.0 percent.
For more information on the OTTI Travel Forecast, including data tables for the world regions, data tables for the top 40 visitor origin countries, and justification for each country forecast, including positive and negative factors that might influence travel from each country to the United States, click here. Travel and tourism is the largest services export industry for the United States and has produced a trade surplus since 1989.
Detailed research, feasibility and reports conducted and available for review:
Ordered, accompanying ARWLHC Proposed Target Audience written report.
Prepared S.W.O.T. Analysis Study completed, November, 2009 - 2019 for the ARWLHC.
Integrated Marketing Communications Report for 2010+.
Study published and evaluated for 2010 - 2020. ARWLHC Brand Study.
The ARWLHC Corporate & Marketing Objectives, Strategies and Tactics into 2030.
Annualized Strategic Marketing Budget for the ARWLHC in Excel review.
Annualized Strategic Marketing Budget for the ARWLHC proposal snapshot.
Cluster Feasibility Study released by Harvard supporting our application studies.
Six-year Feasibility Study completed, December 2009, by Tourism Development International
Supporting quantification of our Indian camps, Indian historic centers and Indian presentations.
Crafting a New Rural Development Strategy - an important element of our success.
Elements of Stakeholder Support for Tourism in Rural Communities - new ideas.
Land for Tomorrow Green Book of Conservation - how we will preserve and conserve.
North Carolina Cluster Resources Report.
North & South Carolina Revolutionary War Brochure - the full sized brochure we hand out.
Small Business Incubation Fact Sheet - crucial to starting and helping local folk succeed.
2010 - 2020 Mongiello Associates Strategic Marketing study of Horse and Farm Operations,
Proposal and Analysis in Cherokee and Cleveland Counties
2011 Nathaniel Greene Grille and John Adams Tavern Club Members Review
ARWLHC African American Marketing Stratagem
Land use planning, map of the park and business items:
Letter of Interest from third parties
Listing of our Board of Advisors and Trustees.
Board of Advisors and Trustees By-laws.
Land use, planning and theme park sample design blueprint
Join us on Facebook for daily updates, news from events and actor videos.
Private business owners can meet with our incubation and Small Business Funding Team for SBA 7A, Patriot Express Loans (limited), USDA and SBA 504 loans (limited to seven million). Angel investment is limited to 50k per husband and 50k per wife, per annum.
Gifts of appreciated securities to our IRS certified non-profit status for the Colonel Cleaveland Museum, Chapel by the Woods and Colonel Cleaveland Demonstration Area avoid the capitol gains tax on the appreciation while providing a terrific tax deduction. Bequests reduce your estate tax for your heirs and provide a legacy in remembering the Museum, farm or Chapel by the Woods in your will. Gifts of life insurance, real estate, retirement accounts can also occur to help us create a legacy in your name or desire.
Home owners are encouraged to build your small business or private log house in our new world.
Updated reports on painting project of local leaders and family: In 2010 the ARWLHC boldly announced it would pursue a goal of showcasing 30 assorted leaders from the local area. Specifically, leaders at the famed local battles who have never been seen in modern history due to the facts of not being drawn, painted or any bust or statue ever having been made of them. Forensic and historic investigative techniques were employed with research and assistance by many including Michael Scoggins of the York County Museum system. By 2013, four paintings were completed of Colonel Frederick Hambright, Colonel Benjamin Cleaveland (later Cleveland), Private Ishmael Titus and Colonel Andrew Hampton. The ARWLHC membership of 6,000+ people is continually requested to advise on who should be next. All copyright and reservations are strictly controlled and owned by Martin CJ Mongiello and the ARWLHC. No reproduction or public display is authorized. Note card sets are sold online and in our gift shops on site with all funds going towards the ARWLHC projects. You may also tour the official Schafer Gallery (named after Mr. Mongiello's Prussian family line) where all paintings hang. Guided tours are held daily at 9:30 am, seven days a week.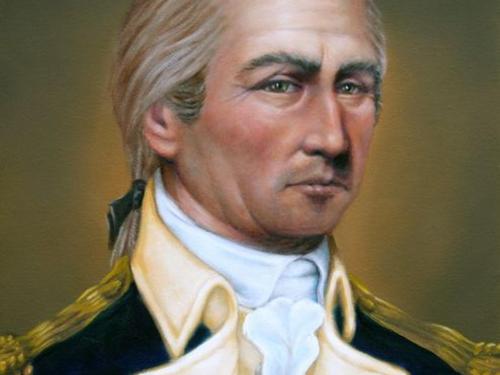 Colonel Frederick Hambright of Prussia, Lancaster, PA, Virginia and Philadelphia, PA (he settled near the King family settlement close to King's Creek, King's Mountain and Hambright Gap).
A special thanks to Larry Patrick for the dozens of family photos, tinplates, stereo paltes and daguerrotypes studied.
Additional family male members participated in the region and accepted being studied by the artist for almost one year.
Specific attributes were noted of the male family members including a sunken chin and Roman nose.
Since the Colonel was a warrior in the woods and countryside he is featured weather-beaten and of such conditions would arrive upon a person of his repute keeping note of two streets named Hambright in the Charlotte metrolina region and Hambright Gap between the mountains on the King's Mountain range and King's Settlement by King's Creek.
The City of King's Mountain (after 1905 spelled Kings Mountain on most maps and by the USPS who had complained about the apostrophe). The city is actually named after the King family - inadvertently, after being renamed from White Plains when incorporated in 1874.
The NC city is often confused by visitors for the actual KINGS MOUNTAIN National Park.
Extensive coverage of this first painting was shot and covered by the Kings Mountain Herald.
The project for this painting and entire 30 set series was originally submitted by Martin CJ Mongiello to the Art Institute of Pittsburgh, PA and can be reviewed as a slide presentation.
The artist followed suit in his selection of desired Military Uniform Standards requird by law for any veteran that has ever served in America.
First professional painting completed in world history.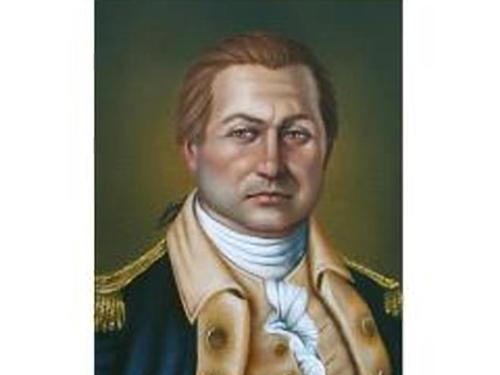 Colonel Benjamin Cleaveland (later Cleveland but actually spelled his name five different ways on five different occasions in the NC records).
Numerous living family members were studied by the artist, photographs of descendants and help received from Robert Rose and Jennifer Cleveland.
Of particular note was that most living family members of the male side still hold Benjamin for a middle name and of course, Cleveland as a last name.
A great controversy began about the artist painting the Colonel heavy (as he was a heavy man) and in a blue coat with buff colored vest. Additionally, the ARWLHC received a little smashing over the artist's request in all kindness asking for additional input and help from any experts - no reply was ever provided, just negativity and anger expressed over the ARWLHC completing the first ever painting.
When Don Troiani followed suit and released his great and epic painting of the Colonel in full scale showing a dark blue, "Sunday Best," jacket - the former critics were embarrassed and silenced.
The artist followed suit in his selection of desired Military Uniform Standards requird by law for any veteran that has ever served in America.
This was the first professional painting and research ever completed in world history of Colonel Benjamin Cleveland.
Besides news coverage of him and ancestors visiting the King's Mountain Gallery of Heroes there is additional family information with a recipe at The Charlotte Examiner.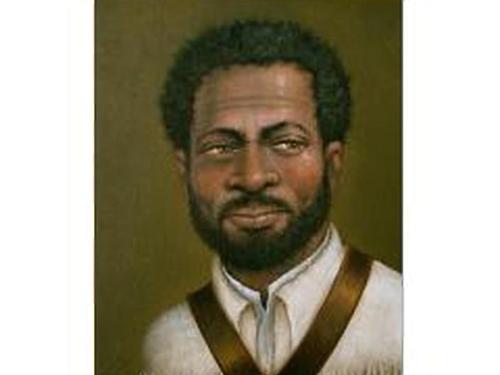 Black hero of many battles including Camden, King's Mountain and more, Ishmael Titus recently had his record over-turned and corrected by Michael Scoggins of the York County Museum and The Southern Revolutionary War Institute. Private Titus became the third painting completed in late 2012 and unveiled at the Daughters of the American Revolution 2012 Constitution Day ceremonies, held on the Cleveland County Courthouse steps. Guest speakers included Martin CJ Mongiello, as Colonel Hambright, Dan Woodruff, as Colonel Cleveland, Pastor Williams of Grover, NC, Mic Scoggins, Author of two books on black heroes and Marjorie Senn, from the Colonel Benjamin Cleveland Chapter of the DAR in Shelby, NC. Marjorie is remembered with the Pencil Skyscrapers planted in the back garden of The Inn of the Patriots for her help in publicizing this event and bringing it together. Shirley Brutko also attended from the Colonel Frederick Hambright chapter of the DAR with Mark Anthony from the SC Sons of the American Revolution.
Additional studies, possible exhumation of body, DNA testing and family court cases are in need of assistance. You can assist the family and the ARWLHC by reading more research completed here, in a long and concise thread of accomplishment.
This is the first-ever professional painting completed in world history of him. The Titus family visit in early July of 2013 seeks to further reverse court orders and denial of VA pension claims with the help of the ARWLHC.
In August of 2013 it was stated the intention of the ARWLHC was also to attain an official VA marker for his grave. Here is a link to the historic event covered on ABC news for 2012. Here is a link to the 2015 Charlotte Walk of Fame Plaque dedication ceremony of Spring, 2015.
In the year of 2012, planning began by Osprey Men at Arms books of Cambridge, England to add to their famed line of internationally recognized books - and in 2013 such was laid down. Patriot Militiaman in the American Revolution 1775-82 (Warrior) Paperback – issued June 23, 2015 by Ed Gilbert (Author), Catherine Gilbert (Author), Steve Noon (Illustrator) became the result with meetings at The Inn of the Patriots and ARWLHC in Grover, NC of October, 2013. You will note the full size photo of Ishmael in the book and recognition of his war service being truthful and undeniable, any longer. Numerous battlefiled rosters and websites will legally re-add him to the roll.
In December of 2015, the DAR of Kings Mountain wrongfully ordered and paid for a metal plaque, NOT featuring Private Ishmael Titus, and the proof showcased in research, pensions of white officers and evidence from the Southern Revolutionary War Institute, based at the McCelvey Center, Culture & Heritage Museums. We have continued to donate to this chapter in Kings Mountain, though. This violation is viewed as a continued effort of innacurate historical fact-finding and incorrect plaques on monuments at the Kings Mountain National Military Park, as previously featured in his book, A Passell of Hate, by Colonel Joseph (Joe) Epley (Tryon, NC, Retired, USA). There are soldiers that Colonel Epley proved, on plaques, who were not at the battle - and soldiers NOT on the plaques, that really were there. Additionally, the DAR chapter involved a Brigadier General and the National Park Service in this behavior. Despite the most recent visit of a four-star General in the Army here and corrective assistance offered, the black family and living descendants of the family organization decided not to pursue correcting this unjust action. Please see additional newspapers on Ishmael, below.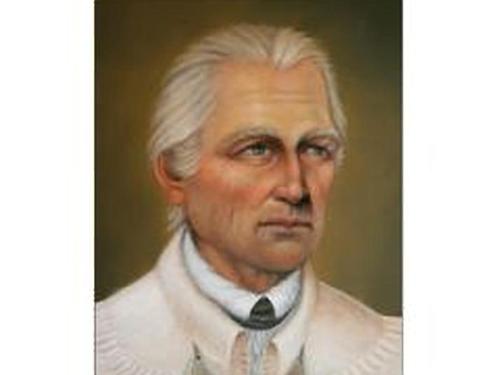 Colonel Andrew Hampton. Release celebration in Rutherford County was on June 19, 2013 at 5:30 pm in front of the Town Comissioners and public gathering/meeting.
First professional painting completed in world history.
The Original Draft News Release on the history making unveiling:
Portrait of Revolutionary War Leader To Be Unveiled in Rutherfordton
A portrait of Colonel Andrew Hampton, commander of the Rutherford County Liberty Men during the defense of Charleston and in the battle of Kings Mountain will be unveiled at 5:30 p.m. Wednesday, June 19, during the Rutherfordton Town Council meeting. A special invitation is extended to all living descendents of the Revolutionary War hero to attend and participate in the unveiling ceremony.
Chivous Bradley, a Rutherford County historian, coordinated the presentation by The American Revolutionary War Living History Center (ARWLHC). The portrait will remain on display at the town hall for several weeks. "This is a long past-due honor for one of the great pioneers and heroes of our community," Bradley said.
The ceremony will include Martin Mongiello of Grover, N.C. and one of the ARWLHC founders, who commissioned a series of portraits of the heroes of Kings Mountain and region. He selected Rutherfordton as the site for the public unveiling because of Joe Epley's idea and that Hampton lived only a few miles west of the town, his family played a major role in the early development of the county and many of Hampton's descendents still live in the area.
Other portraits from Kings Mountain on display at Mongiello's Inn of the Patriots in Grover, N.C., include Colonels Fredrick Hambright and Benjamin Cleveland, and Ishmael Titus, a free African-American who fought with the patriots.
Many of the heroes of the backcountry militia leaders were simple men who never sat for an artist and of whom no graphic likeness exists today. Andrew Hampton was one of those heroes that history has almost forgotten, but by analyzing dozens of photographs of one's descendents and comparing common facial features, a reasonable facsimile of what he must have looked like can occur.
Hampton's descendents from Rutherford and Polk counties and as far away as Texas and Arkansas contributed old photographs, some dating back to the mid 1800s, for use.
Andrew Hampton settled on Mountain Creek in what was then called Tryon County in 1770 and was a captain in the frontier militia. The father of 15 children, he was a prosperous farmer and miller. In 1775, he was one of the signers of the Tryon Resolves which declared the area's support against British tyranny and resigned his Royal commission. Hampton was a Major in the Griffin Rutherford 1776 expedition against the Cherokee. When Rutherford County was created in 1779, was promoted to Colonel and given command of the new county's militia.
At the battle of Kings Mountain he was 67 years old. Two months later, at the Battle of Blackstock plantation near Spartanburg, he led the Rutherford riflemen as they inflicted heavy causalities upon Banastre's Tarleton's legion.
Hampton resigned his military commission in 1781 and served three years as sheriff of Rutherford County. He died in 1803.
Photos from the event can be viewed here at shutterfly taken by Joe Epley. News coverage on the front page of the Daily Courier was robust. You can read more in the book covering his life, A Passel of Hate by Joe Epley.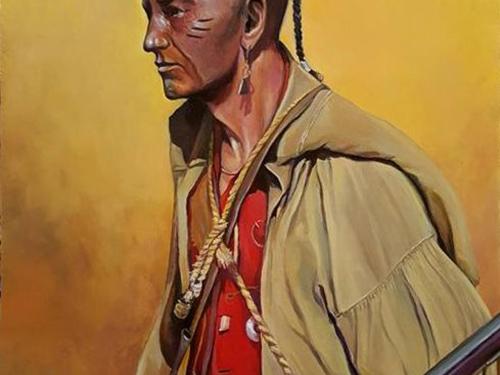 Our painting and research launch was started in late 2012 and early 2013. ARWLHC members were asked to vote and provide input at our official Facebook site.
As of June through 2013 the ARWLHC membership of over 6,000 people was trending towards having a local American Indian painted. In September, 2013, unbeknowst to the ARWLHC a new Catawba resort was announced for 320 million dollars, with a 1500 room hotel - three miles away from our current HQ.
At the Kings Mountain Official Chamber of Commerce Advisory Committee meeting in December, 2013 held at The Inn of the Patriots, it was announced that Captain Redhead of the Catawba Nation would be painted soon. In late 2014, the noted painter Jeff Trexler, was commissioned via contract to paint Captain Redhead.

In December of 2013, Martin CJ Mongiello - of the ARWLHC, had traveled to meet with the caring chiefs of the Catawba Nation, around their Executive Board Table, and was allowed to hold the Indian Talking Stick - an honorable moment in history and time.

In February of 2014, assistance was offered by the peoples of the Catawba Nation to research Captain Redhead - to the ARWLHC.
In March of 2015 research work continued based on Catawba holdings, the book "Allies in the Revolution," "The Catawba Project," conducted by the
Research Laboratories of Archaeology University of North Carolina at Chapel Hill and a 1772 drawing of Captain Redhead featured in such.
Jeff Trexler delivered his painting for framing in late 2015 and it was unveiled at the Schafer Gallery of Southern Revolutionary War Heroes. We were joined by the Cleveland County Chamber of Commerce for a "Business After Hours" event featuring wine and heavy canapes. The Catawba have been certified by the federal government as a recognized nation and that their real lands are in NC and SC.
This was forecast earlier here at the ARWLHC History page. The partial, Facebook, histogram for that event is here https://www.facebook.com/events/1124486657583295/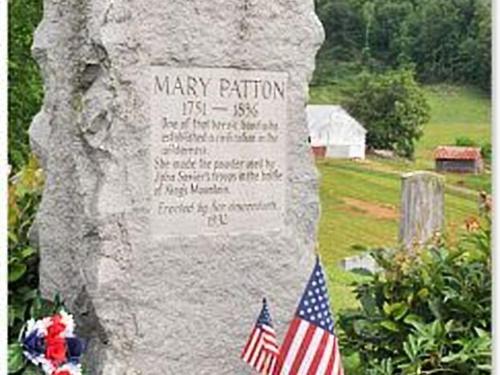 Our 2016/2017 year project hero is designated to be delivered in 2017/2018 as Mary Patton. As we now approach 9,000 members, Joe Epley has provided a rough sketch of ideas moving into 2025.
We have begun to interview ancestors of Mary starting in 2016.
"The Watauga settlers, where Mary lived, were the first men and women of primarily Scot-Irish ancestry and genuine American birth to establish a free and independent community in American history," Martin CJ Mongiello, Executive Director Emeritus of the American Revolutionary War Living History Center.
Research Link #1: https://washingtoncountyregiment.wordpress.com/2010/02/24/mary-patton-the-art-of-black-powder/
Please offer additional links that you suggest on our FB page and we will select some for here.
Research link #2: https://www.wikitree.com/wiki/McKeehan-25
We have also been informed by a DAR friend that, currently, there may or may not be enough evidence to prove Mary beyond LORE. This is our uphill battle of digging around in the darkness to provide these paintings to the public at no cost. But, we do have this official House of Representatives Congressional Record on Mary Patton.
Patton earned her place in history by providing over five hundred pounds of gunpowder to the 850 Overmountain Men led by Isaac Shelby and William Campbell for the battle of Kings Mountain during the Revolutionary War. Essential to the victory over Major Patrick Ferguson's British troops was Patton's gunpowder.
-Johnson City, Tenn., Press-Chronicle, Friday Morning, July 3, 1964, page 16