The U.S. Presidential Service Center®Foundation and Trusts - A museum on support and protection of the U.S. Presidency.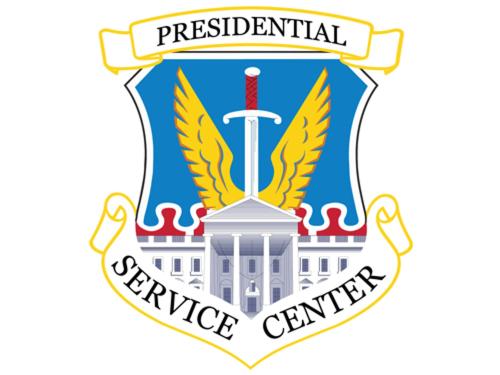 Since 1994 we have had 24,230,000+ visitors to the center, website, museum, and been featured on CNN International, PBS, NBC, CBS, ABC, Vitaya, BrusselsTV, NHK, and FOX to 2.6 billion viewers. We've been featured in 160+ newspapers and magazines on earth. Guests staying at The Inn of the Patriots enjoy a private tour. As seen in The Official Museum Directory in partnership with the American Alliance of Museums (AAM), as a registered Blue Star Museum with the National Endowment for the Arts, a licensed partner with Google Cultural Institute, and officially listed with the North Carolina Museum Council (NCMC) we are featuring each of the Presidents. Additionally, artifacts, antiques, and private items have been sent from the United States National Archives, The Bush Foundations, President Carter, President Reagan, President Ford, President Obama, President Trump, President Eisenhower, and The Clinton Foundation. Catch us in a new, four-part mini-series with CBS Television (click here) showcasing the Trump, museum, Clinton, and Lincoln episodes!

Enjoy binge-watching our entire series for free, if you can't see us on CBS, right here. We love our international guests and viewers visiting with us!
As you arrive for the first time to celebrate supporting and protecting the presidency of the United States of America, you'll feel a sense of pride and momentum building. Presently encased in a 4,700 square foot mansion and museum, the center celebrates how most Presidents grew up in a simple home. Few were born into wealth and sprawling estates. The museum celebrates civilian and military members of the President's staff. Our military members hold a serial numbered badge on file at the White House Military Office. Our members move on to the US Secret Service, FBI, NID, CIA, NSA, black ops, IRS and most powerful positions controlling the American government. You will also find our members in the embassies of the world and field offices in 269 countries.

Photo credits: The White House, Martin Mongiello, and Miranda Kreutzkampf
Less than 1% of the most trusted and brilliant military have ever served at the White House Military Office.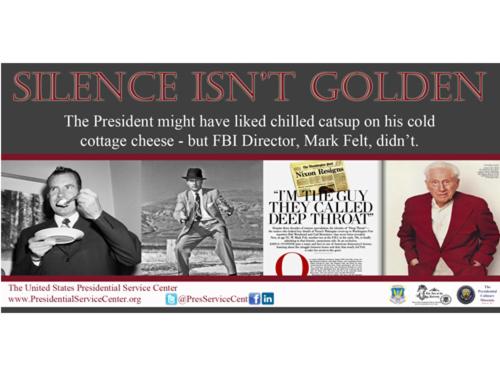 We've added to our exhibit, "Silence ISN'T Golden," in conjunction with, "Mark Felt: The Man Who Brought Down the White House," motion picture starring Liam Neeson. In the summer of 2019, we acquired a gift of golden cufflinks in its 1969 red felt box with gold print on top. These were a special inauguration day gift for supporters of Vice President Agnew and President Nixon.

The film is the story of Mark Felt, who under the name "Deep Throat" helped journalists Bob Woodward and Carl Bernstein uncover the Watergate scandal in 1974. Special support and donations have come from the Brian Van Buren holdings, a former member of the Nixon Inaugural Committee.
Less than 7% of the United States population have served in the military.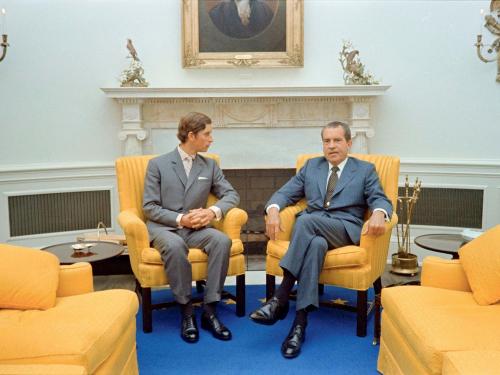 Prince Charles (the 21-year old) meets President Nixon. Princess Anne also attended (19), and Nixon mentioned that "the Prince of Wales visits America once every 50 years."

The Prince said visits would be much more frequent, but the next time back, this President would be gone quickly.
We've added to our newest exhibit, "Silence ISN'T Golden."
Awarded in the top 3% of hotels & museums, worldwide - see: "Jackie, How Could You?"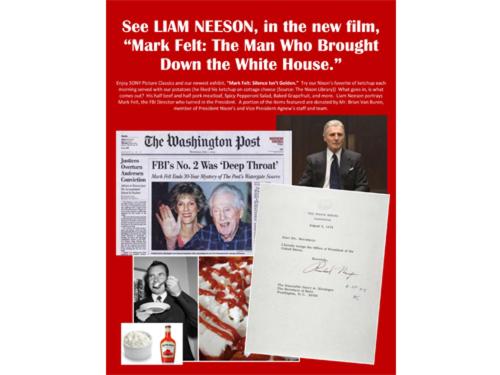 In conjunction with the US Presidential Culinary Museum, we continue featuring our NIXON catsup each day! If you stay over, you'll enjoy it during breakfast. The President's love of catsup on cottage cheese was legendary. The indigenous ingredient of sumac that we use is legendary in the Southeast to make our catsup.
If you've ever been a guest overnight, you know about the raves on the NIXON catsup produced here! In December 2019
portions of this exhibit were featured
on the Inside the Presidents' Cabinet TV series.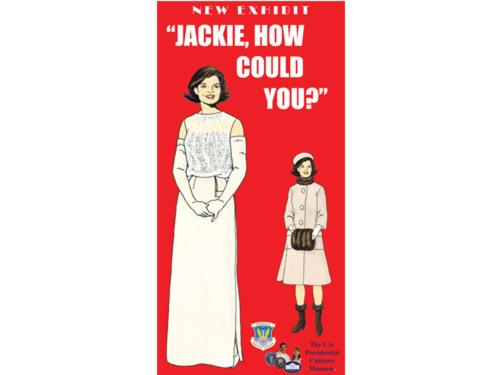 Enjoy our exhibit: "Jackie, How Could You?" launched in conjunction with the motion picture, "Jackie," and the CNN series, American Dynasties: The Kennedys, the exhibition goes into different directions than the film, and beyond topics, anyone is willing to showcase in the museum field. You may have seen our posters, greeting cards, postcards, and signs on the highway. Be sure to watch us on FOX Television discussing FOX Searchlight Pictures distribution of the film, nationwide.
Our china pieces from Limoge, Mottahedeh, and featuring original JFK, Aristotle Socrates Onassis, Naguib Nafuz and King Theseus of Greece are uniquely combined. Our online exhibit is right here showing items not seen in the real museum. This digital exhibition center will provide 35 minutes of viewing and reading time. A special episode featuring portions of this exhibit appeared in late 2019 on the Inside the Presidents' Cabinet TV series.
Exhibits, LIVE Performances, Presentations, Films, TV shows, & LIVE Chats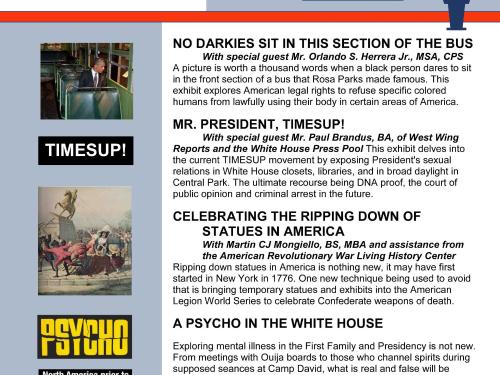 NEW EXHIBITS that continue to grow...
1. DRIVING FOR THE PRESIDENT: NO DARKIES SIT IN THIS SECTION OF THE BUS! December 2018. With special guest, Mr. Orlando S. Herrera Jr., MSA, CPS debuted on December 1, 2018, at 7 pm (FB page). Mr. Herrera also appeared on two national panels broadcast live on July 23, and October 8 at 7 pm. To read his research published by the Presidential Center, click here for the new digital exhibition about Rosa Parks, and the famed bus President Obama sat in for his photo. This exhibit expanded in October 2019. In December 2019, a podcast was recorded for this exhibit by the Emmy nominated and Telly winning Producer, Carl White, in his studios at Wilkesboro, NC. It is available to enjoy on iTunes, GooglePlay, Spotify, iHeart Radio, and Stitcher. Click here! A portion of this interview includes Mr. Herrera's over 200 songs recorded and cut. A Barbie Inspiring Women Series by Mattel, Rosa Parks doll, was acquired in 2019 and added with additional items sourced. Future extensions of this exhibit will feature testimonials and fond memories from President Obama's drivers.

2. MR. PRESIDENT, TIMESUP! March 27, 2020, at 7 pm with Facebook CHAT. This featured a number of our TV shows sharing ladies' issues (the Betty Ford episode, 2019, and the two Cleveland First Ladies episode 2020) and exhibits like our 2016 highly awarded Jackie How Could You? and delved into the current TIMESUP! movement by exposing Presidential sexual relations in White House closets, libraries, and in broad daylight in Central Park. The ultimate recourse being DNA proof, impeachment, and the court of public opinion. A portion of this CHAT showcased Paul Brandus book and chapters about Warren G. Harding (Under This Roof: The White House and the Presidency--21 Presidents, 21 Rooms, 21 Inside Stories). You can watch the live chat on Facebook here hosted by Martin and Stormy Mongiello as business professionals working in society.

3. THE SLAVES AND IMMIGRANTS WHO BUILT THE HOUSE: "HATE FOR IMMIGRANTS." December 2019. From American Indians first walking here in 50,000 B.C. to Muslims, Mexicans, and every other group they try to teach you to hate, this exhibit examines our past, present, and possible future based on President's actions. A portion of the presentation covers German American immigrants put into internment camps like Adolf "Wes" Wesselhoeft and then shipped off as an American citizen to Germany at six years old. Enjoy his new book written with his wife, Shirley, Africans, Cubans, Chinese, South Americans, and Japanese. In December 2019, a podcast was recorded for this exhibit by the Emmy nominated and Telly winning Producer, Carl White. It is available to enjoy on iTunes, GooglePlay, Spotify, iHeart Radio, and Stitcher. Click here! It featured Orlando S. Herrera, Jr., MSA. CPS as a guest with Martin CJ Mongiello, MBA, MA, MCFE. Please see the video below from the Bush Center.
4. CELEBRATING THE RIPPING DOWN OF STATUES IN AMERICA. Winter, 2020, with Martin CJ Mongiello, MBA, and assistance from the Scotch-Irish Victory Center, The Civil War Sailor and Marine Magazine and Association with Executive Director Andrew M. King, and The American Revolutionary War Living History Center. Ripping down statues in America is nothing new, it started as early as 1776 with ropes around the head and thousands cheering in New York. One new technique used to avoid that is bringing temporary statues and exhibits into the American Legion World Series in Shelby, NC, to celebrate Confederate weapons of death.
5. A PSYCHO IN THE WHITE HOUSE. Summer, 2021. Exploring mental illness in the First Family and Presidency is not new. From meetings with Ouija boards to those who channel spirits during supposed seances at Camp David, what is real and false will be shared for the first time.
6. WHAT THE STAFF HEARD... WHEN A BLACK MAN TOUCHES A WHITE WOMAN - PRESIDENT JOHN QUINCY ADAMS: "OTHELLO IS DISGUSTING." BLACKS WITH WHITES IS SICKENING, Spring, 2022. The hero of the court case and movie, Amistad, was physically revulsed over black men touching white women and stated it in writing and openly at dinners in Boston. Listened to by servants and written about by the famed Shakespearean, British star, Fanny Kemble, in her book, after dining with the President of the United States in Boston (1833) she was astonished that he found it wrong, The President later published two essays describing blacks and whites having sex, marrying, and having babies to be unnatural. This presentation will include research by the Executive Board of The American Anthropological Association scientifically rejecting the idea of different races on earth and recognizing the need to cease such behavior. The APA recognizes the human race all coming underneath Homo Sapiens.
In early May of 2020, we were invited to submit a poster and be a featured, nationwide guest speaker for the 2020 Museums and Race online presentation: IMAGINE A RADICAL FUTURE. Rania Mongiello presented her poster featuring President J.Q. Adams.
Museums and Race advocates that, "coming to recognize and understand entrenched racism is a difficult and often contentious undertaking—but also a necessary step in challenging and transforming the institutional policies and systems that perpetuate structural racism and oppression in museums.
To help advance this work, a group of 24 museum professionals came together in Chicago for a three-day convening on race and racism in museums. The idea for the convening—called Museums & Race: Transformation and Justice—grew out of a conversation about museum response to Ferguson that The Museum Group (TMG) hosted during the American Alliance of Museums meeting in Atlanta in April 2015. People there were determined to sustain the momentum, and so a planning team was organized to develop the Chicago convening, with TMG as a sponsor.
Since that original gathering, Museums & Race has remained a progressive voice for change in the industry, hosting the Museums & Race micro-conference at the American Alliance of Museums (AAM) 2016 and the Museums & Race Transformation and Justice Lounge at AAM 2017."

During our presentation, CEO Martin CJ Mongiello asked how willing Asians were to having a Mexican American doctor interpret their history in a San Francisco museum or a black MBA for a CEO of a historically white museum in Raleigh.
~~~
These exhibits feature an exclusive digital collection of online offerings in conjunction with Google Arts & Culture exhibits and opening night presentations. These are new exhibits revolving around controversial ideas in America and how a President and First Family can reflect it in history. As more eyes turn on the Presidency than ever before - we are designing these exhibits with that in mind, to examine the involvement of Presidents in such affairs.
"Relevancy in society, via curatorial exhibition, offers current reflection and answers to today's problems like COVID-19 and the murder of George Floyd. A museum is not just a place to exhibit the past in glass cases - it is the answer machine of today and the future." Martin CJ Mongiello, MBA, MA, MCFE - CEO
Protecting the Presidency began in the 1700's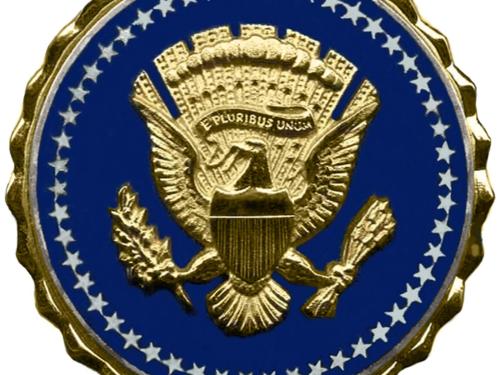 Presidential Service began with the American military, in the late 1700s, as military aides and other positions. One of the first to start was the Life Guard for General Washington in 1776.
In the 1880s The US Navy requested President Rutherford B. Hayes, to open a "mess," (or restaurant) which is now known as the White House Staff Mess. It features restaurant service and thousands of take-out meals daily with close to 75 US Navy chefs. The Navy chefs shop, cook, travel with, and protect the Presidency.
The Presidential Service Center™ has completed a five-year feasibility and research study phase, which began in 2010. It is housed with the existing, and highly successful, Presidential Culinary Museum®. It remains interactive (under an agreement) with The Official Society of World Chefs in Friendship since request in 1994. They aim to foster care and kindness amongst countries of the world visiting the American White House and Camp David. To interact with our Presidential Service Badge (PSB) authorized, serial numbered members - please contact us at 001 (704) 937-2940.
The museum is open seven days per week for private, appointment only, tours and bus groups.
We cover Presidential Service via yachts, rail cars, the White House and Executive Mansion, HMX-1 and Marine One, Air Force One, the White House Staff Mess, and are on Linkedin and Facebook.
Initial funding of USD 250,000.00 has been provided by private parties as the museum continues to grow and be digitized.
Digitization includes cataloging, QR codes, and films showcasing POTUS, FLOTUS, and CHOTUS as well as all elements of those who legally served, in honorable status. If you are a Presidential Service Badge holder with a registered serial number or a civilian who supported the Presidency, that can be verified at the White House, and are interested in purchasing specific items that are needed on our wish list, please contact us at executivedirector@presidentialservicecenter.org or call us and speak with Martin CJ Mongiello, MBA.
You already understand that your dedication has protected lives and that part of your legacy will live on long after you've passed.
As you look back on a full life and develop plans that will influence important decisions, like the disbursement of your estate or the memory of your life, we hope you will remember that The United States Presidential Service Center and Museum can be a part of those plans.
You can ensure that we preserve our history and remind people of our service, and depending on how you choose to support us, you could receive substantial tax benefits. It's called gift planning, and you've come to the right place to learn more about it. Please call us to help us grow.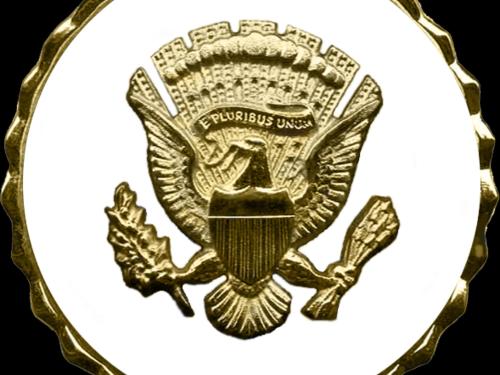 We are engaged in private opportunities for an expanded and more massive center - with our noted, unofficial advisors, Board (five women and four men), and Trustees (three women and three men). Board members form needed committees and vote while Trustees are the senior-most group of advisors voting.
Board Member Paul Vincent Benedict Brown, Award-winning butler, working for six years at Buckingham Palace, including with Princess Diana, and Director of the Royal Household HRH Prince Bader bin Abdullah bin Abdulaziz Al Saud. Paul is a former Royal Butler to HM Queen Elizabeth II and is currently the Palace and Global Asset Manager to a senior branch of the Saudi Royal Household. European VP.
Board Member and Trustee Kim Hambright, awarded the Presidential Service Center Distinguished Service Medal in 2015, Kim has been the general manager of the country inn and museum for almost ten years.
Board Member Mindy Reynolds, is a graduate of UNC Wilmington, has three children and loves teaching, which she has done for over a decade in the North Carolina elementary system. Today she is happy to help teach our over 5,000 graduates in the Cooking School, host kids classes, and more. As an instructor and chef, she shines for her excellence in diligence, concern for platinum standards, and kindness to guests.
Trustee Antwain Thomas, Chief Development Officer (CDO), after a two-year probationary period elevated to Trustee status in 2018, Washington, D.C. Principal, Global Wealth Strategies, LTD. Formerly the CFO for two years - promoted in 2018.
Board Member Orlando S. Herrera, Jr., MSA, CPS, Senior VP of Government Affairs. Formerly the Senior VP of Military and Veterans Affairs - promoted in 2018.
Paul Brandus, B.A., Award-winning author of Under this Roof, This Day in Presidential History, and Jackie. A certified correspondent inside the White House Press Pool, West Wing Reports, and writer for MarketWatch Dow Jones, and USA Today. Elevated to Trustee status in 2019.
Trustee & Board Member Stormy LeAnn Mongiello, PHR, SHRM-CP, Chief Human Resources Officer (CHRO). Stormy has worked with the past five presidents of the United States to build and grow the museum. She holds a PHR with a BS degree in business from WIU and is in her MBA program at WGU. Stormy is an HR Director across six states with 460+ team-members being helped, 12,000+ sleeping per night, and 220+ total properties in her Charlotte office.
Lilah Blackstone, Esquire, Attorney at Law.
Trustee Toni Ann Marcolini, Esquire, Professor, Producer, Attorney at Law. Elevated to Trustee status in 2016 and is a noted Professor at Union University having practiced law for almost 40 years. Toni's primary technique has always been as a practitioner in the courtroom putting witnesses up on the stand in front of the world.

Board Member Lesley Haggins Green, Accountant, and advisor. Ms. Green has attended every meeting and conference held for The Inn of the Patriots and Presidential Center since 2014.
Board Member Desiree Rose Perham, retired US Air Force veteran flying as a Presidential Aircrew Member aboard Air Force One and Two; accompanying President Bush, President Clinton, Vice President Cheney, Secretary of State Colin Powell, Secretary of Defense Donald Rumsfeld, CIA and distinguished leaders from around the world. Traveling to 84 countries, she was deployed to six contingency operations and logged 3850 flight hours. She retired with the rank of Captain in 2018 and became a board member in 2020.
Senior Trustee Allan B. MIller, Family Office Director, Casa di Molinaro, Palm Beach, Florida. The Senior Trustee of the Board of Trustees since 2008. Former Headmaster and trainer to Air Force One, the White House, Pentagon, and Vice President's staff and homes for all service.
Krister Gustafsson - President of Museum Design and Exhibits.
Board Member Travis McVey, CEO of Heroes Vodka®, LLC, and author Heroes of the Stage, former White House Military Office member on the US Marine Security Detail.
David Priess, Ph.D., Author of The Presidents Book of Secrets, former Central Intelligence Agency Officer responsible for delivering the P.D.B. to the Oval Office and President on a daily basis.
Trustee & Board Martin CJ Mongiello, MBA, MCFE, CEO of the Presidential Service Center® and Senior Curator of The US Food History Museum™ with an exhibit of The US Presidential Culinary Museum® author of nine books, including Private Estate Management and Presidential Flavors, former White House Military Office member, a White House Chef and a manager of the Camp David Resort.
WHITE HOUSE MILITARY OFFICE, NATIONAL SECURITY COUNCIL, EXECUTIVE OFFICE of the PRESIDENT, OFFICE of MANAGEMENT and BUDGET, OFFICE of SCIENCE and TECHNOLOGY POLICY, WHITE HOUSE MEDICAL UNIT, WHITE HOUSE COMMUNICATIONS AGENCY, ARMY TRANSPORTATION AGENCY, AIR FORCE ONE(89th), MARINE ONE(HMX-1), CAMP DAVID, WHITE HOUSE MESS, WHITE HOUSE MILITARY AIDES, WHITE HOUSE SOCIAL AIDES
The center is not run by any government institution but is a private museum controlled by a private board of trustees. It has been vetted, examined, and inspected by the General Counsel of the White House Military Office, twice.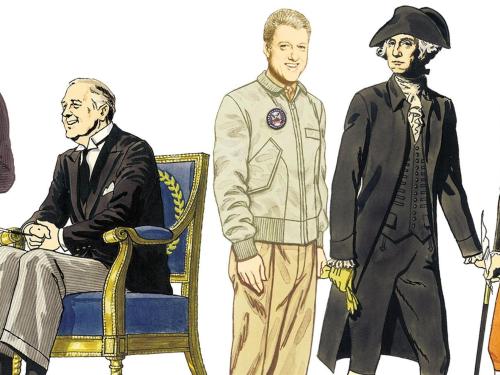 Presidential presentations and shows have been provided on three continents with our association and group since 1994. A most recent dinner and the event being held named The Presidential Wine Dinner was featured in the newspapers and on Facebook here.
In January of 2014, The Inn of the Patriots, host to The Presidential Culinary Museum and Presidential Service Center received the Chamber of Commerce E10 Small Business of the Year Award at the LeGrand Center.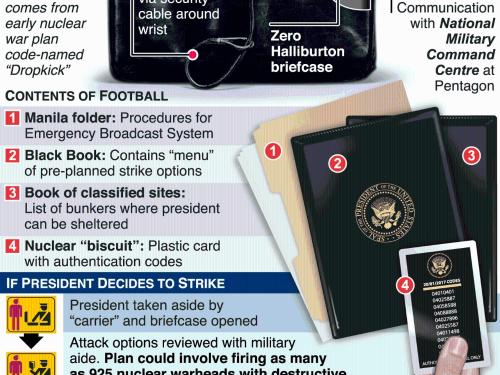 We have recently fielded a flurry of questions about our membership and the "nuclear football." Often the problem about opening the briefcase up, pushing a red button, and firing missiles are suggested.
People are rightly concerned as the President of the United States has the sole authority and decision-making capacity to fire our arsenal of close to 950 missiles quickly.
Additional questions have always been a favorite of misplaced, "cookies and biscuits," by a dry cleaner finding one in President Carter's suit coat pocket, placed into the shoes of President Reagan with his blood-stained shirt and pants cut off at the hospital.
The exact contents of the briefcase are often asked and what it's like for our Presidential Aides to help the President inside his homes, while he is traveling, or even on a ship.
The Distinguished Service Medal of The US Presidential Service Center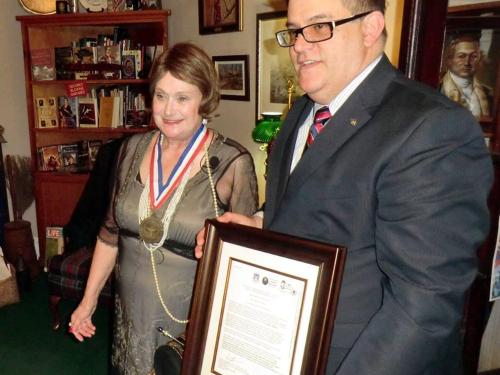 In 2008 a new, gold Presidential Service Center (PSC) Distinguished Service Medal (DSM) was discussed, reviewed and authorized for complete payment under private funds forwarded from 14592 badge holder, and member, Martin CJ Mongiello. Discussion ensued in 2008/9 with a sample idea commissioned in 2010. During the years of 2010 and 2011, the program was sent to feasibility and research with possible adoption, was rejected and eventually suspended for further design. In 2012, Mr. Mongiello received guidance from former Presidential aides that visited the museum in 2013 with former Presidential Security Detail member (USMC) Travis McVey.
The medal moved forward in 2013 under new design and was authorized for striking to showcase a font of knowledge, lit with flame, bearing present status and ongoing service to better society. Encased in a traditional wreath with a circular design of continuity, the medal is awarded to those serving to make society better and subject to revocation and stripping of award (droit moral) based on behavior standards. Each award winner agrees to their ethical conduct in the future as it would reflect on our members center and association.
The Awardees with serial numbers assigned to their life: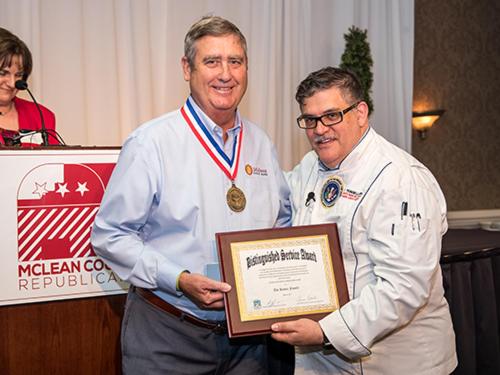 Photo: David Kieser receives the Distinguished Service Medal in Bloomington Normal, Illinois.
Photo credit:
Miranda Kreutzkampf.

1808:
Acun Ilicali, Turkish TV producer and owner of TV8 channel for raising 51 million Turkish liras ($8.6 million)
for recent earthquake victims
. Foreign Minister Mevlut Cavusoglu and Turkish Interior Minister Suleyman Soylu added their thanks on LIVE television and in the news for his loving work.
(.pdf award here)1807:
Robert "Hoot" Skelton, Founding member of the Fannin County Chamber of Commerce and Life Member Awardee, Heritage Foundation member and member of the board for the Fannin County Historical Museum (2019).
(.pdf award here)1806:
Captain Dale Dyer, noted Fannin County historian, newspaper columnist, cemetery cataloging expert, and
WWII B-24 bomber pilot of Fannin County
, GA (see film below). At 99 years old, his ceremony was attended by citizens and the Mayor at Hopewell Chapel of Inola at Blue Ridge, GA (2019).
(.pdf award here)1805:
Nicole Bruno for her work with the Illinois
Special Olympics
, Concerns of Police Survivors, PATH - Adult Protective Services and many others. Submitted by the McLean County Republican Party (2019).
1804:
The Kieser Family for founding and working on the
Mid-West Food Bank
to alleviate hunger and poverty by delivering food and disaster relief free of charge. Submitted by the McLean County Republican Party (2019).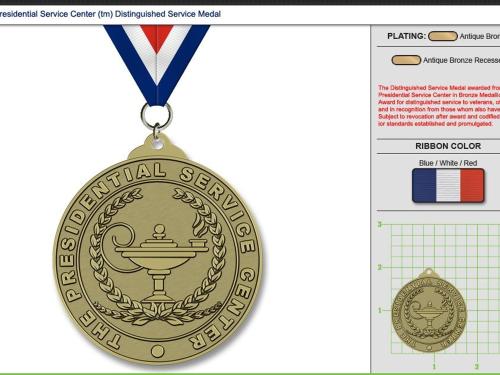 1803: Theresa McKeehan Phelps for her life's DAR and family work to recognize Mary McKeehan Patton. Awarded at the Sycamore Shoals Tennessee State Park ceremony (2019).

1802: Claudia Reeder Langley for her years of DAR work to recognize Mary McKeehan Patton. Awarded at the Sycamore Shoals Tennessee State Park ceremony (2019).

1801: Orlando S. Herrera Jr., MSA, CPS, for his research and work on President Obama and Rosa Parks exhibit complete with a showcase of the "Darkies Don't Sit in this Section of the Bus," speech (2018).
1800: John W. Kaufmann, of Chicago, Illinois, for 30+ years of fostering caring foundations and supporting the Armed Forces of America (2018). (.pdf award here)
1799: Jessica Michna, of Racine, Wisconsin, for her 15 years of First Ladies of the United States portrayals and shows to the public, foundations, and societies. Her education of the people is riveting, mesmerizing and tremendous labor of study (2018). (.pdf award here)
1798: Aidan Waite, formerly of Ipswich, Suffolk, United Kingdom, and The English Connection, for his 20 year-odyssey into helping Cystic Fibrosis Foundation (CFF) raise millions of dollars at the Dining with the Master Chefs events (2017).
1797: Sarah Sue Hardinger of Cornelius, NC, author of Ring of Luck, for her 13-year journey in the research of American history and publication of her faction book bringing it to life. Sarah Sue Hardinger at time of award, in 2016, was President of the North Branch of the Mecklenburg Historical Association and a colonial period reenactor (2017).
1796: Doctor David Priess, author of The President's Book of Secrets, former CIA Officer and Presidential Daily Briefing coordinator to the Presidency (2017).
1795: Rick Moore for his financial support and help in structuring over $30,000.00 to grow the center and museums as a small business owner and US Army veteran. Owner of Timm's Furniture (2016). (.pdf award here)
1794: Presently rejected during the investigation. Resubmitting. Final adjudication in 2019 rejected medal. The serial number will be returned to a service issue (Tribunal removed).
1793: In committee reviewing letters of reference. Tribunal requested more information. An appeal in 2019 rejected the proposed awardee. The serial number will be returned to a service issue (Tribunal removed).
1792 and 1791: Cathy Gilbert, author of True for the Cause of Liberty: The Second Spartan Regiment in the American Revolution, Patriot Militiaman in the American Revolution 1775-82 (Warrior) and Cowpens 1781 Cowpens: Turning point of the American Revolution (Campaign) (2015)
1790: Kimberly Hambright - for her service to world tours and coverage of the Presidential Service Center from 2009 to 2015 working as Manager at the Center (2015).
1789: Scott Syfert - for his historical work in researching the history of service in the United States to the Presidency and the colonial war effort. For his publishing of The First American Declaration of Independence? The Disputed History of the Mecklenburg Declaration of May 20, 1775 (2015)
1788: Renee Crichter Lyons - for her historical work in publishing the book, Foreign-Born American Patriots: Sixteen Volunteer Leaders in the Revolutionary War. Awarded after two speeches and book presentations of 2015 and 2016.
1787: Joseph Epley - for his historical work at "The Hanging Tree," incorrect names engraved on the National Park Service Monument at King's Mountain by the United States of America, recognition of Colonel Andrew Hampton and publishing of the book, "A Passel of Hate," (2015).
1786: Mark Anthony - for his guidance in hosting the National Convention of the Sons of the American Revolution (SAR) and historical work on recognizing Ishmael Titus in history (2015).
1785: Brunhilde Vinson - for her work with the Honduras Medical/Dental Mission Team, the Greenville, SC, and Pelzer community. Awarded at Boulevard Baptist Church in Anderson, SC, (2015).
1784: Solomon Titus Taylor - for his achievements in proliferating Ishmael Titus, black Colonial War hero. Proven to have fought at the battle of King's Mountain and having his record overturned (2014)
1783: Jack Acheson, Jr. - for his support of many non-profits and Gaston Cancer Services (2014).
1782: Travis McVey - for his Heroes Vodka and giving back. Since the first bottles were produced on 11.11.11, Heroes Vodka has given back more than $100,000 to local and national nonprofit organizations (2013).
1781: Reserved for future use linked to the Battle of Cowpens.
1780: Reserved for future use related to the Battle of Kings Mountain.
1779: Noelle Verdini - for creating the military food battle to help veterans issues in Ohio (2013).
1778: Samuel Morgante - for veterans showcases on stage at the Ohio Food Show and vet issues supported across the USA (2013).
1777: Stormy LeAnn Mongiello - for US service to shelters, feeding the hungry, providing financial support and work on veterans causes (2012).
1776: Martin CJ Mongiello - for world service to food shelters, emergency causes, and veterans issues across the world.



Interesting Fact: In 2018, The Order of the Eagle was discussed, reviewed and approved as a new Order to receive and join for highly distinguished members. Two additional medals have been authorized of the PSC Achievement Medal in classic orange and green fields and PSC Commendation Medal in classic white and green fields. In 2019, it was decided to send this to the Review Committee for examination and decision in 2020.
New medals and awards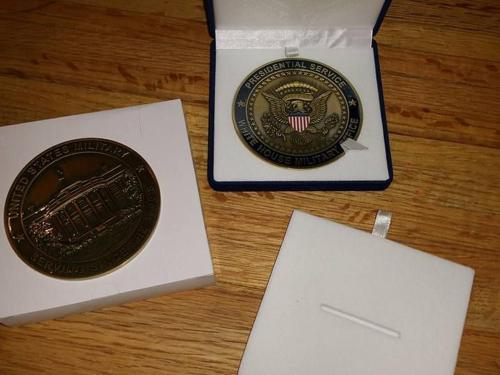 In 2014 it was suggested that a PSC Achievement Medal and a PSC Commendation Medal be struck with an associated handbook, codification and matching little tuxedo and rack ribbons at a meeting with the Sons of the American Revolution host Director, Mark Anthony, at the National Convention in Greenville, SC. The link provided is for evaluation and discussion and does not constitute any form of endorsement.
The Presidential Service Center golden coin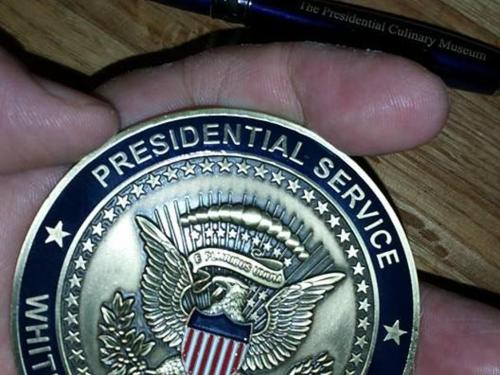 In 2014, during a meeting with Tennessee state Governor Bill Haslam, and his wife Crissy, on Tennessee Plaza for the Veteran's Day Ceremony a gift of a coin was made. In attendance was former Afghanistan, US Marine Corps sniper Daniel Dean along with Travis McVey and Marti Mongiello.
It was conceived and later discussed with veteran's affairs expert, Stephen Cochran, of the STOP 22 Suicide Campaign and the ASMBA Star Foundation to develop a coin. Additional support was had from Ralph E. Land of AMVETS.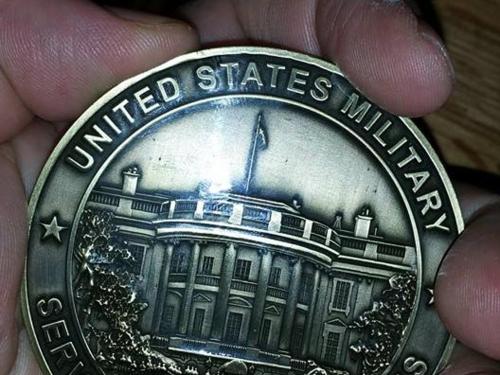 The Presidential Service Coin was paid for entirely with private funds (to not burden members with donation requests or grants) and designed for sharing and sale as a fundraiser. Numerous sizes were examined, developed with several, plush, velvet cases featuring gold print and an eventual, full, 3" size. This is one of the most significant coins ever issued on earth and is hand painted. As of 2016, the coins have been shipped worldwide and are available to purchase online at our official, licensed store at Facebook (NO FACEBOOK ACCOUNT REQUIRED TO SHOP).
https://www.facebook.com/TheInnofthePatriots/shop

Interesting Fact: One of the first purchases was by an alumni member on operational security detail now in the US Embassy of Luxembourg.
What our members from the White House Military Office are working on.
About our PSC Private Investment Fund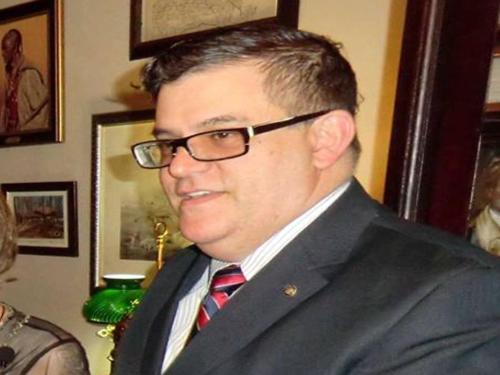 Mr. Martin Christopher Joseph Mongiello, MBA, MA, MCFE (shown left) is the only authorized signatory for financial instruments on behalf of the entire US Presidential Service Center (USPSC) and Board. As the Executive Director and Most Senior Financial Trustee, he always wears his Presidential Service Badge pin (Badge # 14592), presents his US Passport, International Drivers License and US Drivers License. In some cases, it may be pertinent for attending members to provide their Presidential Service Badge for inspection of the serial number embedded in the gold back.
Investment management of endowment and related financial assets are private. Contributions from the endowment over more than three decades enable programs, scholarships, The Susan Twitty Medal and Award, exhibits, and research.
Opinions and comments expressed are those of the persons submitting them and do not necessarily represent the views of the USPSC. This information is intended for use only by residents of AL, AK, AZ, CA, CO, CT, DC, DE, FL, GA, IA, ID, IL, IN, KS, KY, LA, MA, MD, ME, MI, MN, MS, NC, NJ, NM, NV, NY, OH, OK, OR, PA, PR, RI, SC, SD, TN, TX, UT, VA, VT, WA, WI, WV, WY only. We are not a United States Securities Dealer, Broker, or U.S. Investment Adviser. We are most often the buyer from the United States Presidential Service Center and Foundation purchasing with a bank or fund and abide by the United States Securities Act of 1933, as amended, or related regulations. Pursuant to the USA PATRIOT (Uniting and Strengthening America by Providing Appropriate Tools Required to Intercept and Obstruct Terrorism) Act and final rules issued by the U.S. Department of the Treasury, a U.S. bank or a U.S. broker-dealer in securities (a "Covered Financial Institution") is required to obtain certain information from any "Foreign Bank" that maintains a correspondent account with it. All of our companies request and require, on file, a PATRIOT Act Certification. Colleagues seeking to conduct business with us should be prepared to produce a driver's license or passport for initial examination and identification. Our team may request to meet with you at a local US Embassy, US Commercial Service Office, or a United States Secret Service (USSS) Field Office in Europe or Asia. We report to the USSS Electronic Crimes Task Force (ECTF) and Financial Crimes Task Force (FCTF).