Focused on Researchers and an Annual Grant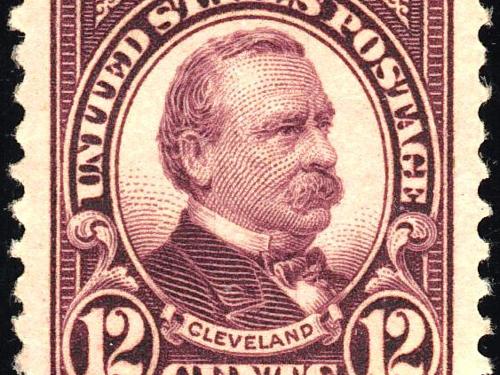 The Clinton's Formal china (yellow on white)
The privately run, Grover Presidential Scholar's Library is housed inside of The Inn of the Patriots and is operated as an adjunct facility of the Presidential Service Center. The public portion of the library is part of the Little Library World System facility certified number #27245 and located via the front of the premises, open from 6 am to 10 pm, seven days per week. A new 24-hour library and food bank opened in 2019.

A single annual research grant is awarded for any form of book, television or film work closely associated with colonial studies, Presidential research or the first family. High priority and award are offered to Presidential service-related work. But any idea is welcomed.
The Presidential Service Center (PSC) Foundation Grant Guidelines
The PSC Foundation will consider grant requests from for-profit and nonprofit businesses and organizations. In some cases, such may be recognized by the Internal Revenue Service as tax-exempt public charities under sections 501(c)(3) and 509(a)(1), (2), (3) of the Internal Revenue Code, located in the United States and Puerto Rico. Also, the Foundation will consider requests for funding from governmental organizations located in the United States where the purpose of the grant is to support charitable, educational, scientific or literary use. Thus, eligible grantees may include public elementary and secondary schools, as well as public colleges and universities, public libraries and public hospitals. Successful requests will fall within both the current eligibility guidelines and funding priority areas established by the Foundation. The Foundation has established grantmaking partnerships with qualified intermediary partners to manage donations to organizations chartered on other continents.
Organizations may only submit one request a year for funding.
The Foundation's review committees meet annually.
U.S., Puerto Rico, and Europe letters of inquiry must be submitted online by email. Paper forms will not be evaluated.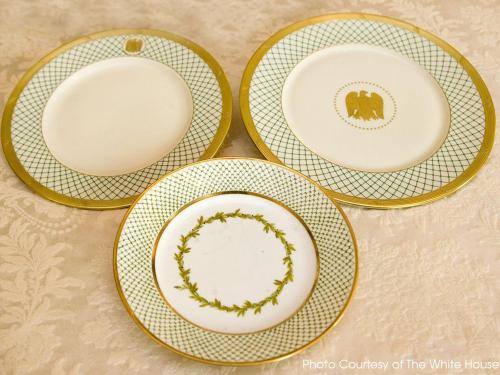 The George W., and Laura Bush china (green and gold)

Eligibility Limitations:
The Foundation will not consider requests for:
Support to individuals
Fundraising or sports-related events
Corporate sponsorship requests
Religious organizations unless the gift is designated to a program that is secular in nature and benefits a broad range of the community. Additionally the program must have a formal mission and separate budget and staff.
Political organizations or lobbying activity
Labor unions
Organizations that discriminate by race, color, religion, sex, age, national origin, sexual orientation, veteran or disability statuses in the delivery of services and their employment practices.
Our most significant strengths have been our connections and private holdings for colonial works. Some of our books and papers will require continuous, guarded monitoring while studying, masks and archival gloves, a filmed statement, covert filming of you or a background investigation. We have different standards of which your group of attorneys, curators or Doctors need not approve of or agree to - you may elect not to come. During the period of Presidential thefts and robbing several world museums and collections, we had protected ourselves with our stringent standards from a master museum and Presidential thief, Barry Landau (see his trial in the NY Times). Several Doctors and Ph.D. candidates had previously classified our standards as "ludicrous," "inappropriate conduct," and, "not in alignment with other museums six times the size," of ours. Mr. Landau duped Catherine Zeta-Jones, Alec Baldwin and Martha Stewart while arrested at the Maryland Historical Society in Baltimore (Baltimore Sun) and was imprisoned for stealing historical documents, including ones signed by Abraham Lincoln. "More than 10,000 "objects of cultural heritage" — including letters written by George Washington, John Hancock, Edgar Allan Poe and Benjamin Franklin — were recovered from Landau's New York apartment, according to court records. And 6,500 of them have thus far been confirmed stolen," prosecutors said. "Bill Clinton's former White House secretary, Betty Currie, even took him into her home in 2010, letting him stay overnight. Multiple items went missing during the visit, including a book signed by Clinton and copies of presidential speeches," prosecutors claim.
Our newest assistance emerging has been our research and cookbooks for Presidential dining, first family favorites and White House, Air Force One and Camp David recipes. For researchers in this genre we can be exceptionally helpful.
We can offer grants for research of lodging and meals also in our facility while studying, as we also have on-site a hotel, gift shops, spa, and dining.
See our Press Page complete with a link to all releases over the years.
Historic dinners are hosted for authors that we support and master designed menus created of themed, country cuisines. The night of speeches and book signings we celebrate the author and more information, photographs, films and application controls can be found on our Facebook events page here.
We have recently expanded our library to now include a licensed, authorized Little Free Library with Charter #27425 as part of the master world system.
The museum building talks out loud on 540 AM radio.
Historic books were donated by Rory Porter of Jackson, TN. Some of which date back to the 1700's.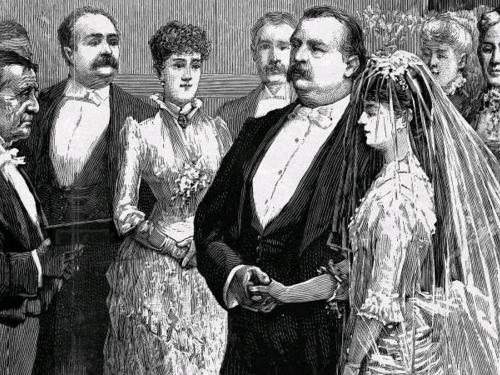 Grover and Frances Cleveland featured on their wedding day (drawing)

The US Presidential Service Center
Executive Director Martin CJ Mongiello
301 Cleveland Avenue
Grover, NC 28073
March 18, 2017
Hello, Marti!
By now, you may have thought we had forgotten a mission of ours, but we did not. We have been back in NJ a couple of weeks now and took a ride to Grover Cleveland's birthplace in Caldwell, NJ, yesterday to present your gift of the Presidential Medallion to the museum. We were one day short of his birthday, but bad weather was predicted for today, so we enjoyed a beautiful, sunny ride up to tour the house.
We presented the medallion to Sharon Farrell, the longtime caretaker and acting curator of the museum. She was very grateful for and happy to receive the medallion. They are hosting a tea today to celebrate the President's birthday. She also told us that a ceremony would be held today at his gravesite in Princeton.
Joe and I thank you again for being part of our journey south this year and providing such a welcoming, warm environment. With a turn in the weather for the worse since we have been back in NJ, we joke that we may have to extend our trip to two months next year.
We wish you and your family all the best and hope life in Grover is going well.
Bob LaBate and Joe Stern
(General Manager's note at the US Presidential Service Center from Kimberly Hambright, the New Jersey site for Grover is linked to here.)
Featured below is Baby Ruth Cleveland.