Cedar Cove TV Series
Are you watching the series on small town life and the previous Sweepstakes Vacation Giveaway for the TV series, "Cedar Cove?"
Andie MacDowell stars in the Hallmark Channel's Cedar Cove. A primetime series - with a two-hour long pilot began in 2013. Our Inn of the Patriots was asked by www.ILoveInns.com to participate in the television series debut and run! You know how America's small towns treasure having a Bed and Breakfast or Inn. We just adore it and the opportunity to celebrate our country's small towns. We received table tents, door hangers, and postcards to place around the inn as well as honor the BUY ONE NIGHT AND GET ONE FREE PROGRAM!
"Based on the bestselling book series by Debbie Macomber, Cedar Cove centers on the residents of the small town of Cedar Cove. MacDowell plays Judge Olivia Lockhart, whose Cedar Cove Municipal Court is the professional milieu and social microcosm of issues the judge will face in her own day-to-day life with family and friends. Michael Scott is directing the pilot from a script by Bruce Graham. MacDowell currently co-stars in another series on basic cable, ABC Family's Jane By Design," Deadline Hollywood reports.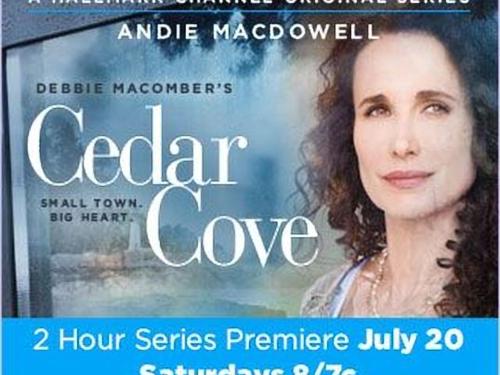 Hallmark Channel Gains # 1 Cable Position for Saturday Nights
Maintaining its weekly momentum, "Cedar Cove" ranked #1... The show elevated Hallmark Channel to be the #1 network in primetime among households on cable. (according to TVBYTHENUMBERS). 2030 inns around the United States participated in supporting the Cedar Cove series by Hallmark helping to create a super successful awareness campaign.
MIND BOGGLING RESPONSE AND BIG MAILING LIST
About 1 million Cedar Cove viewers entered the sweepstakes and contests that included Inn Stays and more than 50% - 523,000 clicked "send me bed and breakfast information".
Cedar Cove Contest Awards
All award winners, according to Cedar Cove insiders, were announced. We wished good luck to all who have entered and helped their guests to enter.
What our Innkeepers were Saying
"We are promoting it strongly....table tents in every room. We talk about it at the breakfast table.....put the postcards out as they depart.....FB posts and inclusion in newsletters. We are definitely getting the word out.
For more archival information on the series go to http://www.iloveinns.com/hallmarkchannelpromo.htm