Five 1st Ladies of the USA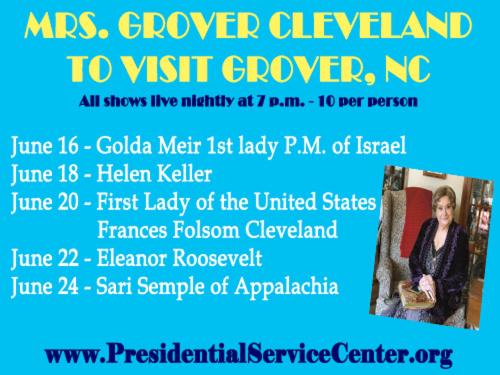 It was delightful to produce and host five First Ladies of the United States live shows at the US Presidential Service Center. Catch our newest upcoming shows featuring even more influential ladies on earth! Admission can be paid at our Box Office or called in.
With help from the Hatcher Hughes Pulitzer Prize Winning Theater and US Presidential Culinary Museum, we have been adept at running ads reaching 225,000+ readers in print (90,000 in CFM's five papers, 87,00 in the Shelby Star, 104,000 via BedandBreakfast.com / HomeAway.com and Facebook ads). Jessica Michna does an excellent job and in 2017, was awarded the Distinguished Service Medal. To see some of her videos and photos at the event for ten days long in Grover, North Carolina - please take a look below. You can also have our chefs with Jessica at your next event where we link the food served to a keynote/talk and Jessica's show. Information on that is here with pricing.