Our area-wide EXPANSION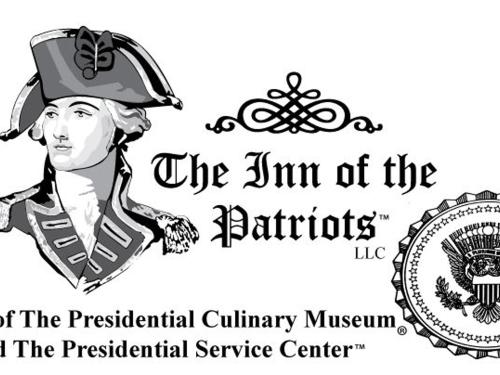 The official and authorized site for

The Inn of the Patriots

Home of The Presidential Culinary Musum and The Presidential Service Center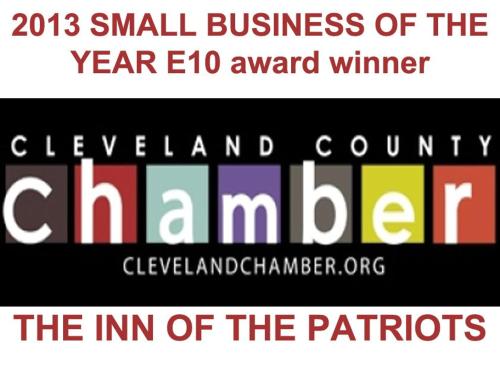 2013 SMALL BUSINESS OF THE YEAR E10 awad winner

Cleveland County Chamber

THE INN OF THE PATRIOTS
Our US Military, disabled, veterans project continues successful expansion in Cleveland County, NC part of the Charlanta metrolina region. We are a small, regional impact project working as part of a resort-focused, destination approach. Our complete battle philosophy was set in 2007, and flexes/changes in business and society. We will expand our museum, food-service and hotel portfolio again. Presently it encompasses:
Open and operate the Presidential Culinary Museum® in 2008, profitably. Successfully completed with close to 200k of private funding. NC statewide, operational-strategy success.
Open and operate a five bedroom The Inn of the Patriots™ in 2008, profitably. Successfully completed with over 1m in sales. Twin state, regional security strategy success impacting creation of new legislation in NC with a Grover Tourism Development Authority (TDA) and the local businesses and Carolina Crossing Restaurant. Set several world sales and awards records.
Open and operate the Gimme' Some Sugar Gift Shop™ in 2008 and the Chief Junaluska Gift Shop™ in 2012. Completed.
Open and operate the Food and Fun Culinary Institute™ in 2009 with advancement towards beer, wine, lunch and dinner classes. Completed.
Build and open The US Food History Museum™ and relegate, underneath it, The Presidential Culinary Museum® to become a small facet, therein, by 2015.
Build and open The Presidential Service Center™ in the town named after the President, Grover, in Cleveland County, NC starting in 2010. Continuing expansion since 2011 and JOBS ACT Crowdfunding Investment registration as accredited investor in 2013 at www.crowdfunder.com.
Help develop a regional draw Christian resort focused on the pageantry of the death of the Son of God on earth called Crosswalk™ - a historic drama on six city blocks of Kings Mountain City held for ten years with 150 costumed actors and multiple sets. Presently working with a private trust close to 60m. Will be encompassed under Turning Point of America™ and across several hundred acres in Cleveland County, NC. As previously covered in the news, this park is part of a master plan encasing The American Revolutionary War Living History Center™ (ARWLHC™) and Experience. The ARWLHC™ is only a very small part of TPA™ encompassing no more than 40 acres. Part of TPA™ will include information centers and booths in the cities of Kings Mountain and Grover. A motor coach will drive from TPA™ to the towns of Grover and Kings Mountain, local museums and hotels, the Kings Mountain National Military Park and South Carolina Kings Mountain State Park in a circuitous route, daily from 9 am to 9 pm.
Triangulation of attack phasing between Kings Mountain, Grover and Shelby, NC. Tourism related initiatives to be showcased on television and news media.
Open a brand new NAVOBA Opportunity Center for Veterans in Small Business that will host veterans for one day, one week and two week courses of education and certificates in business operations. These will span the gamut of all meals included and lodging complete with cost-free educational certificates in business plan writing, pro-forma, P&L, equity infusion, launch, SEO, SEM, ROMI, ROMO, CRM, B2B, SBA loans and more.
Launch a nationwide stage and television show featuring disabled, crippled, wounded and injured veterans from the VFW, IAVA, WWP, AMVETS, AL and others by 2005 called Inside the Presidents' Cabinet (completed). Show to go globally after proving its viability in 2006 with a major sponsor of P&G. Completed. Through 2008, establish a permanent base and museum and commence enhanced shows across the USA. Completed. Launch television show filming with entertainment attorneys and agents in 2013 and shoot in 2014. Completed. Expand in 2020 to a televised or streamed series. Working.
Expand platform to at least the Washington, DC region.
Martin CJ Mongiello, Project Leader, Linkedin.com profile and CV as well as ABOUT HIM and his WIFE. DAV LIFE member, VFW LIFE member, American Legion member, Wounded Warrior Program (WWP) verified Alumni member with VA documents of injury in theater on file, Iraq and Afghanistan Veterans of America member, National Veteran Owned Business Association member at www.buyveteran.com and www.NAVOBA.com Psychologically tested and drug tested with a 30 year US Military Retirement Certificate, Top Secret, Yankee White, SSBI clearance, Presidential Service Badge #14592.
The continued expansion of our US Military, disabled veterans projects has been very successful. We have powerful, over-arching goals that are spread across a multi-phased attack stratagy that:
Was previously laughed at, by some, and ridiculed as stupid, and developed in the wrong US region. Yet, we are now on our 8th year of profitability.
Realizes some American citizens in business have no interest in seeing veterans succeed. We continue working on debunking the whole, "Broken Veteran," myth.
Was predicted, by a few experts, to be bankrupt within the first five months of opening in 2008. Our proforma and P&L have proven that was wrong now in the years of 2009, 2010, 2011, 2012, 2013 and 2014. Especially in setting three, #1 world sales records and turning 251 million in one year with just five bedrooms and no restaurant or weddings. What would happen if we had more rooms, weddings and a restaurant?
Our project has supposedly been found to be difficult to understand, by 18% of potential developers. This was reviewed and found to be due to their having no interest in studying it - or reading. Short attention span behavior took control of 18% of evaluated minds; shutting off that humans cerebral cortex, and therefore disallowing them from taking part in being successful. We are not here to entertain people with an hour and a half long movie and film - this is hard work. The very rich simply throw large sums of money at projects to complete them. The only folks being entertained are the tens of thousands of guests giving the project its high marks and world awards. Any team member should be ready for hard work.
Are rejected by 39% of angel investors, funding experts, capital raising professionals and accredited investors due to, "not being a cash rich adrenal provider," ... "we're looking for huge cows that flood us with financial return. Which is what real investors want," ... "we could care less about vets or doing the right thing or doing ANY thing to help others," ... "we are here to help ourselves, to your project, or if we can, to your money." Our projects are uninterested in 30 pieces of silver or massive ROI, ROMI, ROMO. If you are interested in unethical deals or massive (abnormally promised or inflated) returns - go elsewhere.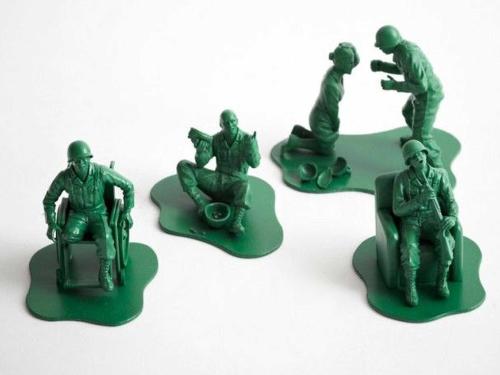 "The green Army men we grew up with are not accurately showing our young men and women the truth of warfighting, returning home and then dying while waiting for hospital care at the VA. The clear bag of green plastic figures doesn't include the truth many have tried to hide. The shame when a vet hangs themselves due to being unable to find medical care. The realities of being unable to find jobs, being blocked from creating businesses by federal laws preventing veterans from succeeding in their own companies and the VA killings of hidden veterans (on secret lists) is disgusting, filthy and criminal. Americans are unimpressed with these crimes committed against their family members. We seek to reverse that and create small business opportunities for veterans. Since this is what we are good at and have had so much success - we would like to share and help other vets." Marti Mongiello
We are ready to move forward and uniquely work together in 1. affecting our local towns, 2. expanding The Presidential Service Center™, 3. creating The US Food History Museum™, 4. expanding our number of available hotel rooms, and building the
American Revolutionary War Living History Center™ (ARWLHC)
& Experience.