Performances & Shows Available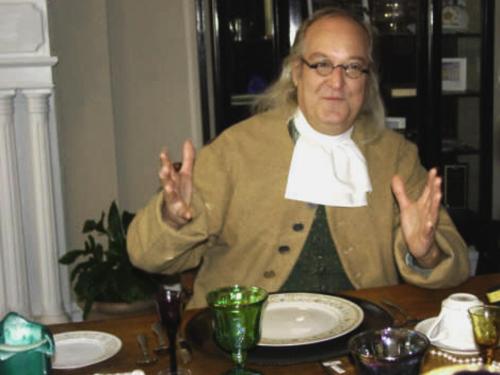 Unique, Amazing..." "Marti creates amazing food and side dishes!" -Kathleen Kennedy, Hollywood, CA
Enjoy your next White House dinner with Franklin Delano Roosevelt, Thomas Paine, Alfred Hitchcock, Frank Lloyd Wright, Thomas Sumter, Prime Minister Churchill, Doctor Benjamin Franklin, Betsy Ross, William Shakespeare, John Adams, Governor Burke of North Carolinaand many more, show below... complete with full, acclaimed BBC and NPR programs to astound your guests and thrill them with something extremely unique! 704.937.2940
The Hatcher Hughes Pulitzer Prize Winning
Playwright Theater of Grover, NC
featuring a unique outdoor "walking set"...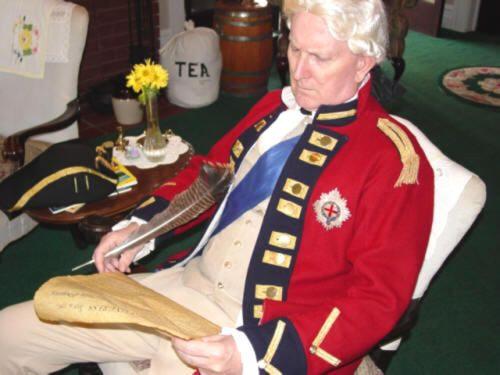 Photos copyright Martin CJ Mongiello © 2009 This page dedicated to our friend and veteran reenactor

David Sherrill , long-term sailor in the US Navy, reenactor soldier and actor.
1. Losing America - General Burgoyne of Saratoga, 1775-77 and Lord Cornwallis in the South, 1780-1: Two highly acclaimed programs that tell the losers' story of the American Revolution, which play regularly at Saratoga and Yorktown National Parks, as well as other major Revolutionary War sites. Gentleman Johnny and Lord Cornwallis give a humorous, rueful and accurate account of 'what went wrong'.
2. A New World - A New Cause -Tom Paine and Horatio Gates, gadfly patriots: Two programs featuring two controversial Englishmen who supported the Revolution -Tom Paine the 'stormy petrel of the Revolution' who paved the way for the Declaration and Horry Gates the victor of Saratoga whose laurels turned to willows in the Southern Campaign.
NEW: Game to the last: Thomas Sumter the Carolina Gamecock remembers - South Carolina's controversial Revolutionary War hero, for whom Fort Sumter (of Civil War fame) is named.
3. The Bubble Reputation - Ban Tarleton, the most hated Briton in America: Old Banastre Tarleton, the infamous commander of the Green Dragoons, is seen in extreme old age, composing a memoir of his colorful and eventful life - his controversial rise and fall in 1780 South Carolina, his later raffish hobnobbing with the Prince of Wales, his resentments and jealousies. A chance to meet the most hated Briton of the Revolutionary War.
Dear Marti,
I was not sure what to expect as your topic. You delivered a great sampling. All enjoyed your presentation.
Marjorie Jordan, who was in attendance, has a son that is in reporting. She believed Michael would enjoy interviewing you. You would probably get some good press.
I plan to come visit. Thanks again for the presentation.
Linda Dixon - The Kings Mountain Study Club
The oldest founded club in Kings Mountain, NC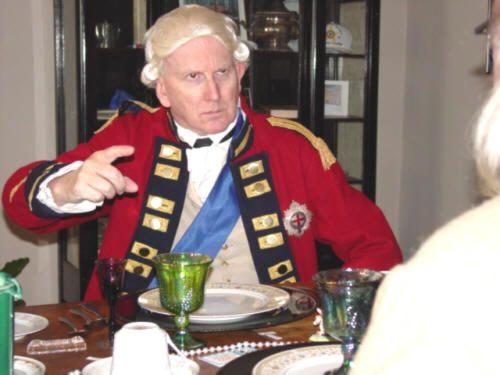 4. The British kept a-runnin' - the early years of Andrew Jackson and the Battle of New Orleans: Major-General Sir John Lambert, the ranking British officer after the battle, gives a report to a London board enquiry. He surveys the early life of ' Old Hickory' -his hatred of the British, his adventures as a judge in Tennessee, his marriage, and his dueling. He then gives a rueful account of the War of 1812 and its final climactic battle, the worst British field defeat against American forces.
5. The Lion, the Eagle and Dixie - Frank Vizetelly covers the Civil War: The artist-journalist of The Illustrated London News gives his British perspective on the War between the States. A colorful character, Vizetelly started the war reporting from the Federal side, but circumstances made him a convert to the Confederacy. He earned an honorary captaincy from Longstreet, and accompanied Jefferson Davis on his flight.
6. I cannot do it: send for Winston - Lord Halifax, Churchill, America and WWII: Lord Halifax, British Minister to wartime America says farewell to the Washington press corps. He reflects on his extraordinary and varied career, his encounter with the Nazi leaders, and the 'special relationship' in Anglo-American affairs 1941-5.
NEW: Churchill in America - a characterization of Churchill in Sept 1944.
7. One Man In His Time - Will Shakespeare revises his Will: 1616 Stratford-upon-A von. The dying Shakespeare revises his will in the light of his younger daughter's disastrous marriage. An interesting and informative introduction to the Bard's domestic problems as he takes stock on his varied and colorful life. A popular program with libraries, high schools and college English departments
8. Aspects of Charles Dickens - A Series of Four Programs: a) Dickens in America: the 1842 and 1867 visits; b) Imps and Angels: Dickens on Children; c) The Tender Muse: Dickens on Love d) A Christmas Carol: in two versions -complete or abridged with other Dickensian Christmas fare.
9. Religious Quartet - Four programs on Sir Thomas More, John Bunyan, John Wesley, and C.S. Lewis: Four first person encounters with great Christian writers and apologists -Sir Thomas More the Catholic martyr and 'man for all seasons', John Bunyan the Baptist preacher and author of the immortal 'Pilgrim's Progress', John Wesley the father of Methodism, and C.S. Lewis the 'Narnia' man.
10. The Game's Afoot - Dr Watson recalls Sherlock Holmes: Holmes has 'died' in his encounter with Professor Moriarty at the Reichenbach Falls. Colliers of New York are sending his 'Boswell', Dr Watson, on a magic lantern lecture tour across the States to promote sales of the newly published Hound of the Baskervilles. The Doctor recalls his friend's life with its surprising American connections.
11. White Knight: Shoes too tight - Portraits of Lewis Carroll and Edward Lear: Two programs portraying the of 19th Century two masters English nonsense. The author of the Alice books is seen photographing Tennyson's son just after his one trip abroad (to Russia!). He tells his life story -Oxford, mathematics, the Liddell sisters, 'Alice'. The artist-author of 'The Book of Nonsense' is seen hunting for his beloved cat, Foss, at his San Remo villa. He tells his tale of epilepsy, art, exotic foreign travel and teaching Queen Victoria to draw.
12. Take Her To Sea, Mr. Murdoch - Captain E.J. Smith on Atlantic Steam Navigation and the 'Titanic': 'The Millionaires' Captain' traces the remarkable story of transatlantic steam navigation and give his 'spin' on the greatest maritime disaster of all time. Available to be served on the First Class Section China from the Titanic complete with the last dinner served that fateful night and the authentic, original menu.
13. The Cold Water of Fear- Alfred Hitchcock arrives in Hollywood: 1941. Tinsel town's fat new boy, whose 'Rebecca' has just won the first Oscar for best movie of 1940, relates his early life and British period of film-making. An interesting and insightful question and answer period ensues.
14. Pshaw!!! - George Bernard Shaw at ninety: GBS recalls his long, controversial and eventful life on the occasion of his ninetieth birthday. A change to encounter one of the wittiest and most celebrated writers of the 20th century.
15. Memoirs of Shelley, Byron and the Author - Edward John Trelawny remembers: In the age of Victorian respectability, the reprobate Trelawny recalls his friendship with Shelley and Byron. The man supposedly "responsible for the deaths of two major poets" takes you on a roller-coaster of Romanticism in which he puts himself center stage.
16. Frank Lloyd Wright: The irascible and visionary architect reveals his plans for the Guggenheim in NYC, and reflects upon the storms, stresses and successes of his tempestuous life.
17. Wisest Fool - An audience with King James VI & I: 1624, old King James vents his spleen on tobacco and recalls the fascinating life of the first King of Great Britain and first King of English-speaking America.
18. Rats, Riots and Romantics - Theophile Gautier on 19th Century Paris and the Romantic Ballet: Fricaseeing rats for his supper during the 1870 Prussian Siege if Paris, 'le bon Theo' recalls 'the city of light' of his youth - la vie de Boheme, his fellow Romantic poets and artists, the gristtes and courtesans, and the opera-ballet.
19. Dinner with Doctor Benjamin Franklin - An excellent guest - Benjamin Franklin (January 17, 1706 [O.S. January 6, 1705] – April 17, 1790) was one of the Founding Fathers of the United States of America. A noted polymath, Franklin was a leading author and printer, satirist, political theorist, politician, scientist, inventor, civic activist, statesman, and diplomat. As a scientist, he was a major figure in the Enlightenment and the history of physics for his discoveries and theories regarding electricity. He invented the lightning rod, bifocals, the Franklin stove, a carriage odometer, and the glass 'armonica'. He formed both the first public lending library in America and first fire department in Pennsylvania. He was an early proponent of colonial unity, and as a political writer and activist he supported the idea of an American nation.[1] As a diplomat during the American Revolution he secured the French alliance that helped to make independence of the United States possible.
Franklin is credited as being foundational to the roots of American values and character, a marriage of the practical and democratic Puritan values of thrift, hard work, education, community spirit, self-governing institutions, and opposition to authoritarianism both political and religious, with the scientific and tolerant values of the Enlightenment. In the words of Henry Steele Commager, "In Franklin could be merged the virtues of Puritanism without its defects, the illumination of the Enlightenment without its heat."[2] To Walter Isaacson, this makes Franklin, "the most accomplished American of his age and the most influential in inventing the type of society America would become."[3]
Photos copyright Martin CJ Mongiello © 2009
Franklin became a newspaper editor, printer, and merchant in Philadelphia, becoming very wealthy, writing and publishing Poor Richard's Almanack and the Pennsylvania Gazette. Franklin was interested in science and technology, and gained international renown for his famous experiments. He played a major role in establishing the University of Pennsylvania and Franklin & Marshall College and was elected the first president of the American Philosophical Society. Franklin became a national hero in America when he spearheaded the effort to have Parliament repeal the unpopular Stamp Act. An accomplished diplomat, he was widely admired among the French as American minister to Paris and was a major figure in the development of positive Franco-American relations. From 1775 to 1776, Franklin was Postmaster General under the Continental Congress and from 1785 to 1788 was President of the Supreme Executive Council of Pennsylvania. Toward the end of his life, he became one of the most prominent abolitionists.
His colorful life and legacy of scientific and political achievement, and status as one of America's most influential Founding Fathers, has seen Franklin honored on coinage and money; warships; the names of many towns, counties, educational institutions, namesakes, and companies; and more than two centuries after his death, countless cultural references. You will certainly enjoy his presentation.
© Photos copyrighted by Mike Knoble licensed to Martin CJ Mongiello
20. Cannons for hire - have powder will fire! Fully dressed gentry, aristocrats and marching units. For your next event where you desire full sized cannon, blazing and belching black smoke across greens plains - they become one hell of a, "leaf blower." Also call us for marching columns, troops, militia, cavalry charges, period correct jugglers/tightrope walkers and entertainers, guided tours with our certified guides of the local area, aristocrats and governors. 704.937.2940.
21. A dinner with a local hero. Colonels Andrew Hampton, Benjamin Cleaveland or Frederick Hambright as well as the black hero of Kings Mountain, Ishmael Titus. In addition to several historic paintings being recently completed, the actors themselves fit the image and resolute behavior of patriots. Once branded and mocked as terrorists, they will regale your friends and families with stories not ever told.
© Photos copyrighted by Matt Vincett licensed to Martin CJ Mongiello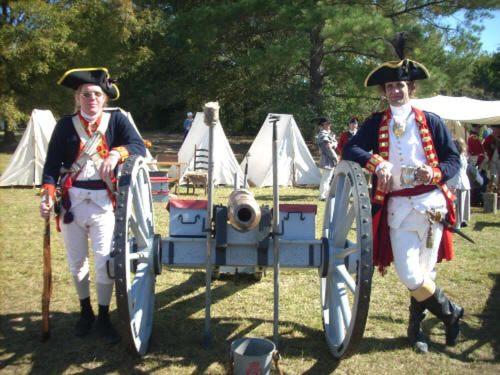 Our fully uniformed Actors and Reenactors are available for dinners, performances, shows, fairs, battles, corporate events and historical days. Fees range from $150.00 to $2000.00 plus lodging, per diem and travel expenses. We also feature famed Zach Lemhouse - the noted violin player of South Carolina who entertains at our dinners and events!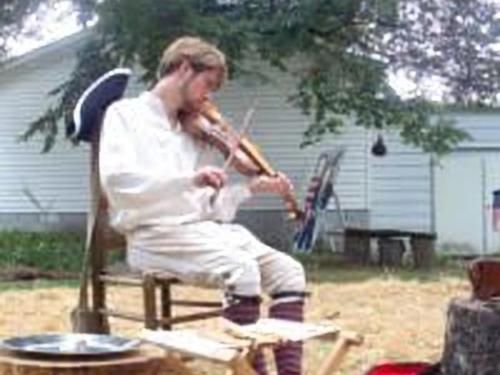 "Dear Chefs Marti, Stormy and JT, Thank you for your note. We did arrive home (at least to my home) on Saturday evening. Our stay at the Inn was the perfect "last stop" on our trip. My mother and sister will head north tomorrow via Nashville."
"We have great pictures to remind us of our time together. Thank you again for your wonderful hospitality. We enjoyed meeting your family, neighbors, and resident birds! We are still talking about the food. Thank you for sharing your talents! Cooper loved the idea for the silver bud vase. We'll be happy to follow-up with the review."
Warmest regards,
Teresa D. of Georgia
*Arrival by horse and carriage complete with honor guard and security detachment (for high-ranking officials). We also provide fully costumed units, Generals, Colonel Hambright, Cleaveland, Shelby, Sevier, Graham, Williams, Winston, McDowell, Campbell and Major Chronicle. General Washington is a specialty. Cannons and Cavalry are specially priced with bounties. Fife and Drum Corps are available for concerts, dream events, corporate events and corporate themed meetings. Catawba and Cherokee Indians are also available for blowgun, bow and arrow, knife and tomahawk instruction and you-try-it-now. Shows book and extend into years in advance - please plan or call us early.