The History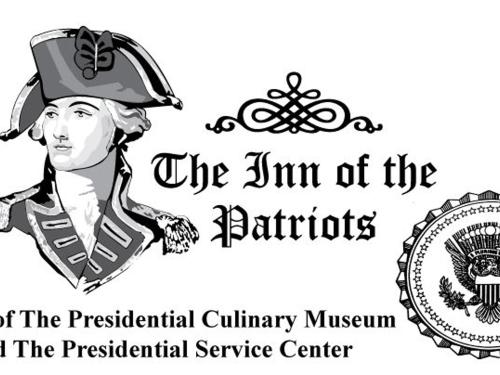 The Inn...
Over 500 room nights, cooking classes, tours and funds donated to charities since 2008! Global Activisim + Organic farming=A Responsible Business. A DISABLED US MILITARY VETERANS PROJECT USING FUNDS TO HELP OTHER VETERANS.
"Your food is beautiful" Katie Couric - "Amazing and tasty food" Anne Curry
An idea had and developed in 2007 by Chefs Marti and Stormy Mongiello with team. Curator and Executive Director of the museum, Martin CJ Mongiello, developed a 109-page business and marketing plan which he wrote and subsequently sold to Business Plan Pro and Live Plan - after they requested to publish it, worldwide. This marks the third time Marti has sold a written business and marketing plan to Palo Alto Press, created and crafted from inside of his mind. He and Stormy have designed, upgraded and fixed numerous resorts, hotels and restaurants, worldwide while living in America, Japan and Belgium. In 2006, Marti designed and sold two restaurant plans for publishing to Palo Alto Press. Their plans, like the Inn, get funded each day - in dozens of countries and can be purchased as Business Plan Pro and Live Plan for $185.00 at Staples, Office Max, Best Buy, Office Depot and Target - just to name a few outlets near you. The textbooks and DVD included offer exact guidance on business and marketing plans taught and used in present university curriculums across the globe.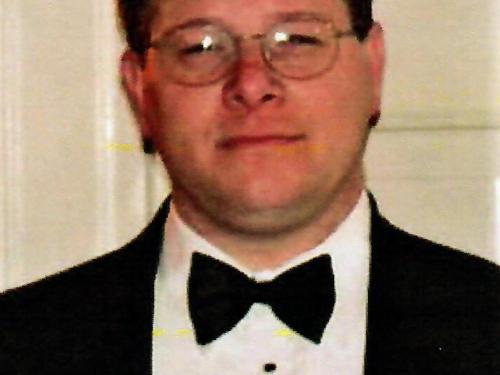 This project was approved for Small Business Administration (SBA) financing under the capped two million dollar program of 7a backing. Business Plan Pro is run by president and founder of Palo Alto Software, co-founder of Borland International, author of books and software on business planning, Stanford MBA, father of five, married 38 years -
Tim Berry
. Marti has been a long-term proponent of Mr. Berry, and Business Plan Pro with its acceptance by the SBA as well as being rated number one by the Wall Street Journal, the SBDA, Yahoo Finance, and Inc. Magazine for almost 15 years now. Marti's
Executive Chef
wife and
Curator
, Stormy Mongiello, helps design elements along with
Managing Director
Allan B. Miller (featured left),
Corporate Chef
Rick Scott (below)) and
Creative Director
and mentor - Andrew Martin King. The inn and it's hard to find requests for 1000 pound mirrors and antique furnishings were made possible by interior designer and antique experts Randy Bolin, Russell and Coit McCarter who scoured three states estates and auctions. Mr. and Mrs. Dan Friedkin of Houston, Texas are owed a special thanks for their support and esteemed kindness to Marti and Stormy.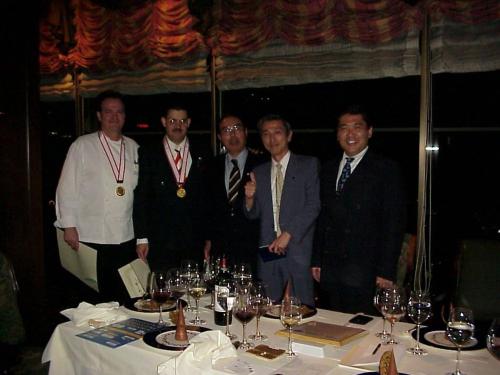 Chef Scott (left) and Chef Mongiello (2nd) with their LIFE gold medals from All Japan Chefs Association.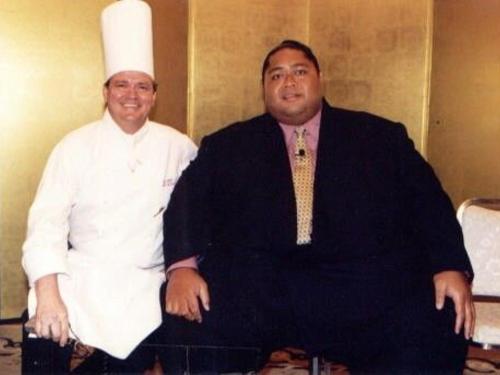 Chef Rick with Akebono, the Sumo Champion!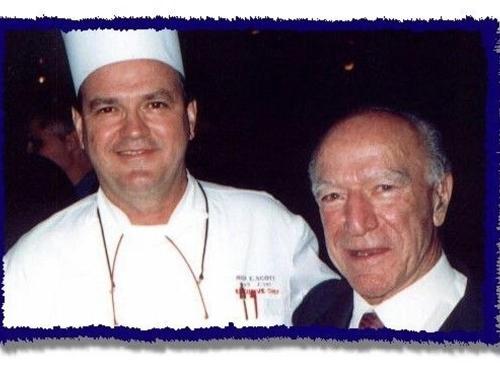 Chef Rick with Robert Mondavi.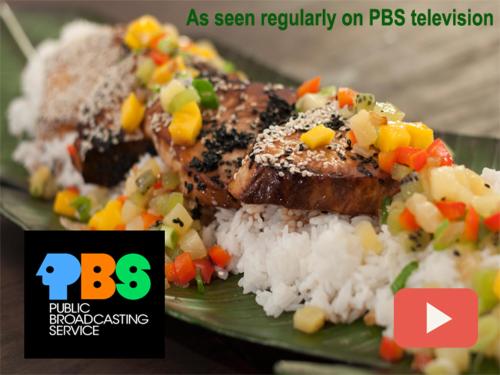 Part of Marti and Stormy's team goals as disabled vets endorse robust green programs and the 1776 Farm - which included installation of solar to light the entire home with low voltage lighting, a 30' composting pen in usage, working side-by-side with Stormy on well and rain capture watering and numerous gardens for crops, flowers and herbs to grow in. Eventually, they would like to take the house off of the power grid and make their own energy. The museum building talks out loud on 540 AM radio.
The house is always being painted in historic schemes and palette with Olympic Paints and Lowes as well as National Historic Preservation Trust colors- while the landscaping with numerous gardens is being done with additions brought from the Monticello. Frederick Law Olmstead's palette was used for Nature & Earth room colors. National Historic Preservation Trust turquoise was used with Woodrow Wilson creme in the Baby Ruth room.
The plantings were started by the couple with large flowering Gladiolus in early 2008. In 2012 they planted numerous pencil skyscrapers, CFL bulb greening conversion completed in 2011 (from incandescent) and began the transition to LED in 2012, concentrated green laundry detergents, green cleaning agents and multi-stay towel program for guests. On May 23, 2012, the Chefs purchased the mansion in a Foreclosure Auction, having previously leased its use. They attended such on the Cleveland County Courthouse steps in Shelby, NC. Doctor Dean and Anne Ornish, close friends from White House and Camp David work, stepped in and assisted the disabled and injured veterans project by immediately paying off the loan. "I am in Fiji with some friends at Tony Robbins place, but go ahead and get that proper SBA loan slowly and surely. Its a pleasure to help you, and all veterans Marti, PAY IT FORWARD."

The Inn and Mansion are part of the fame in America of Prussians (Germans) moving here from Prussia (Germany), with strong Christian beliefs after the bible's conversion to English in 1611. They will marry into the Scotch-Irish and English that live here as well as the American Indians (Asians) since both Chefs Marti and Stormy hold German, Scotch-Irish, English heritage they enjoy celebrating all things. Eating German foods like bratwurst, sausages, sauerkraut, rotkohl and more is just as fun as Haggis, Neeps and Tatties or Shortbread! It is no small feat that the Bavarian Motor Works (BMW) has also built the only German plant (in history) outside of Germany - a stone's throw from the inn. And, the plant makes three BMW's that are not even made in Bavaria - these lands here are the only place on earth they are being made. This side of the family also did not align itself with the Hessians and King George III.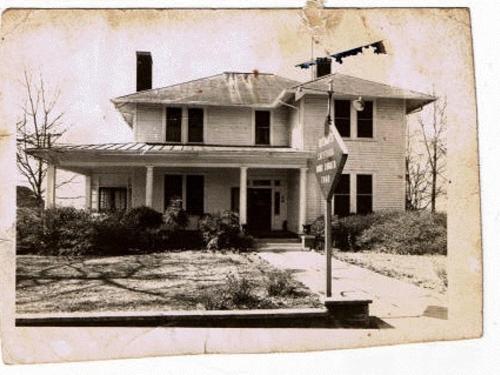 The mansion was built in 1879 by Doctor Alfred Frederick Hambright / Hambrecht (page 6L The Charlotte Observer, Friday, December 13, 1996) an Assistant Surgeon/Hospital Steward during the Civil War - for the Confederate States Army (CSA) to Generals A.P. Hill and Stonewall Jackson. Doctor Alfred was the great, great-grandson of the Revolutionary War NC Congressman and Lt. Colonel - Frederick Hambright of Philadelphia and Lancaster, PA (the progenitor of the clan to move South alone). Dr. Alfred will join with the Governor of South and North Carolina to purchase the battleground we know today as a national park and clean it up to sell it to the Centennial Commission. Stormy is a DNA documented member of the family line and Marti's family married into the Hambright family via his Schafer line in Lancaster, PA.
Initially, the family (Hambrecht) moved to America from Prussian (Germany). Lieutenant Colonel Frederick Hambright was ultimately one of the most famous in a group of Colonels at the historical, local battle of Kings Mountain when Lord General Cornwallis had his left flank crushed. One-third of the British army vaporized from the North American continent during the contest. His British Army Major (Patrick Ferguson) was killed and his flight to escape the South began in desperation - to reach the coast and his supply ships. One thousand seven hundred eighty had been a horrific year for the Patriots from Valley Forge to tremendous defeats. When Colonel Hambright took three bullets through his hat and one in his leg, his boot filled with blood, and he refused to leave the battlefield. Despite a horrible year and horrible battle, he refused to allow medical service for himself. He insisted that all of the others be served first.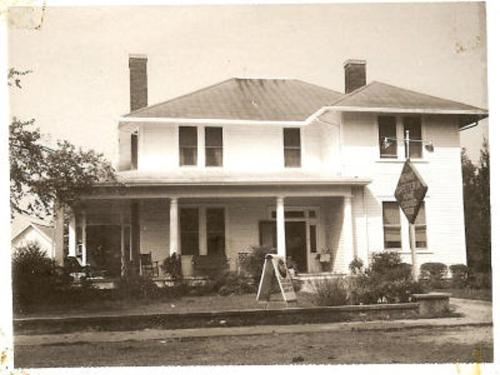 Often the Tennessee "over-the-mountain" men are historically stated to have saved America at the battle of Kings Mountain. However, only due to the fate of Colonels Shelby and Sevier becoming Governors in their states has this mistake been perpetuated. The Tennessee over-the-mountain men were outnumbered two to one by North Carolina men. The notion is often that, perhaps, North Carolina men could not save themselves? This is a great lie and outrageous to have spread against North Carolina families. This fact is well documented and supported on placards and informational signs at the Kings Mountain National Military Park. The Department of the Interior supports these facts along with the National Park Service. Many "over-the-mountain" men traveled great distances over mountains IN, North Carolina - to get here.
Congressman/Lt. Colonel Hambright (Hambrecht) and his troops also suffered repeated, vicious bayonet charges and sustained the highest and most devastating casualties of the battle. They moved on and crushed the "most powerful seated King's troops in the world."
Later, he was taken to his cabin at the foot of the mountain, and the nurse he soon married became his second wife with a total of 22 children birthed between both wives. This is the cabin immortalized by the famed muralist, Clive Haynes, in Kings Mountain city. This is the only battle in the history of America's colonial war in which one side was wholly made up of rifled weapons. The troops (the Patriots) were also branded and stereotyped as illiterate, filthy, stupid backwoodsmen who could never stand up to the raw and unchecked power of the British force of control and military discipline.

The Inn (pictured above) is part of this family dynasty for the Hambright's / Hambrecht's who settled all up and down Cleveland Avenue - in Grover, NC. Lt. Colonel Hambright (Hambrecht) is considered to be the progenitor of the NC Hambright's. Many of them stayed and became Captains and even a Brigadier General in Lancaster, PA.
A 2008 afghan donation has been made by then President (Eudora Ratcliffe) of the Hambright - Hambrecht Reunion Association showcasing the historic journey of the Hambright's into America. Now, the Inn and it's Hambright ~ Hambrecht family story are being brought to life and shared for the first time - worldwide. Which is the right thing to do, given the fact that Colonel Hambright (Hambrecht originally) is the most essential and critical hero of the Kings Mountain battle. It was Colonel Frederick who knew and stopped the boy in the woods with a secret dispatch to Lord General Cornwallis, had the boy questioned and then searched. Upon learning of the fact that the British officer in charge, Major Patrick Ferguson, was now wearing a checkered shirt and had taken off his fancy jacket for the day - he issued killing orders appropriately. Colonel Frederick Hambright (Hambrecht) also seized the day and took over when his Commander, Major Chronicle, was dead and urged his men to press forward despite three bullets through his hat and one in his leg with a blood-filled boot.
(This information courtesy President of the Hambright Hambrecht Legacy Association/Reunion - Ms. Eudora Anne Ratcliffe)
LIEUTENANT COLONEL FREDERICK HAMBRIGHT / HAMBRECHT
b May 17, 1727 in Germany
d Mar. 9, 1817 York District, SC
Married: Sarah Hardin - his first wife (later married Mary Dover)
b _______ d. Before 1780
MAJOR FREDERICK HAMBRIGHT, JR. (3rd child of Colonel Frederick & Sarah Hardin)
b 1766 d Aug. 1, 1844
Married: Mary Eaker
b 1772 d Nov. 15, 1832
MICHAEL A. HAMBRIGHT (4th child of Major Frederick Hambright, Jr. & Mary Eaker)
b. Mar, 29, 1798 d. Sept., 27, 1867
(2nd Marriage) Faithie Stewart (Reynolds)
b. Aug., 16, 1798 d. Aug. 26, 1878
DOCTOR ALFRED FREDERICK HAMBRIGHT (Doctor A. F. Hambright) (First child of Michael & Faithie Stewart)
b. Aug. 16, 1836 d. Feb. 2, 1915
Married: Sallie Deal, Grover, NC - helped build and move Shiloh Presbyterian Church to a new and third location in the town of Grover, NC (formerly was Whittaker, SC until state line moved).
THEIR FIVE CHILDREN:
1. Charles F. Hambright m. Nancy Bridges
2. Jacob F. Hambright m. Ida Ware
3. Bell P. Hambright m. Lena Turner
4. Mamie Hambright died 1940 (Unmarried) Always lived at the Cleveland Ave. address
5. Edith Hambright died 1957 (Unmarried) Always lived at the Cleveland Ave. address
The dynasty of good Germans (Prussians) living in the North and moving South is the same for the Inn owner. Marti, also having grown up in Philadelphia - like the Hambright's AND BEING GERMAN knew that a slice of popular breakfast meat called, "Scrapple," was extremely loved amongst locals - but only in that area of the North (Philadelphia & Lancaster). Nowhere else is it eaten in the world - and this is a guaranteed fact of life and American history, other than the Philly metro area including Amish country, Germany and Charlotte. Scrapple is also known as Liver Pudding and Liver Mush depending on which region or country you eat it in. Some variations of the Charlotte regional version have cornmeal in the loaf. It's interesting to see these states and cities linked together - the Colonial capital of Philadelphia and the Queen City of Charlotte named after Queen Charlotte of England, formerly of Mecklenburg, Germany. It is also interesting to see the city named after a German Queen - married off to King George...
Scrapple/Livermush/Liver Pudding is a German product brought to Pennsylvania - a Germanic dominated and controlled region and is a United States foodstuff composed of pig liver, head parts, and cornmeal. It is commonly spiced with pepper and sage. Considered a more tolerable version of scrapple, livermush was most likely brought south through the Appalachian mountains by German settlers from Philadelphia. Livermush is colloquially known as poor man's or poor boy's pâté. If you follow the Great Warrior Path or Great Philadelphia Wagon Road through Lancaster, through Conestoga, PA (yes, wagons) and on down to Charlotte and finally to Augusta - you will see the origin of it, which in this country is Pennsylvania. But it comes from Germany. You won't find it anywhere in the South other than the Charlotte region. Did the Hambright's individually contribute to this phenomenon?
Shelby, North Carolina hosts an annual Livermush Exposition, which began in 1987 to celebrate the unique delicacy. In that year the Cleveland County Commissioners and the Shelby City Council passed resolutions proclaiming that "livermush is the most delicious, most economical and most versatile of meats." Other towns in North Carolina that have livermush festivals include Drexel and Marion. And, of course, we serve Livermush and Liver pudding here many days for breakfast!
It is commonly prepared by cutting a slice off of a prepared loaf and frying it with grease in a skillet until golden brown, much like you would Spam. At breakfast, it would be served alongside grits and eggs. For lunch, it can be made into a sandwich with mayonnaise or mustard, either fried as above or left cold. As livermush's popularity rises, it appears as a primary ingredient in dishes such as omelet and pizza. Stormy always tells Marti to cook it longer and crisper on the outside! Marti makes a secret sandwich with it combined with hints of Austrian methods. Marti married his beautiful, Kings Mountain and Bessemer City, "Chef" wife - Stormy, in the Inn on April 6, 2008.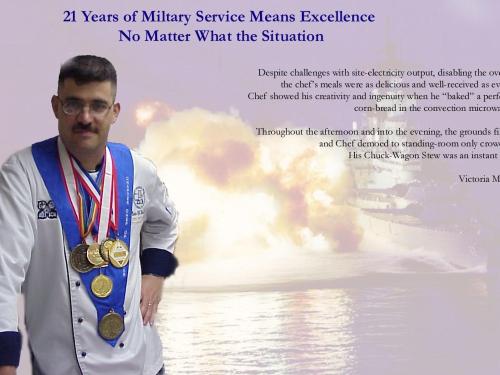 "The Inn of the Patriots is creating something unique, every day. And I wonder how long it will be before more inns start doing the same and why a few patrons confuse it with the more typical, standard B&B's it is not.
In planning my intensive 5-month market research trip to the most groundbreaking culinary specialists around America and Europe, I first heard of Marti Mongiello, a presidential chef who brings living history to the table and tours in a way that lets you learn by being involved. And every day, the Inn of the Patriots comes alive with a different story told through authentic recipes you enjoy, interactive performances, objects of historical significance, and hands-on culinary participation that lets you reconnect with the foodways of your own family from way back during the American Revolution.
Doesn't that sound like a core recipe of the newer emerging participatory museums around the world? Tracing the story of America's independence back in time through food is an idea that makes history immediately accessible and personal. I'm an industrial designer and game designer of interactive exhibitions from the largest museum in Australia, and I find the thinking of the Inn of the Patriots and Marti to be cutting edge.
Both my wife and I fell in love with the room we stayed in. The attention to detail was meticulous, grand and beautiful in theme; a soulful experience to return to each evening.
The service and storytelling were exceptionally good too, at times even moving, and often with great humour. We extended our stay, and it's clear we want to be left with such a memory. The top immersive spaces in NYC and Boston that use actors and pushed similar boundaries of how to make stories memorable and personally meaningful reminded us of our earlier stay at the Inn of the Patriots."
--
Krister Gustafsson, January 2015
Industrial Designer of Interactives
www.kristergustafsson.me
You can sign up for our once a month newsletter, right here.