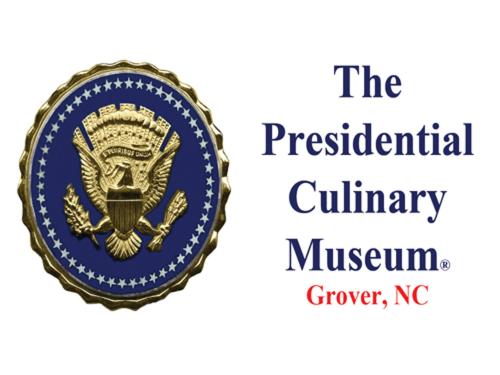 in the town named after the President of the United States, Grover, in Cleveland County, 301 Cleveland Avenue
The Presidential Culinary Museum®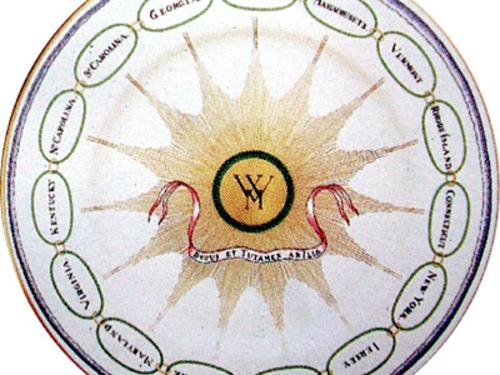 7.30.1787: "The dry rice of Cochinchina has the reputation of being whitest to the eye, best flavored to the taste, and most productive. It seems then to unite the good qualities of both the others [white S. Carolina rice & brown Piedmont/Lombardy rice] known to us. Could it supplant them, it would be a great happiness, as it would enable us to get rid of those ponds of stagnant water so fatal to human health and life." —to William Drayton
From Thomas Jefferson
CATCH the CBS TELEVISION (CLICK ME)! 4-PART MINI-SERIES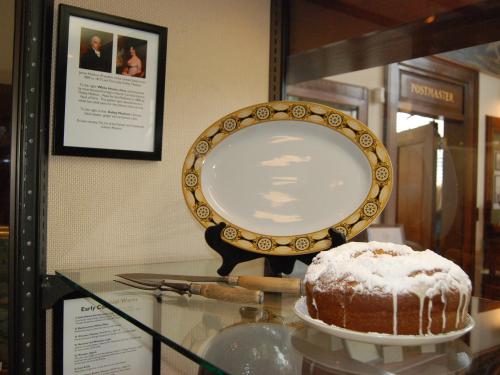 Moving into 2019, we have had 24,230,000+ visitors to the center, website, museum, and been featured on CNN International, PBS, and FOX to 2.6 billion viewers. We've been featured in 160+ newspapers and magazines on earth, in just ten years. As seen in The Official Museum Directory in partnership with the American Alliance of Museums (AAM), as a Blue Star Museum with the National Endowment for the Arts, a licensed partner with Google Cultural Institute, and officially listed with the North Carolina Museum Council (NCMC) we are featuring each of the Presidents. Additionally, artifacts, antiques, and private items have been sent from the United States National Archives, The Bush Foundations, President Carter, President Reagan, President Ford, President Obama, President Trump, President Eisenhower, and The Clinton Foundation. The Presidential Culinary Museum® is a small portion of the United States Food History Museum™ (USFHM) heralding Presidential Food Service, the slow food movement, major food manufacturers and their brands as well as the famous icons developed in America sold worldwide like the Baby Ruth candy bar, Heinz catsup, Coca-Cola, Reeses and so many more... See our shows in Asia, Europe and the America's, here.
See our Press Page for a complete list of the past 20 Media Advisories, News Releases and Press Releases over the years. There is high resolution, 300-DPI photographs. Catch us in a new, four-part mini-series with CBS Television (click here) for 2018 showcasing the Trump, museum, Clinton, and Lincoln episodes!
Open five days per week, Wednesday through Sunday. The museum is utilizing our current success of Inside the Presidents' Cabinet shows.
Licensed Historians doing Personally Guided Tours daily at exactly 9:30 am only (groups of 12+ warmly welcomed at other times, with appointment). Highly recommended. Thursday through Sunday. Admission is $7.00 per person.
11:00 am for tablet tours at $3.00 per person (with music, first ladies and the Presidents and others speaking). Wednesday through Sunday.


Defeat our Pokemon GYM leader and get free admission for the whole group! (The museum was listed worldwide by Pokemon GO Game as a gymnasium).
We do have robust bus tours, assisted living facilities vans, red hats, purple boas, men's groups, historical societies, and church coaches coming from several states.
Military, veterans, children under 12 are free.
The museum building talks out loud on 540 AM radio. Try it from your car!
Please, no animals on tours. Animals chained to poles, auto bumpers, or trees in the parking lot, are not allowed while on the tour.
See underground where the servants live in 1879 when the mansion is first built. Go down and into the world of the Ratskeller.
Two gift shops, one above ground, and one underground.
See our exhibit on the top floor, Clinton, and Cleveland: "Democrats with good taste..."
Enjoy the Bush Foundation items sent from the National Archives and President Bush's planes on display.
See the new Trump exhibit with items sent by the Trump's and the Obama Chi-Dog with Obama items, and more.
Over 20+ first ladies exclusive china designs with colors.
Is not run by the White House nor any government institution - a private museum controlled by a private board of trustees and many, former White House servants, writers, and protection units of the CIA, FBI, NID and USSS.
This is a fully guided tour of the private and public collections of Chef Martin CJ Mongiello - a former Executive Chef to the President of the United States of America including exhibit items and artifacts sent by the National Archives and several Presidential Foundations. We are located in what is known as, The White House, in the town named after the President, Grover, NC. Other collections from private foundations include the Miller, Griffith, Mancuso, Bush, Trump, Carter, Reagan, Clinton families, and libraries. Additionally showcases the US Navy, our own Presidential Food Service, and why the White House has two restaurants inside of it, staffed by Navy chefs, and how Captain Patrick J. Casey, USN, Ret. Commanding Officer of the USS Asheville and Vice Admiral Albert Konetzni, Jr., USN, Ret. sent chef Marti away to the White House Military Office (WHMO). Casey is featured in Main Case of Glass #7 and Mirror, on floor one, since 2008. Listed in the Official Museum Directory in partnership with the American Association of Museums. The tour traverses three levels of the historic mansion including underground servants quarters. On some events, it may also include the grounds tour, outside. Click here to sign up for our once a month newsletter.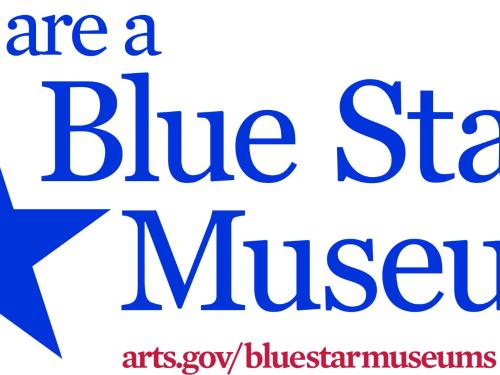 Including Presidential Culinary Library™ holdings and The Presidential Service Center™ honoring the White House Military Office Presidential Service Badge (PSB) holders, Presidential Food Service, Former White House Chefs and Alumni members. Senior Curator, former White House Military Chef, former Camp David Resort Manager Martin CJ Mongiello and wife curator, Licensed Executive Chef Stormy Mongiello, former White House Military Office member and Spirits Director Travis McVey (creator of Heroes Vodka), Chef de Cuisine Kim Hambright, Sous Chefs Alicia Guinyard and Chef Tournant Sean Downey.
~
"Meeting Franklin Roosevelt was like uncorking your first bottle of champagne."
Winston Churchill, Prime Minister of England, 1946
Enjoy binge-watching our entire series for free, if you can't see us on CBS,
right here.
We love our international guests and viewers visiting with us!
New, Special Exhibits- read on...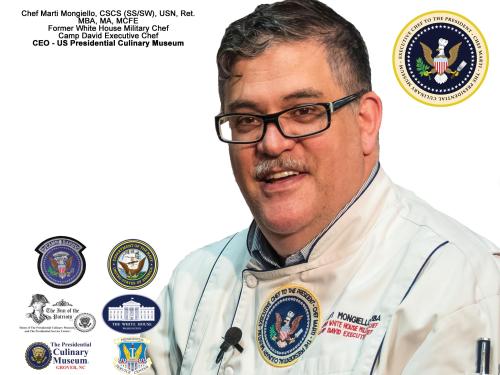 with gracious thanks to The President's Cabinet Level Donors
Doctor Carole Haas Plonk Gravagno & Emilio Gravagno - The Miller Foundation of Palm Beach - The Mongiello Foundation - Doctor Dean and Anne Ornish - Allan Miller
and our First Family Level Donors
The Mancuso Foundation, Peter Griffith
Ed & Tonia Muckenthaler & Eric Salter
and our American Contributing Donors
Mary Wilson, Kim Hambright, Stacey Fraterrigo, Travis McVey, Dyer Construction,
Roy, Glenda, Matt and Katie Dyer, Timms Furniture, Rick and Jean Moore,
Tim Moore Attorney at law, Eddie Humphries Painting, Kurt Pluta,
Paula Childress, Curtis Bailey, Scott Claflin, Rick Yost, Julie Wall, Gerard Aman, Peter and Miriam Pang, Tommy & Lynne Holt, Mark Adams, Robert Izquierdo, Josh Romesberg, Brahim Ait Daoud, Engie Penazola, Maria Plinio, Toni Ann Marcolini, Lisa D'Aprile, Marcus Neal, Dawn Zawadzki, L Edwin Brown, Steve Moore, Peter Delorme, Gwen Brink, Howard Burnham, Debbie Trivett, Steven Sublett, Robert Farrell, Guy Benoit Santoro, Antwain Thomas, Leo Sigrist, Scott Syfert, Noell Michalski, Timothy Armand, Bill Willis, Antoinette and Donn Biegaj, Gertrude DaSo, Andrew M. King and John Calhoun, Edith Morgan, William and Sandy Wendling, In the name of Dale Schaller by Alvin Clemons, Joan Vitale and Philip Gallant of The Antique Circus
The American history making Hambrecht / Hambright family mansion home reaching into the legacy of Congressman and Lt. Colonel Frederick Hambright (famed of the Kings Mountain battle) and on to Doctor Alfred Hambright, Assistant Surgeon to Confederate Generals A.P. Hill and Stonewall Jackson winds through the house. Dr. Hambright bought and created the King's Mountain battleground with the Governor's of SC and NC. Portions of the tour discuss service to the White House, Camp David and Vice President's houses via the famed Chefs and the US Navy Chefs. Modern Household and Estate Management service to the Forbes 400 and Fortune 500 list is also showcased along the tour which leads underground by candlelight to the servants quarters with fiddle and banjo music.
Discover the china of the American Presidents and First Ladies from the newest collections of John Quincy Adams and Dolly Madison on up to Presidents Clinton and Bush. The tour and museum traverse the entire home and sometimes ends with a meeting by the old slave's house chimney in the outdoor Chefs Herb Garden, along with a Chefs Talk, Question and Answer period. The tour also includes a behind the scenes route through the underground Prussian (German) Ratskeller staircase to see the secret life of servants to the elitist rich of society. You may encounter some personalities or six accents along the way! Special tours for groups by request can also include fully costumed actors.
Special Exhibits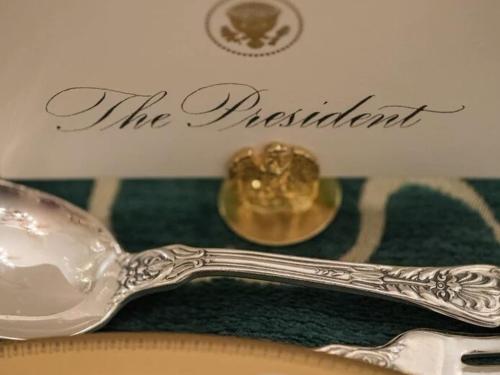 First Lady of the United States of America, Sarah Childress Polk and North Carolina's pride, President James Knox Polk: An historic exhibition of the UNC law graduate, their receptions in the White House, a china exhibit of their gold and white dinner set with bread plate, and dessert set teacup with saucer, main plate and more are on display next to famed favorite recipe, Hickory Nut Cake.

Sarah attended high school in NC and James was born here, in Pineville (where the NC Memorial site is). Read about the exhibit as featured in it's original debut of 2010 in the Gaston Gazette and Shelby Star newspapers, with full page - full color spreads. See the turqoise china collection as well as the 24K gold breakfast collection, on site.
Also, be sure to enjoy the QR code videos with a smartphones working on Android and iphone systems. You'll love the features and actors in the James and Sarah video shoot here at the museum as well as other videos around the museum and on the 1776 Farm. It is an interesting fact that Sarah Childress Polk met with Frances Folsom Cleveland at her home in Tennessee during the historic visit of the south conducted by the Cleveland's. The links in history are quite interesting.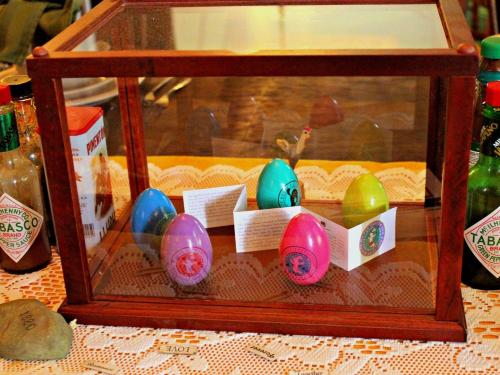 Easter Egg Roll on the Presidential Culinary Museum® Lawn - Always held on Easter Monday - simultaneously with the White House. The White House Easter Egg Roll began in 1878 when President Hayes invited local children to roll eggs on the South Lawn. First Lady Dolly Madison first began the tradition of Easter egg rolling in Washington, when local children joined her for an egg roll at the Capitol in 1814. In the ensuing years the children made quite a mess and in 1876, Congress passed the Turf Protection Law, banning the use of the Capitol lawn as a playground. In 1877, bad weather kept everyone indoors and there was no need to enforce the law, but in 1878 children stood outside the gates of the White House until President Hayes invited them onto the grounds to continue the egg roll tradition. The White House Easter Egg Roll has taken place every year since 1878, but during the beginning of World I, World War II, and the Truman Administration's renovation of the White House, the event was held on the National Mall instead of the South Lawn.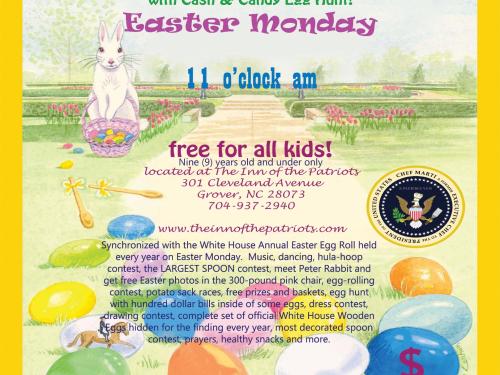 1927 was a landmark year in Easter egg roll history. That year, the White House hosted a young Nancy Reagan, who would go on to host eight of her own Easter egg rolls as First Lady from 1981-1988.
The Presidential Culinary Museum® features an egg roll with prizes, annual chalk drawing contest with prizes (parents please bring chalk), hidden CASH, coin and candy egg hunt and the Easter Bunny (Peter Rabbit) for free annual Easter photos to send to facebook and relatives, free to the public. Their is no admission price. Children nine (9) and under are invited. Each year the Presidential Culinary Museum® also hides commemorative gold or silver eggs and many years we have included an entire set of Official White House Eggs hidden and signed by the President and First Lady.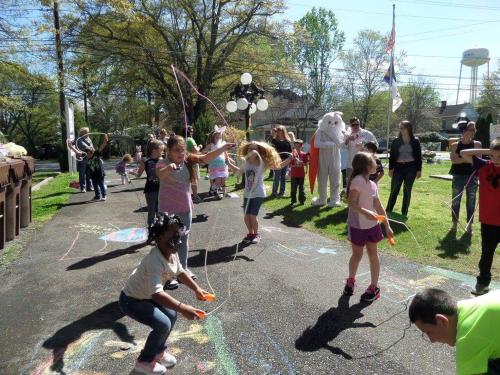 Of special note and value are our very own limited edition, hand signed in gold - painted eggs by Chefs Stormy, Marti, JT, and Rania Isabella, for children to find. To get all the info on the day's events see our Facebook site. To see more and watch a featurette short on the creator of the egg roll and games Dolley Madison go to the CBS television WBTV website or catch us with NBC's Larry Sprinkle and info on the egg roll. Our Facebook page for 2018 is right here to get a historical look at the event.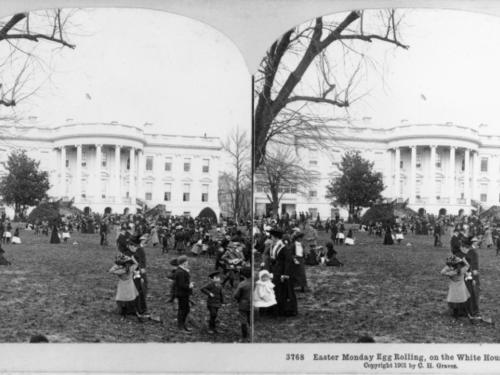 The roll is held simultaneously and features the live news broadcast from the White House. For more information about the Easter Egg roll please visit the outstanding website of the White House Historical Association and consider visiting them on your next trip to Washington, DC.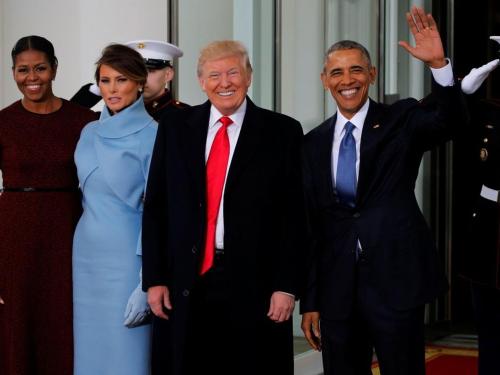 The Presidential Culinary Museum® at The Inn of the Patriots™ Bed & Breakfast, Grover, Cleveland County, NC is a non-partisan museum. Impolite comments about specific Presidents during tours only make others feel uncomfortable. Any guest expressing anger over one particular President during a visit will be escorted out of the building. Threatening comments against any President are always reported to the United States Secret Service in Charlotte and Washington, D.C. as they are a felony. Please be mindful that threatening comments made to a past President are also reported. Impolite remarks and outbursts about specific Presidents and parties during tours only make others feel uncomfortable and are inappropriate on any museum tour. Individuals unable to control their mind or bodice with arms and hands will subject themselves to criminal prosecution. All portions of the museum are under overt and covert surveillance filming up into the cloud. There is no DVR onsite that can be removed.
The Clinton and Cleveland Exhibit: President's with Good Taste
Frances Folsom Cleveland: 21-year old First Lady of the White House. The only First Lady to ever be married inside of the White House and to birth, a child inside the White House - this exhibit of beauty and favorite orange blossoms celebrates her love with President Grover Cleveland (whom our town is named after - Grover, NC).

This exhibit space is growing annually and new items have been acquired by our curators and collectors such as renditions of photographs, US Mint gold coins, actual .22 cent stamps featuring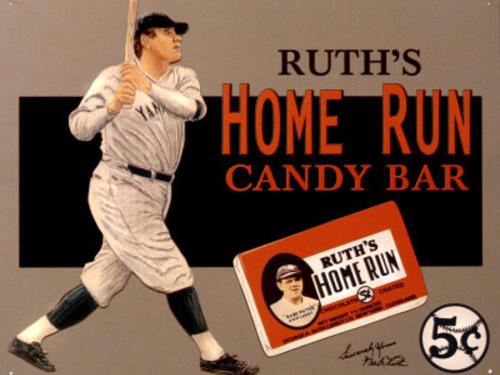 Grover, a copy of a caricature on his fight over the Gold standard to back US currency - not silver, a copy of his $1,000.00 bill issued in America and an authenticated TOPPS trading card featuring the Cleveland's - all in 2009/2010. In 2011/2012, several other items were procured and authenticated as originals, including a 1956 card issued by TOPPS, the 2007 and 2009 White House Historical Association, Grover Cleveland Christmas Ornament, photographs from Nestle worldwide (under written permissions and authority from Nestle of Switzerland) of the Baby Ruth Bar (invented by Curtiss Candy Company), gold coins from the US Mint and a 24 kt Gold Cover Plate first presented and issued in the Rose Garden. In the year of 2012, portions of this exhibit were merged into the Cleveland and Clinton exhibit case on the second floor coming from the Baby Ruth room. In the year of 2015, replica Grover, $1,000.00 bills were obtained for sale as note pads in the gift shop and a piece of 82-year old ticker tape from the New York Stock Exchange (NYSE) was added to the collection. It features original NYSE symbols on it and is authenticated and very brittle. Many may not know that the first-ever ticker tape parade in New York was held for Grover while on his way to give a speech for the statue built for Egypt (later sold to Americans as the Statue of Liberty - by Bartholdi). See in this exhibit, the 1st-ever lesbian First Lady, Rose Cleveland (called a "Boston Woman" or in a "Boston Marriage" and a "Bluestocking") who was highly-known and educated. This exhibit also covers portions of arguments Rose has with her brother about White House state dinners, the banning of alcohol in the house and voting by women. See one of the most famed recipes ever by First Lady Francis Folsom Cleveland, Grover's new, 21-year old bride (he was 48), "Frank," became the youngest 1st lady in US history!
On Wednesday, June 2 of 1886, a late, late 6:30 pm approached with selected, special guests, cabinet members and their wives feeling very hungry in the Blue Room for the first-ever wedding of a President in the White House! Some had snacked, secretly, just to hold off hunger pangs! Luckily, the ceremony would not be elaborate and lengthy - as some can be up to two-hours long. As Grover's father was a Presbyterian minister, its no surprise that Reverend Byron Sunderlund officiated. Grover and Frank walked down the staircase and stopped in the Blue Room, just underneath the chandelier, decoratively made up with fresh flowers. Magnificent fern plants, palms and ornate flowers of the White House, private, greenhouses adorned every eye that day. The US Marine Band, and the heroic John Philip Sousa, played the Wedding March as smiles and shining grins blushed across all of the ladies! The fresh newleyweds waltzed to the East Room where they enjoyed the gas chandeliers. During this period of time, the museum here also had gas chandeliers, which you will see during your stay. They are original silver and were later converted to electric. Francis had a low Parisian neckline wedding gown which she took heat for - along with such other dresses, for the rest of her years. This included her youngness and the showing of her shoulders. Frank had a 15-foot silk train with blossoms in it. The dress was heavy satin with silk, pearl white and edged in real orange blossoms (very popular for the time). For this specific reason, when chefs Marti and Stormy were married in Grover, they had orange flower blossoms in their flowers and Stormy's tiara. After reading, and studying about this, they wanted to incorporate such into their wedding.
A large ship of flowers in the middle of the main table was christened as "The Hymen" much, much later that night, almost two hours later, as the State Dining Room hosted a lovely candlelit dinner for all. A lot of laughter occurs during our tours over this (considered outrageous by many) as people look at the items on display showcasing it, and some guests have found it disgusting, revolting and shameful that it was done by the President himself. This also was the case during the period mentioned. Some guests may desire to remove themselves from this portion of the tour for religious, or personal reasons, or due to feelings of revulsion or filth, and join the tour again at the next exhibit. However, please be reminded these facts were printed and are being advertised by the White House Historical Association. They are verified and well-published, as true. Additionally, we have spoken repeatedly with the White House General Counsel and been cleared.
Police officers on horses protected the President with their size and power as Albert Hawkins whipped the fine carriage down Pennsylvania Avenue. The throngs of onlookers cheered and clapped while men saluted, or topped their hats into the air, waving back and forth! The Clevelands rocketed by private rail car to the Deer Park Resort in the mountains (located in western Maryland).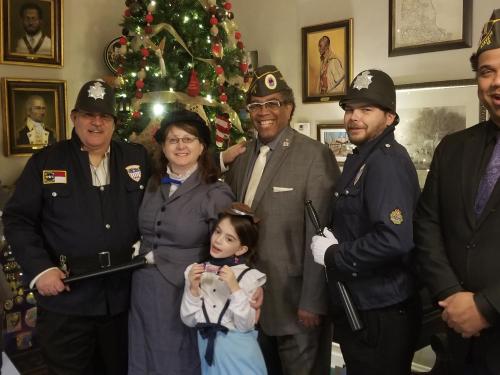 A very rare issue, US Mint twenty dollar bill with President Cleveland on it.
More popular, and more so issued, was his $1,000.00 bill in our museum (copy)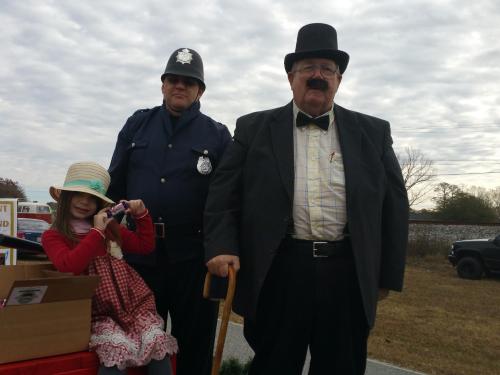 President Stephen Grover Cleveland (seen right on the float during the Grover Annual Christmas Parade in Grover, NC) has been portrayed for many years by the former Mayor Bill Willis. Several turn of the century US Secret Service agents in Mary Poppins era suits are next sought after as, for many years, we have had the public face of protection as Keystone Cops (Bobby's) in correct era uniforms. We will continue with our expansion of Keystone cops to protect the President and First Lady. Shown on the float with President Cleveland is Grover officer Marti Mongiello and Baby Ruth Cleveland in a red dress (portrayed by Rania Mongiello)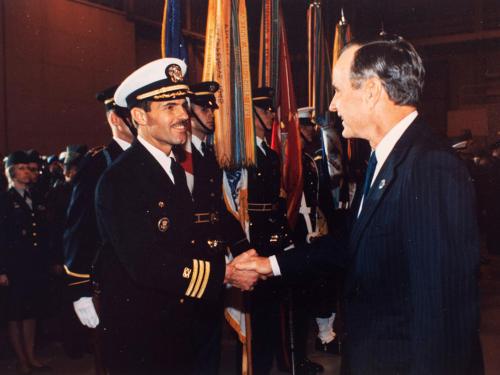 President George H. W. and First Lady Barbara Bush Menus and Recipes of a Nation
Enjoy the new exhibits of the Bush family including recently sent menus from State Dinners of Pakistan, England, USSR, Argentina, Italy and Morrocco by the United States National Archives and Bush Foundation in Texas. An initial story was written about the new exhibit and published on November 5, 2010 in the Charlotte Examiner and on WGNC Talk Radio.
Additional items showcased are recipe cards sent to Chef Marti and Stormy by First Lady Barbara Bush featuring her very own favorites, including the recipe for the Bush family favorite - the Mexican Mound! Eaten, loved and enjoyed by most all Bush family members including Jeb Bush who has stated he will run for President.
See the Hellcat and TBM Avenger models on display next to the Camp David plate in the Bush section of our exhibits. Both planes were in President Bush's Squadron when he was shot down in the Pacific and all other crewmembers died. President Bush flew the TBM Avenger as featured below (during the film be sure to look for "Barbara" written on his planes engine) and was fortunate to be picked up by a US submarine and offered some hot coffee and cake in the wardroom. He often talked about being rescued was terrific until...read more here in our newest, web based, museum of selected exhibits...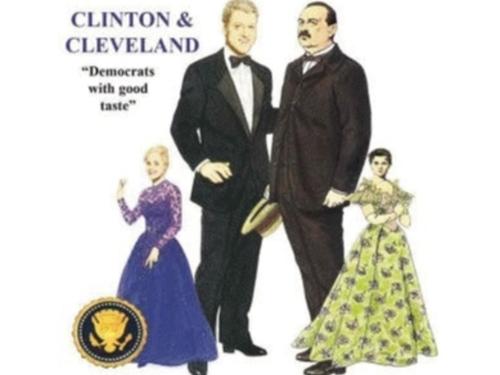 Clinton & Cleveland: "Democrats with Good taste" Why is there a candy bar in front of first lady Frances Folsom Cleveland and her husband (28 years her senior)? Because their first child "Ruth" has the honor of still being known in America today with her very own chocolate treat named after her! It was originally developed by the Curtiss Candy Company and later sold to Nestle Worldwide. Actually, Ruth and First Lady Cleveland had dozens and dozens of products named after them.

What's with the ripe, yellow banana in front of President Bill Clinton? Where did the custom milk glasses of Secretary of State Hillary Clinton come from and is that really her favorite chocolate chip cookie recipe on them? The gold foil wrapped Korbel bottle of champagne from the turn of them millenium bubbles and cries out for story telling along with the bronze coin in front of it.

These and many other seasoned stories are to be enjoyed and had at the museum. During the daily one hour long tours the history of the mansion it resides in unfolds to also showcase how the town got it's name, the families who live here and how they fought at the battle of King's Mountain and more. All tours begin at 9:30 daily, seven days per week.
See Julia Child's letter (above middle) negatively commenting on how the White House service had gone down hill since LBJ - and her newest thanks to (then) First Lady Hillary Clinton (above right) for restoring her faith, the food and the service to the White House during the Sara Lee Frontrunner Awards Luncheon in 1999 (menu above left). Hover over any item or picture to inflate it fully via the star in the right corner.
Presidential Food Service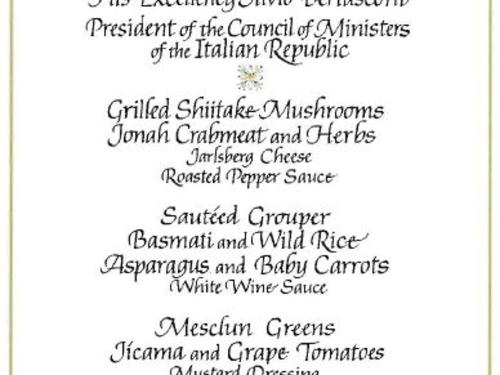 The Gipper enjoys a wonderful lunch at Camp David.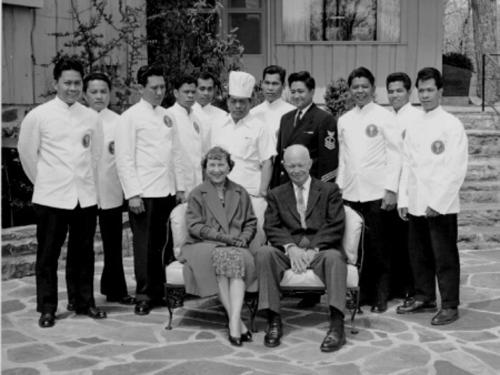 Proud US Navy Chefs pose with President & Mrs. Eisenhower. Our museum tour is included (35-minute guided) with every stay...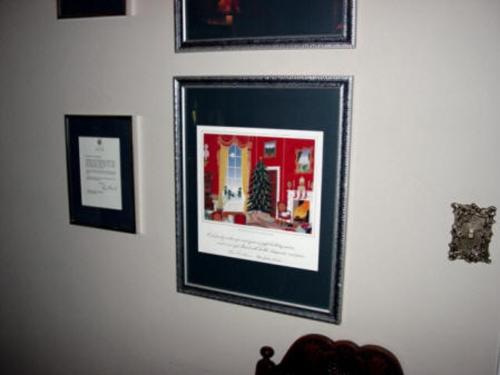 Five different letters from Presidents wishing thanks to Chef Marti will be seen. Interesting artwork and menus from around the world are shared when he cooked for the people of Asia and Europe representing the cuisines of the USA. Chef Marti retired from the US Navy after 21 years service to our country.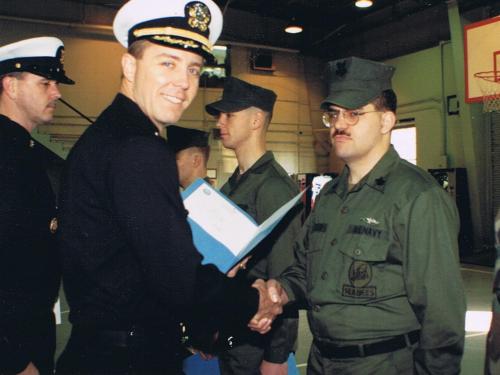 Click below to see a .pdf about the history and background of White House State Dinners, that Chef Marti cooked and served at, as Official Functions of the United States of America. Click the .pdf for detailed information about Camp David and managing the 16 private homes the President has there, several hotels and four restaurants at the resort and conference center.

White House History

Camp David History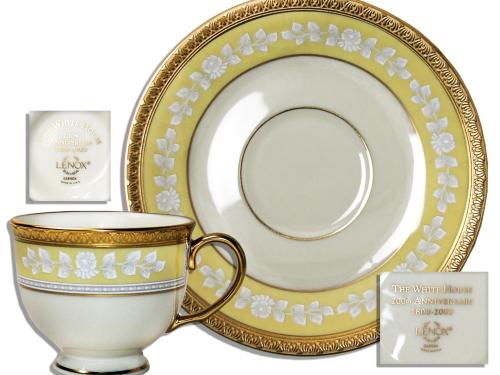 The new Clinton china and George W. Bush china (below) - currently showcased
and being used regularly at the White House for US state dinners.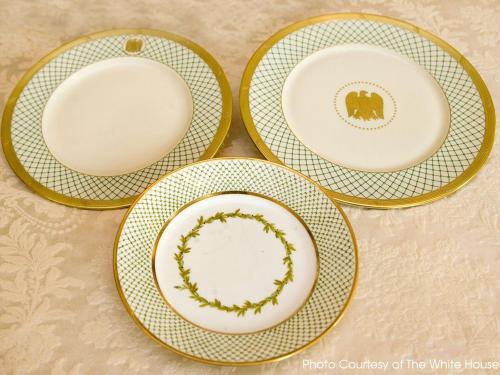 and George W. Bush china - currently showcased and being used regularly at the White House for US state dinners.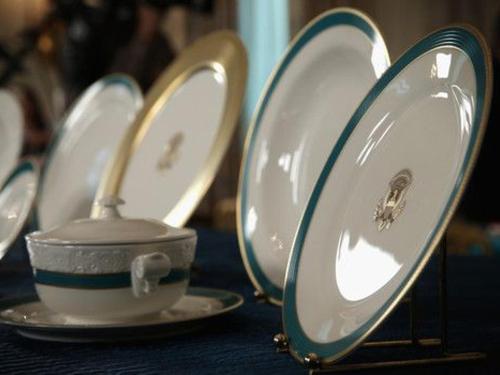 THE NEW OBAMA CHINA: Our leading curator, Martin CJ Mongiello, published an article on the history of the Obama china for the Charlotte Examiner. This included information on the links to the Madison china and information of it's sale at auction.
2nd Floor exhibit: The Royals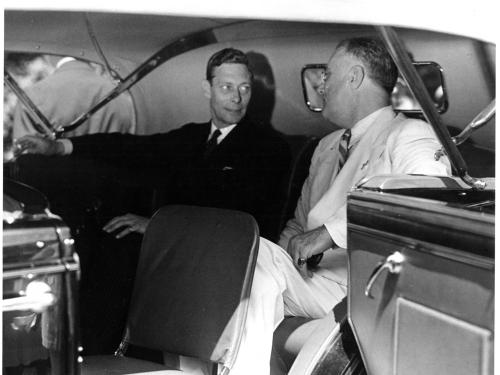 His Majesty, King George VI (left) was formerly known as Prince Albert (many guests fondly recall of Prince Albert in a can during the tour and note the antique can on display) and would be the first monarch from the UK to ever visit America. The fact that President Roosevelt (right) served hotdogs steals the entire show in this part of the exhibit! The hot dog on display, in locked glass, gets a lot of fun-loving and merry laughs. This exhibit also features china showcasing Canterbury, a creamer pitcher from Highclere castle, and more.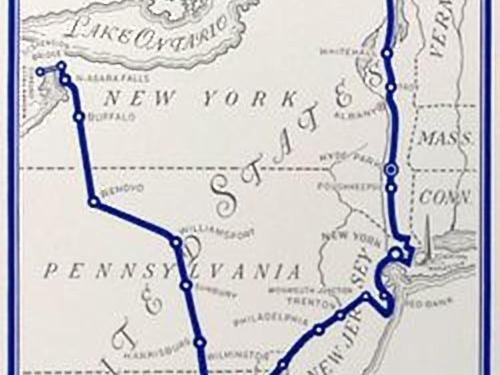 The Royal train route and visitation schedule, including Hyde Park on the Hudson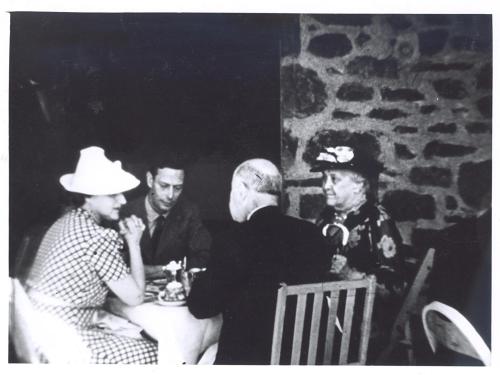 The King talks with Governor Lehman, Ms. Morganthau (left) and Ms. Roosevelt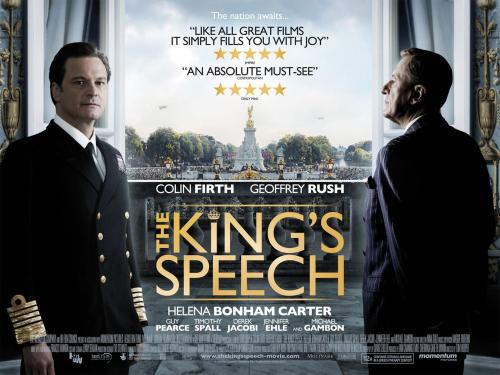 He is the, "stutterer" and may now be the most well-known English king of all time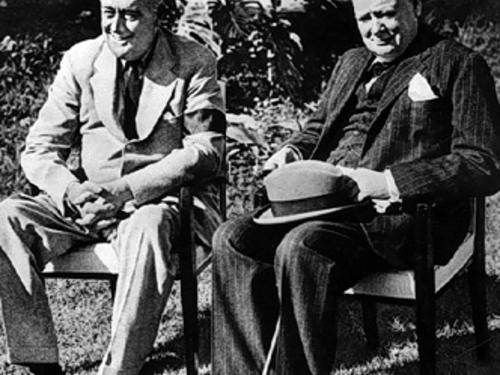 This exhibit features other Royal items, of world acclaim, as well as from the PBS and BBC television series, Downton Abbey®:
A Biltmore Estate, verified, blue and gold china plate
A Biltmore Estate, verified, purple and gold teapot
A creamer pitcher from Highclere Castle procured directly from England
An authorized, "Lady Mary," scarf from Carnival Studios and the Dresses of Downton
A silver, antique, period - salt, pepper and paprika set in silver carriage
Gold and silver coins featuring King George III and Queen Sophia Charlotte from the Cherokee Nation of North Carolina
Gold, "Queen Charlotte," ornament from the Mint Museum of Charlotte, NC
A commemorative, engraved, Walkers Shortbread Cookie Tin featuring baby George (the Prince) issued for his birth
Ladies jewelry and a tiara first worn by Chef Stormy Mongiello (Executive Chef at the museum) to the Cotillion Ball - a private, members-only club - the items are stored, on display, except when unlocked for wearing - some items authorized by The Dresses of Downton collection and 1928 Vintage Jewelers. "Downton Abbey®, the critically acclaimed and multiple award-winning drama, has become a worldwide phenomenon. The series is visually spectacular, with sumptuous costumes, cinematography, and set design depicting the grandeur and elegance of its time. The world's largest vintage jewelry manufacturer is the 1928 Jewelry Company.
On the day before Christmas of 2015, we obtained a silver proof coin of Princess Charlotte Elizabeth Diana from the Royal Mint of England. The Royal Mint is a national treasure, making beautifully crafted coins and medals. Over a thousand years of craftsmanship and artistry ensures every piece they strike is a long lasting piece of history. It seems like only yesterday that the world celebrated the safe arrival of Prince George, and then we rejoiced once more, to welcome a new member of the Cambridge family, to the world. With a design that reflects the coin struck for the christening of Prince George, John Bergdahl has once again turned to Royal traditions and the famous Lily Font for inspiration, creating an elegant composition with block cartouche and decorative inscriptions. And with the new fifth coinage portrait by Jody Clark on its obverse, this is a true look into the future. The Royal Birth 2015 United Kingdom £5 Silver Proof Coin arrived and was put on display in 2016. It is:
The only official UK coin to mark the Royal birth
Part of the collection of the Cambridge family
Struck in sterling silver – only 9,500 minted

The Royals Exhibit bridges the gaps between a. Three famed George's that many humans know, b. The relationship of Charlotte, NC to the monarchy (a geographic approach and Prussian historiography), c. Items from the popular TV series that the world has come to acquaint themselves via English aristocrats, and d. Intrinsic culinary aspects related to such with President Franklin Delano Roosevelt. His sharing of simple Americanism with the Royal family (hidden behind the veil are the heartfelt letters after the visit and meeting about the hot dog and subsequent serving of them in 1957 at Buckingham Palace by Her Majesty) makes it believable and fun to relate with for international guests on this tour. With 30,000+ visitors to date, it has met with critical acclaim, for a unique, four-phased, curatorial approach. Originally discussed by some in academia as childish, immature, ridiculous, and, "the type of rubbish you get when several Doctors do not sit on the board," the museum has now been featured in 150+ global newspapers and magazines, received numerous world awards, seen in 212 countries via CNN International and 2.6 billion humans watching TV - including PBS. Further, relational studies have been conducted by Senior Curator and Designer, Martin CJ Mongiello (a former curator at the Camp David Resort, Executive Chef and White House Sous Chef conducting state dinners) of the museum and shown on major network television broadcasts. When Martin began his work, it was ridiculed by some in the non-profit museum world being remunerated at the 300k per annum+ level. This exhibit was soft-opened in 2014, with a formal premiere, and then finished during 2015 with a long, quantitative and qualitative analysis, which changed the exhibit repeatedly - to match the highest ratings from guests. Location: Second Floor, illuminated case.
ADDITIONAL FDR RELATED ITEMS:
FDR recipes and foods have been served and eaten by the public at special events
See the FDR classic filmed for CBS television of Seafood Chowder
FDR is mentioned in this CBS shoot for President Obama's favorite dish of Chicago Dogs made with the poppy side bun, sport peppers, cucumber and tomato slices

ADDITIONAL 2016 THROUGH 2026 STUDIES are occurring related to His Majesty, King George III, and the historic release of all of his private papers to the SAR.
In 2017, additional items were added via digital displays related to the explosion of United Kingdom films and television series that Americans love. Psychographically, our data scientists have found that Americans fervor and care for "all things UK' has risen due to:
Upstairs Downstairs - the old and new series
Crown - the Netflix 100 million dollar production series
Victoria - the series
Downton Abbey - several seasons of series
Outlander - the continuing series
Mr. Selfridge- the famed series filmed in London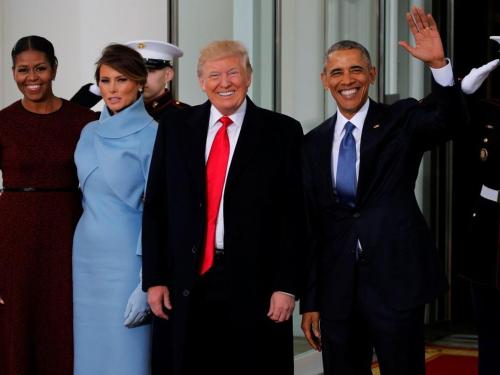 Be sure to catch our Trump and Obama items on exhibit including the 23 karat gold plated bars from PokemonGo, The Amazing Spiderman, the Obama's "Chicago Dog" story with Vienna Celery Salt and a copy of the Buckingham Palace letter as well as the Trump's favorite Meatloaf Sandwich featured on TV, by our museum! Melania Trump's family famous Raka Red Onion is now on display as well.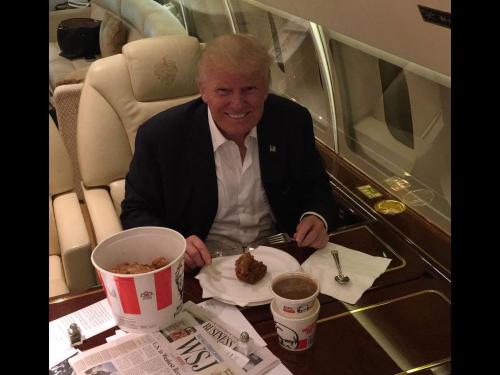 And take a look at President Trump's favorite Lay's Potato Chips, Keebler Vienna Fingers and Kentucky Fried Chicken on display. This President enjoys the sanitary and fast nature of American fast food and has mentioned he would like to lose some weight but enjoys snacking also.
Eating his fried chicken with a fork and knife might cause some fun-filled discussion! Especially as it is related to the Bill DeBlasio, George Costanza, David Cameron and Queen Elizabeth exhibits on the 2nd floor, ROYALS exhibit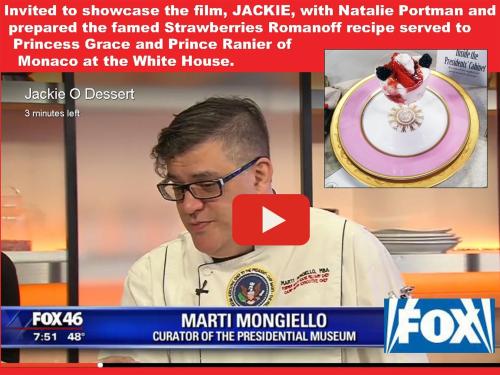 Enjoy binge-watching our entire television series for free, if you can't see us on CBS,
right here.
We love our international guests and viewers visiting with us!