Acerca de nuestros chefs y posaderos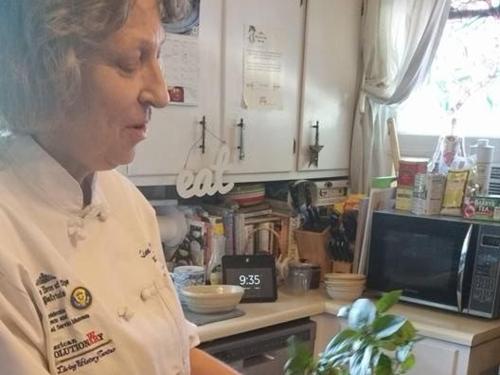 Inn Manager y Chef de Cuisine Kim Hambright (izquierda) ha trabajado con nosotros durante casi diez años.
Ella está estudiando para convertirse en una enfermera con su título de cuatro años y es conocida en todo el mundo por nuestros invitados como la Sra. Bondad. ¡Y su mayor fan es la Princesa Rania Isabella, que usualmente roba su yogurt!
Kim recibió el año 2016 la Medalla de Servicio Distinguido del Centro de Servicios Presidenciales.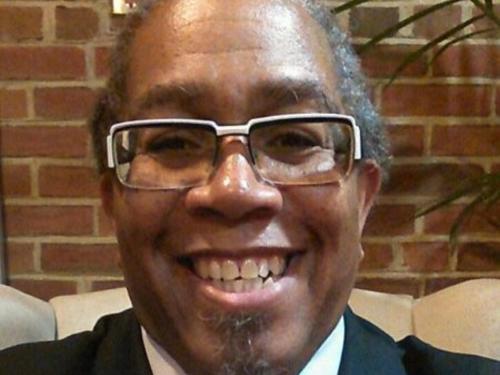 Orlando Herrera is a Marine Corps Veteran and guest speaker at the inn and museums. As the VP of Government Services and Veterans Affairs, he resides in Washington, DC and coordinates other meetings and exhibits showcased at the inn including research, think tank reports, and new shows.
He's an experienced Chief Executive Officer of a production company, with a demonstrated 38-year history of working in the mental health care industry. He's very skilled in nonprofit organizations, music publishing, music management, and program evaluation. Orlando is an energetic entrepreneur and professional representing our expansion. As a Doctoral Student of Philosophy in Psychology, he has focused in General Psychology from Northcentral University.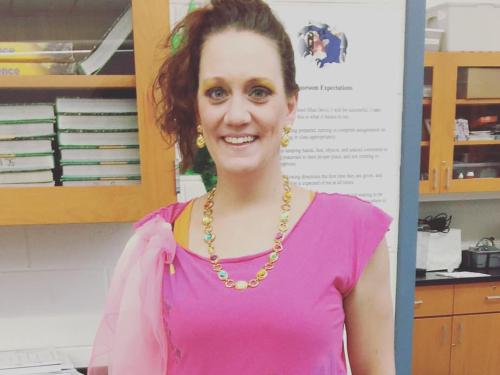 Mindy Reynolds is a graduate of UNC Wilmington and a lover of all things football. Between her and Chef Stormy, we are uncertain of who has memorized more stats?
Mindy has three children and loves teaching, which she has done for over a decade in the North Carolina elementary system. Today she is happy to help teach our over 5,000 graduates in the Cooking School, host kids classes, and more. As an instructor and chef, she shines for her excellence in diligence, concern for platinum standards, and kindness to guests. Mindy is also a trained butler and the Executive Assistant to Mr. Martin of the Mongiello family.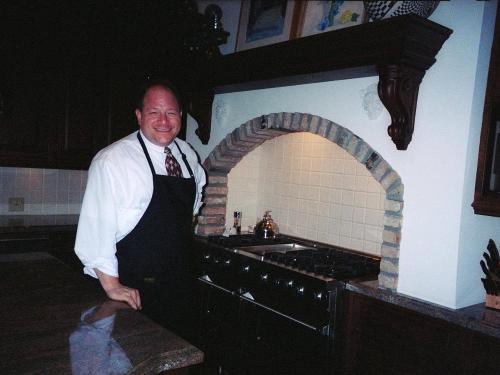 Allan Miller is a classically trained Butler, Estate Manager and the Managing Director of the estate. Allan has cared for CEO's and the top 2% of families in America for 30+ years. He is a long-term resident of Palm Beach, Florida where he has worked for the same family forever!
As the family office manager of Casa di Molinero, Allan is proud of having taught students on Air Force One, the Camp David Resort and Conference Center, and the White House. HIs teachings as the Director of Education at the International Academy of Household, Hotel, and Resort Management (IAHHRM) have been felt worldwide by students in many countries. Allan has also won numerous Maine State Fair Blue Ribbon awards in first place for his baking, year-after-year!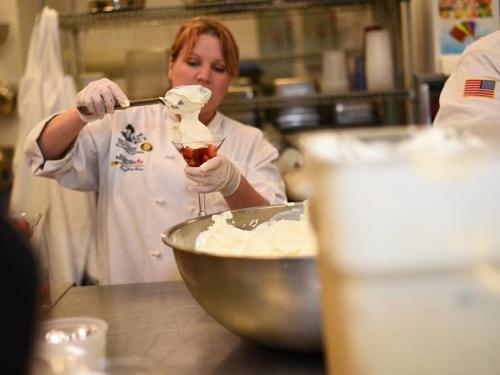 Sous Chef y la mesera asistente Alicia Guinyard están orgullosas de haber cocinado recientemente una cena para la Fibrosis Quística en Charlotte. ¡En Quail Hollow Country Club nos ayudó a recaudar $ 567,000.00 en una noche de trabajo de 16 horas seguidas! Alicia vive en la hermosa Helena, Montana, y le gusta viajar.
La Chef Alicia es actualmente Sous Chef Consultora y realizará sus exámenes para avanzar al Chef de Cuisine. Ella tiene seis hijos y también está impulsando su camino hacia su título. Ella sigue siendo altamente recomendada por el Centro de Servicio Presidencial de los Estados Unidos.
Antwain Thomas is the Chief Development Officer for the inn's expansion, frequent guest speaker at the inn, and advisor in Washington, DC, where he resides.
His background involves international project management and planning, wealth & asset management, international trade, institutional finance, philanthropy, military and government communication and logistics, telecommunication/SATCOM security, Internet/Data Policy, global logistics, and Homeland Security.
Antwain is a military veteran and lived in Japan for many years with the Seventh Fleet.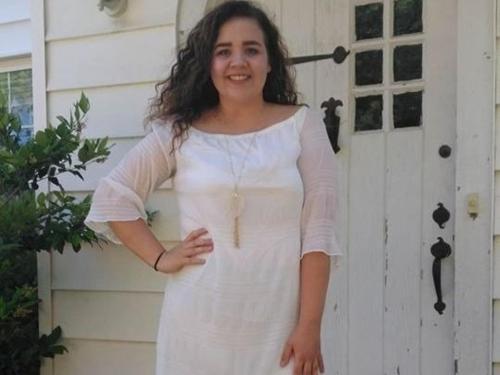 La presentadora y actriz, Alexis Skidmore, ha sido una estudiante de honor la mayoría de sus años en la escuela y la universidad. Terminó su primer título universitario el mismo día en que se graduó de Kings Mountain High School, Carolina del Norte.
Como Actor, ha ayudado al Centro de Historia Viva de la Guerra Revolucionaria Estadounidense (ARWLHC) a anunciar y celebrar una serie de ocasiones históricas. Estos han incluido al héroe negro del batte de King's Mountain, Ishmael Titus.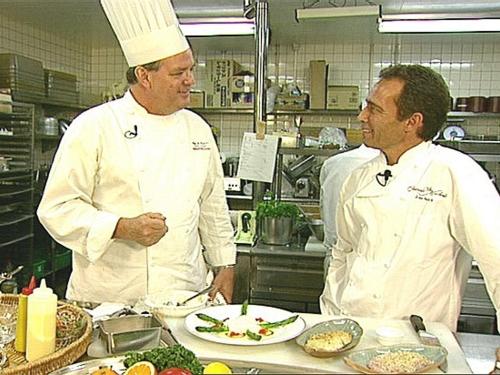 Chef Rick Scott
(left) works with
Chef John Sarich
of Chateau St. Michelle Winery on another television episode and filming. Rick has been globe-trotting ever since he began serving in his famed Ohio restaurant and took a job serving as the chef for America at the Embassy in Switzerland!
His long-heralded work as the Executive Chef of the
Tokyo American Club
(TAC) in serving
Akebono
the Champion Sumo Wrestler,
Prince Masahito Hitachi
, and being knighted into the
Chaine de Rotisseurs
Tokyo Chapter has only been eclipsed by his estate work for
Oprah
! Ricks previous work as Executive Chef and recipes published extended into Kikkoman, with
Robert Mondavi
wine dinners, advising
Calvados
of France, cooking for the Royal Household of Saudi Arabia and
Prince Fahad
as well as being featured across television worldwide! Rick's work today continues to facilitate billionaire's homes in Maui. His work and gifts
to help the US Navy
were covered in Peter Knipp's New Asia Wine and Cuisine Magazine of Singapore as well as TAC's large-format Members Magazine.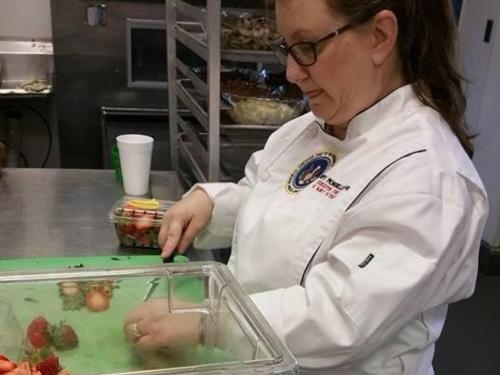 El chef ejecutivo Stormy Mongiello ha estado cocinando desde que ella era la presidenta del FH of America en High School. 20 años después, ella está en el escenario haciendo shows a 500k asistentes por día en San Francisco, Arts-Beats-and Eats Fest de Detroit, el International Balloon Festival de Albuquerque, la Feria Estatal de Nueva York, Makuhari Messe de Tokyo-Japan Show, la Taste of St. Louis, Foxwoods, el Jacob K. Javits Center y en Seúl, en la Exposición de hoteles y alimentos de Corea del Sur. Para nombrar unos pocos. Ella posee un PHR con una licenciatura en negocios de WIU.
Ver más aquí ...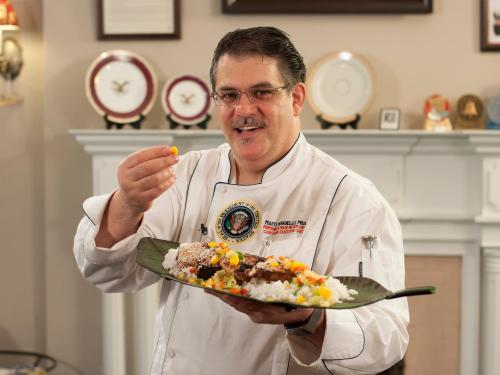 Marti Mongiello was a White House Chef and a General Manager of the Camp David Resort and Conference Center for several years. He was a member of the White House Military Office and has worked with the last five Presidents of the United States on many opportunities. Marti has personally taught and graduated just over 5,000 students at the International Academy of Household, Hotel, and Resort Management (IAHHRM). This has included a team for the Royal Family of the United Kingdom and many other top 2% family offices.
Marti retired from the US Military and holds a 30-retirement certificate as a disabled and injured veteran member of the VFW, WWP, DAV, AL, and IAVA. He was knighted in Belgium and wears the Iraq Medal, five Navy Achievement Medals, three Navy Commendation Medals, Expert Pistol Shot gold Medal, Rifleman Medal, and the Distinguished Service Medal from the State of New Jersey. Marti has lived on three continents as a healer, mediator, and expert contractor for trillions of dollars in negotiations and purchasing. Marti has managed large resorts to 1500 rooms, 6700 team members and dozens of direct reports.
Gerente General y Chef de Cuisine Kim Hambright
Asst. La mesera y sous Chef Alicia Guinyard
Asst. Posadero y Sous Chef Kendra Hubbard
VP de mantenimiento, Jerry Goforth de HomeSpectors
Alexis Skidmore, presentador y actor colonial
Chef Ejecutivo y Presidente Stormy Mongiello
Presidente y ex Chef de la Casa Blanca Marti Mongiello
Miembros del Salón de la Fama, Chefs Ad-hoc y Posaderos
Howard Liss, empresario de negocios
Sean Downey, chef visitante de cocina internacional
Kendra Hubbard, anfitrión, mesonero asistente y chef